UNLV has plenty of room for improving
November 23, 2015 - 11:50 pm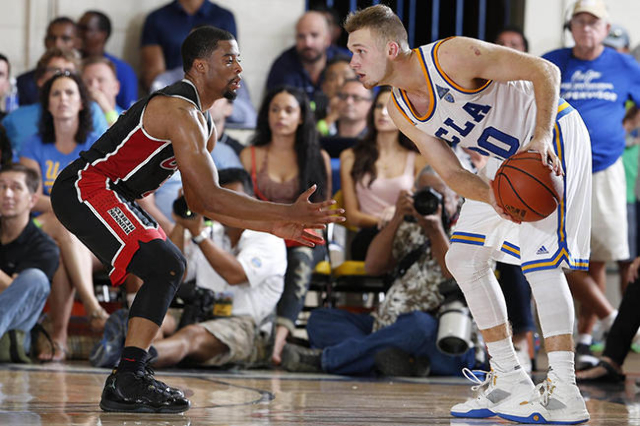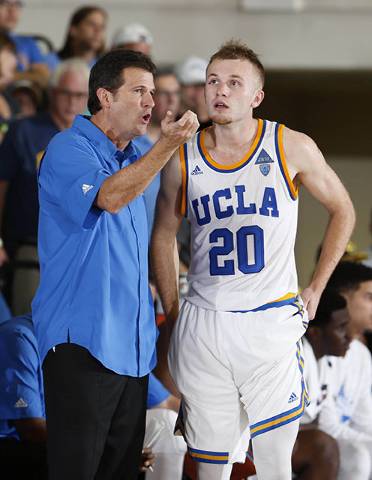 LAHAINA, Hawaii — When the talent continued to sign on the dotted line and the depth became more than UNLV's basketball team has enjoyed under fifth-year head coach Dave Rice, it wasn't guaranteed the Rebels would immediately turn a corner back towards the NCAA Tournament.
Specific areas still need improving. More bodies don't necessarily translate to immediate success.
UNLV is here for the Maui Invitational, one of college basketball's premier non-conference events, about as good a gauge for strengths and weaknesses as the Rebels could hope for this early in a season.
The Rebels met UCLA in the opening round's final game at the Lahaina Civic Center, an intimate place that seats 2,400 and sits across the road from coastline best described as spectacular. It resembles most high school gyms, only with murals of famous college coaches and players adorning the walls.
UCLA beat UNLV 77-75, as poor shot selection down the stretch by the Rebels and much better execution by the Bruins sent Rice's team to its first loss of the season after a 3-0 start.
"They gave us a really good punch," UCLA coach Steve Alford said. "(UNLV) is an athletic bunch. If they stay healthy, they're going to have a really good year. I'm really proud. We took a really good shot from a really good team."
From the opening 20 minutes, from the first time we have seen UNLV compete against like athletes and size this season, we saw what could make the Rebels incredibly difficult to deal with and also some old warts that could deny them of reaching their potential.
UNLV was all sorts of active over the first five minutes, pressing UCLA into mistakes at one end while taking and making good shots at the other. The Rebels raced to a 16-7 lead to the enjoyment of their fans, a large and loud contingent of about 300 that made the trip from Las Vegas.
But then things changed. UCLA went to a 3-2 zone.
UNLV in recent years has struggled mightily against any such defense, becoming stagnant and forcing shots as the ball failed to move. It happened Monday over the first 20 minutes, when the Bruins took control in the first half by flustering the Rebels in the half court.
Give the Bruins credit. They made 23-of-24 free-throws on the night and successfully closed the game from the line, but there is also this number: 29. That's how many 3-pointers the Rebels attempted (making just nine), many of them from merely settling within their offense and not being patient enough to see if opportunity opened elsewhere.
"It's tough when we can't get the ball into the middle and just stand," sophomore guard Patrick McCaw said. "It's tough."
Rice's team should actually be better against zone this year with center Stephen Zimmerman Jr. at the high post. A terrific passer, the freshman Zimmerman should be able to flash, receive the ball and then make a player for either himself or others.
UNLV has to be better against the zone, because it's the one ploy teams with lesser talent can again use to stay close and win games they probably shouldn't.
UCLA doesn't have lesser talent. Not close.
"We have to continue to attack, whether a team is playing man-to-man or zone," Rice said. "Playing inside-out is the key. We played hard the entire game. We went through stretches where we didn't execute where we needed to against their zone. We have to continue to attack and convert. What is going to be our response to adversity?"
They will know quickly, as UNLV now meets Division II Chaminade in a loser's bracket game today at 1:30 p.m. Pacific Time.
Another observation from Maui:
* Indiana is being called the Golden State Warriors of college basketball because of its potential to put up boatloads of points in a hurry. Its nickname on defense should be the Matadors. It also appears, given how the bracket fell following the first day, UNLV is headed towards a fifth-place game against the Hoosiers on Wednesday
Maui officials no doubt secretly dreamed of a championship matchup between Kansas and Indiana on Wednesday night, but that was before the Hoosiers showed a nationally televised audience how not to defend balls screens in an 82-78 loss to Wake Forest.
Indiana is deep and good and can really score, but it won't enjoy a deep March run unless it discovers some way to stop others off the dribble and at the rim.
"Highly disappointed in some of our efforts and disappointed in some of the toughness," Indiana coach Tom Crean said. "Disappointed in myself. Wake Forest deserved to win because they played better. It's hard to beat anyone when you only play 15, 16 solid minutes. That's what we did."
Ed Graney can be reached at egraney@reviewjournal.com or 702-383-4618. He can be a heard on "Seat and Ed" on Fox Sports 1340 from 2 p.m. to 4 p.m. Monday through Friday. On Twitter: @edgraney
Check our GameDay page for full coverage of the UNLV-UCLA game.