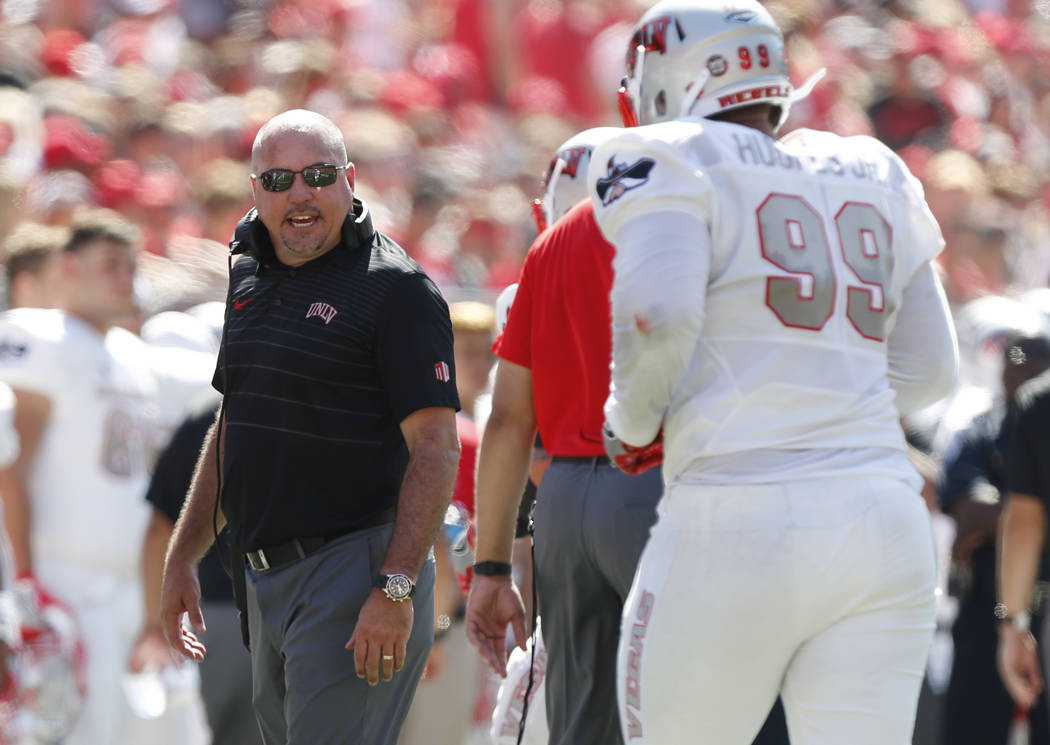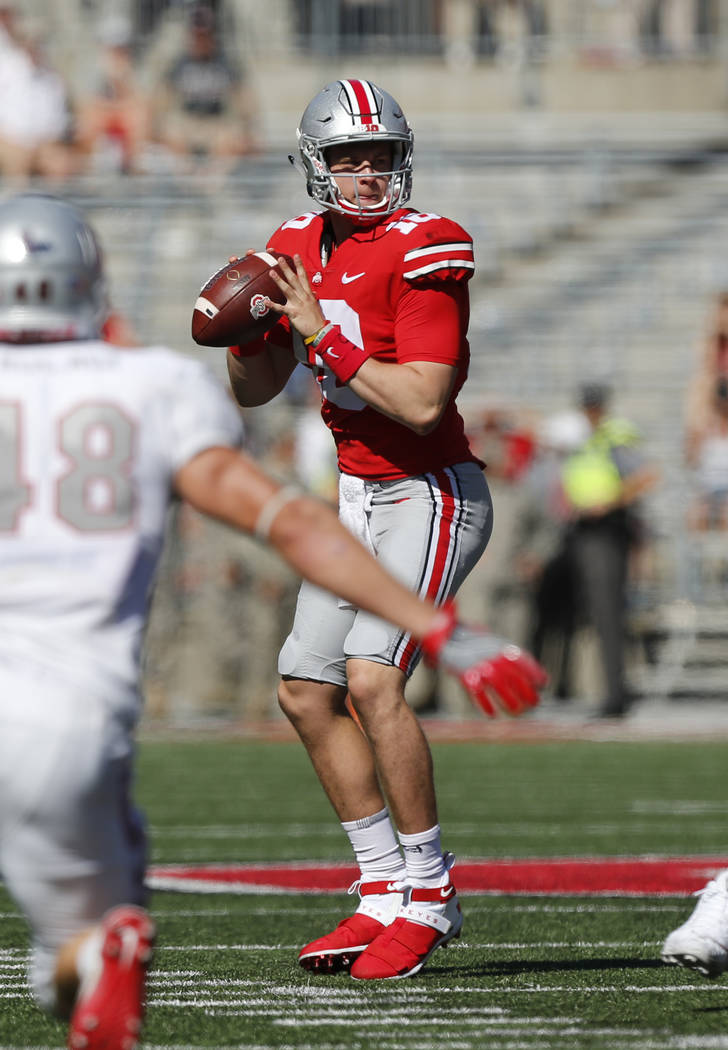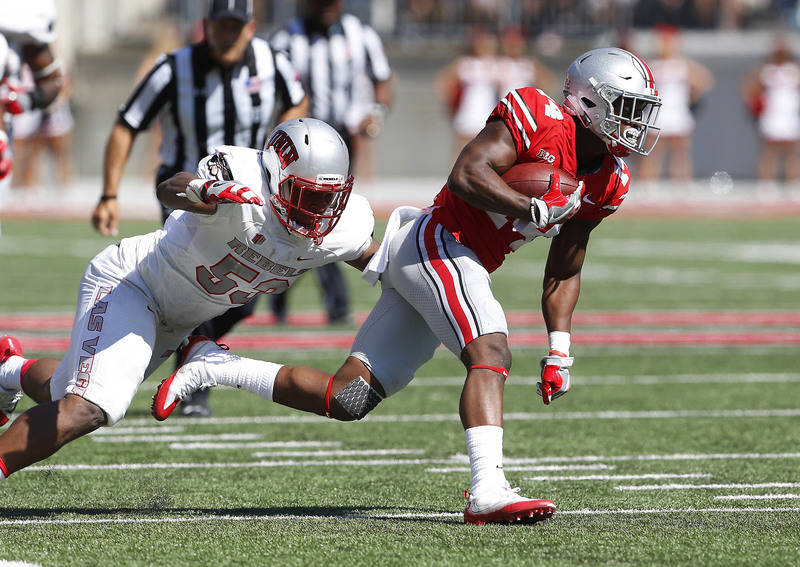 COLUMBUS, Ohio — The level of skill found by those wearing Ohio State colors on Saturday was deep and profound and so impressively succinct in its movement and purpose.
Weeks upon months and perhaps even years of practice must have been involved in producing such an elite degree of execution on a day UNLV's football team visited the Horseshoe.
And that was just the band.
This isn't UNLV's world. It's not reality for the Rebels.
It probably never will be.
In a college football universe built on free enterprise and lacking any sort of suburban middle class, losing 54-21 at Ohio State is yet another reminder of the massive sense of exclusivity that defines the sport.
It was 44-7 at halftime.
There is no respect from Power Five programs toward the underlings, and I'm not sure there should be. Everyone understood long before a 40-point spread was posted what this was about: UNLV's athletic department left town with $1.3 million.
Which means while the rich like No. 10 Ohio State get richer with a home attendance in excess of 106,000 supporting an athletic department budget of $109 million, the poor like UNLV get a little less poor by agreeing to a predetermined butt whooping.
Call it a needed parting gift for the trouble of hoping nobody gets seriously injured.
"As a competitor, you love these environments and coming here and playing in front of 100,000 people against a top 10 team," UNLV coach Tony Sanchez said. "The goal for us is to one day come here and fight with these guys. We're not there right now. You have to play one of these a year (for the payout), and some teams have to play two a year. It's the situation we're in, and that's OK. There were some things near the end of that game that will help us improve as a team.
"Our guys didn't fold the tent. They kept fighting."
Traveling to Ohio State for a non-Power Five program is sort of like being granted a personal tour around one of those Hollywood mansions of your favorite celebrity. You play a little basketball on the indoor court and bowl a few games and take a few laps in the Olympic-sized pool and watch a movie in the IMAX theater and maybe even have someone pour you a glass from the wine cellar's finest Petrus vintage.
And just when you begin to dream such opulence could one day define your program, that you too could enjoy its many perks and prosperities, the Japanese TV executive from "Seinfeld" appears with these words: "You must go now."
Power Fives rule all
This is how the most powerful suits in college sports want it, the way TV wants it, and when teams such as UNLV earn close to $3 million annually in bowl and TV deals while those in five select conferences get 10 times that, it's difficult to see the wealthy ones wanting change any decade soon.
Power Five schools make the rules (see cost of attendance measures) and then allow everyone else to follow along or not.
They don't care either way.
This isn't college basketball, where Cinderella's carriage actually has a chance of not turning into a pumpkin, at least for a few rounds of the NCAA Tournament.
Basketball and how it is governed — never mind the fact a few kids who fall through the Power Five cracks could be program changers — allows you to produce a Gonzaga.
There is no chance of that in football and its three-deep of players.
I imagine it's a question of when and not if for college football to finally make the ultimate split of having 64 or so teams form their own affluent planet, leaving all others to play a middle-school level with no interest, no TV and likely far fewer than 85 scholarships when faced with Title IX compliance issues.
So a UNLV will forge on and build practice facilities it really can't afford and hope things like an impending NFL stadium and the fact it resides in an entertainment destination that people want to visit are enough to be included with the big boys when such a separation comes. Given a few of those factors, the Rebels are actually positioned better than most.
Which means nothing right now. Maybe ever.
Ohio State quarterback J.T. Barrett completed 12 of 17 passes for 209 yards and five scores in less than a half on a day the Buckeyes threw for a school record 474 yards and set another mark with seven players catching a touchdown.
"Let's go do it against a team that's equally matched," Buckeyes coach Urban Meyer said.
The Rebels aren't in any way.
Not their world.
Not their reality.
Not their band.
More Rebels: Follow all of our UNLV coverage online at reviewjournal.com/Rebels and @RJRebels on Twitter.
Contact columnist Ed Graney at egraney@reviewjournal.com or 702-383-4618. He can be heard on "The Press Box," ESPN Radio 100.9 FM and 1100 AM from 11 a.m. to 2 p.m. Monday through Friday. Follow @edgraney on Twitter.
Ohio State 54, UNLV 21
Key: Ohio State threw for a school record 474 yards and seven touchdowns.
Next: San Jose State, 7:30 p.m. Saturday, Sam Boyd Stadium, ESPNU, KWWN (1100 AM, 100.9 FM)
Money games for UNLV
2015 — At Michigan, $1 million
2017 — At Ohio State, $1.3 million
2018 — At Southern California, $1.15 million
2019 — At Northwestern, $1.2 million