UNLV, others take advantage as Hawaii ignores home-grown talent
November 4, 2015 - 11:34 pm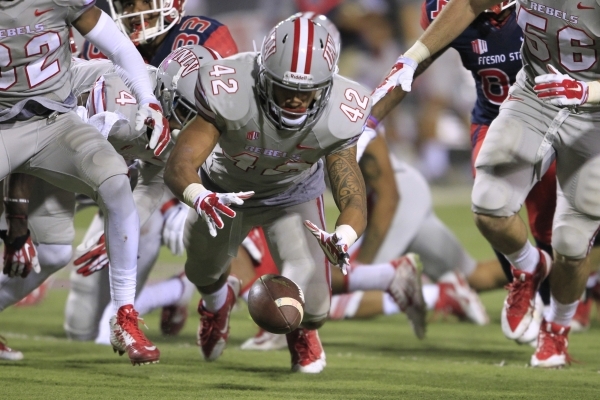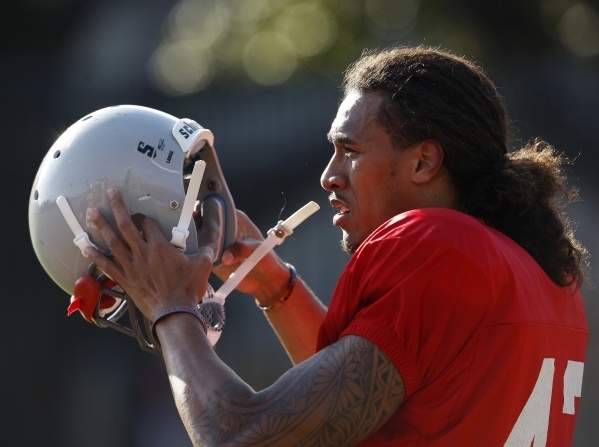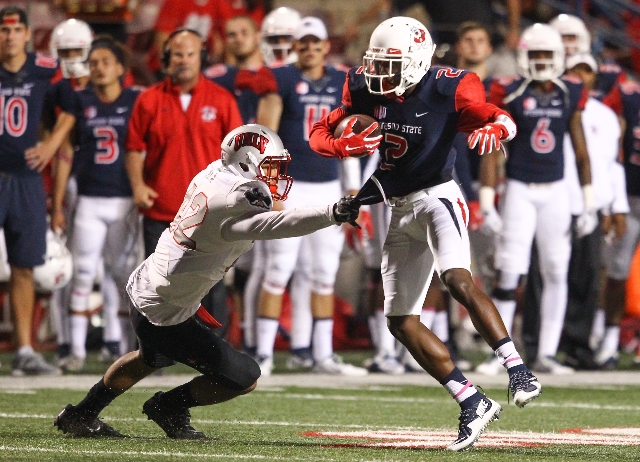 Peni Vea wasn't alone in his desire to get off the rock, one of many born and raised in Hawaii who covet a chance to experience another place, another sense of culture and tradition.
No, really.
It's true the magic of Hawaii is discovered in its stillness.
Sometimes, kids want a little more noise.
They can always come home to paradise.
Vea is one of countless football players who over the decades have departed the islands for college, leaving Hawaii's program to search beyond its fertile grounds of talent for capable bodies.
On the roster that will engage UNLV at 3 p.m. Saturday at Sam Boyd Stadium, the Rainbow Warriors offer names from Nevada to California to Texas to North Carolina to Utah to South Carolina to Tennessee to Arizona to Colorado to Florida to Louisiana to Connecticut to Maryland.
Which means they are like many teams across the country, only with better waves to surf and mountains to scale.
"It always seemed like Hawaii would recruit out-of-state players first and then those from within the state late," said Vea, a senior safety for the Rebels. "By then, most (locals) had committed to going elsewhere. I'm not sure why they recruited that way. They came in on me late.
"There are a lot of good players there. It's a great place to live. Very family-orientated. You learn from a young age to respect others, especially your elders. You're taught how to become a good man, a good family member."
Vea originally committed to Utah State before landing at UNLV, a native of Kailu-Kona and former star athlete at Kealakehe High who is one of a few Rebels with a chance at being drafted into the NFL next spring. He knows as well as anyone else the sort of program Hawaii could annually offer if a majority of the state's best players stayed home.
They haven't.
The Warriors have had five coaches since 1987, and two managed to post winning records. One, June Jones from 1999 to 2007, led Hawaii to a busting of the Bowl Championship Series with a Top 25 ranking and Sugar Bowl appearance in 2008, but then departed for more money and better facilities at Southern Methodist.
The Warriors have since gone 39-61.
They will arrive in Las Vegas with an interim coach after the firing of Norm Chow this week, the Honolulu native having been dismissed in his fourth season leading the program and with a 10-36 record, including 4-25 in the Mountain West.
Chris Naeole will direct Hawaii the rest of its season, and these things tend to go one of two ways: The Warriors will either play their hearts out against UNLV to honor their fired coach and the man who now leads them or have already packed things up mentally.
They will be focused on either the Rebels or the offseason.
Hawaii has lost six straight and trailed visiting Air Force 34-0 at halftime last week. The Warriors lost 58-7, a final defeat school officials could stomach before making the coaching change.
Either way, those at UNLV understand the importance of playing well against Hawaii, just another positive that can be used when recruiting the islands.
UNLV, like so many programs nationally, will continue to make annual trips there in search of prospects.
"When you look at it on a per-capita basis — and that fluctuates every year — there have been times when Hawaii was No. 2 in the United States for producing Division I players," Rebels coach Tony Sanchez said. "The first opportunity for me to see it was when I was coaching Bishop Gorman and we played St. Louis High School (in Honolulu). We played on a Saturday, so we went out and watched games on Thursday and Friday nights. I remember coming back to the hotel and telling our coaches, 'Wow. You talk about a talent-laden area.' I mean, there was unbelievable, passionate talent.
"Players from Hawaii have made a huge impact on college football. We will recruit there every year. From the beginning, I've said that's a place we will recruit heavily. It's a natural fit for us."
Vea will know several players standing opposite UNLV this week, having played with or against them growing up in Hawaii. He decided to leave home five years ago, decided to get off the rock, decided to experience another place, another sense of culture and tradition.
"It's not about where you live, but how you live," Vea said. "There is a lot of family support in Hawaii, but a lot of guys have just chosen to leave to play football."
Sometimes, a little noise is needed.
You can always go home to paradise.
Ed Graney can be reached at egraney@reviewjournal.com or 702-383-4618. He can be a heard on "Seat and Ed" on Fox Sports 1340 from 2 p.m. to 4 p.m. Monday through Friday. On Twitter: @edgraney
Check our GameDay page for all the news leading up to the UNLV-Hawaii game.