UNLV quarterbacks overmatched at major college level
October 30, 2016 - 12:32 am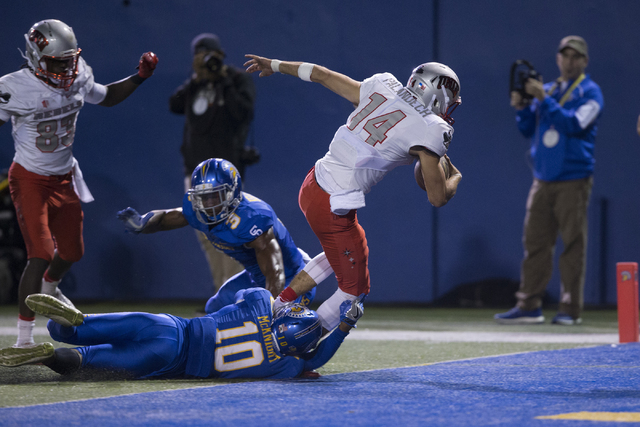 SAN JOSE, Calif. — He stands there weekly, as you would expect any true freshman quarterback using a season to redshirt, wearing a headset on the sideline as he listens intently and soaks in every play call and ensuing snap.
We don't know much about Armani Rogers other than what UNLV football coaches — officially and in more comfortable settings — have said about him.
He won't throw a college pass for real until next fall.
He's all hype and potential and measurables at this point.
But he needs to be good for the Rebels.
He needs to be a whole lot better than what they have now at the game's most important position, at what they have had for some time.
Years, really.
Some insist decades.
I'm not certain you can label a 30-24 loss to lowly San Jose State on Saturday night at CEFCU Stadium an embarrassment for the Rebels, because it's obvious UNLV exists every bit among the bottom dwellers of the Mountain West.
This was about two bad teams needing 60 minutes to determine which was just a little bit worse.
It's not funny, at least not as much as the announced gathering of 15,733.
There wasn't a third of that in the place.
Rogers is the 6-foot-5-inch kid out of Hamilton High School in Los Angeles, a four-star recruit who was ranked the nation's No. 11 duel-threat quarterback as a senior. If he's any sort of consistent threat, he will be an upgrade.
It's true the Rebels have been seriously hit with injuries at wide receiver this season and lost starting running back Lexington Thomas to an ankle injury early against the Spartans, but the fact remains those at quarterback don't have the passing skills to play winning football more than not.
They're just not good enough. Not close to being so.
Dalton Sneed started again Saturday in place of the injured Johnny Stanton, but the redshirt freshman's continued ineffectiveness led to him being replaced by junior Kurt Palandech.
He's more runner than anything else — which UNLV quarterback isn't? — and Palandech made enough plays with his feet to get the Rebels back in a game they trailed by 20 midway through the third quarter.
But at some point, the inability to drive a team through the air isn't going to allow such a comeback to end in victory, a truth witnessed when Palandech overthrew senior tight end Andrew Price down the seam and was intercepted with 48 seconds remaining.
"It's very difficult to (come back from 20)," second-year coach Tony Sanchez said. "We had a great shot there in the end, with a wide-open guy at the 15-yard line. But you have to hit him. If we hit him, we have a couple more plays left and are within striking distance.
"We wouldn't have been (that close) without (Palandech) playing well in the second half. But we really struggled at the quarterback spot in the first half. Errant balls. It's kind of a tough deal. We'll see where Johnny is after the (upcoming) bye week, but he still has that tear in his knee that will be cleaned up at the end of the year. He's just not very mobile.
"It's going to be a struggle. You see it out there. It's going to be more of a feel as we figure out what we do with our receivers and what quarterback will make us efficient in that area."
You can officially file this under the new math that has caused so much controversy: UNLV must now win its final three games — home to Wyoming, at Boise State and home to UNR — to reach six wins and bowl eligibility. The Rebels have as much chance achieving that status as the guy who counted attendance Saturday night had of being correct.
There shouldn't be a whisper about the postseason, anyway, after losing to a team that ranks among the nation's worst in many statistical categories. The Spartans have been dreadful all season, and yet made enough plays to beat UNLV for the seventh straight time.
Any improvements under Sanchez will only take UNLV so far until the quarterback play is solidified, which isn't going to occur this season. I would assume Palandech will start against Wyoming, given there is little reason to risk Stanton's long-term health in a season going nowhere and Sneed struggles mightily just to complete consecutive passes.
"There are definitely some things I need to clean up," said Palandech, who completed 10 of 21 passes for 161 yards with one score and the interception while rushing six times for 44 yards and a touchdown. "It was good to be out there, and I was trying to make the most of the opportunity, but I definitely can improve in a couple areas, and that's what I hope to do over the bye week.
"(Who starts) isn't my call. That's up to Coach Sanchez and his staff. I'll just be ready when my number is called."
It doesn't really matter at this point.
Bottom line: UNLV has several issues, but a glaring one is at the game's most important position.
The Rebels just aren't good enough at quarterback.
For their sake, here's hoping Armani Rogers really is.
Ed Graney can be reached at egraney@reviewjournal.com or 702-383-4618. He can be a heard on "Seat and Ed" on Fox Sports 1340 from 2 p.m. to 4 p.m. Monday through Friday. Follow @edgraney on Twitter.