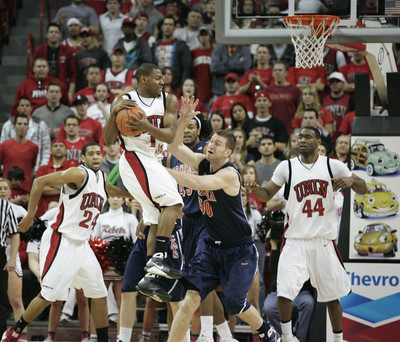 You will hear more about the 3-pointers today, about Wink Adams busting his slump against Arizona's basketball team, about the lead growing to as many as 22 points in the second half, about the Rebels earning what NCAA Tournament selection committee members would consider a quality win come March.
Defense in these times tends to be like David Hasselhoff's pitch when singing the national anthem before a football bowl game.
It usually gets a little lost.
Hold your hands a foot apart. That's what UNLV was missing defensively its first 10 games this season. That's the margin of difference between the Rebels being very good and very average.
They owned that edge the past two seasons and were rewarded with NCAA bids.
They owned it Saturday and were rewarded with a 79-64 thumping of an Arizona team that in its previous game took out then-No. 4 Gonzaga.
This is the UNLV team that was picked to win the Mountain West Conference because this is the awareness and hustle and focus it defended with the past two years. It isn't a great defensive or rebounding team. It might never mature into one.
But what began with a hint of such concentration against Santa Clara on Wednesday carried over into a truckload of it Saturday.
Arizona walked into the Thomas & Mack Center ranked second nationally in 3-point shooting and departed having made 1 of 4. It had 19 turnovers, shot 39.7 percent and went one seven-minute stretch in the first half without a basket.
It more often than not appeared rattled, confusion that also rubbed off onto a Wildcats coaching staff that wrongly stayed in a zone long enough for UNLV shooters to turn a close game into a blowout.
"I thought against Santa Clara that for the first time all season, we really had that fight to us defensively," UNLV coach Lon Kruger said. "We had it again this game. Deny the extra pass. Get that loose ball and long rebound. The effort had been there. The interest was good. We just didn't have that edge until the Santa Clara game.
"We were so terrific at it last year. We won 27 games, and yet that number could have easily been 18 or 19 without that little extra effort on defense. Eight or nine wins (last season) were the direct result of it. Hopefully we can use these last two games as a reference point and build from it."
The Rebels could struggle all season containing guards off the dribble but won't see any quicker than Arizona junior Nic Wise, who could cover the entire court and cross-over UNLV's starting five in the time it takes you to read this sentence.
You can overcome allowing penetration if everyone else is paying attention. If they communicate and rotate and move with purpose and not in a wild manner, the latter of which UNLV did more of in those first 10 games than in the last two.
Maybe the words of Rene Rougeau have rung true all along. Maybe the senior was correct in that all the new faces dotting UNLV's lineup needed time to learn how Kruger wants and expects his team to defend. Maybe the guy who in 32 minutes Saturday had 12 points, nine rebounds, six blocks and four steals knew something.
"Guys are finally understanding it," Rougeau said. "We were all over the place on defense this game. It has taken awhile for everyone to figure it out, but once the chemistry comes together, this is without a doubt how we want to play."
It took until conference play last year before UNLV was consistently better than others defensively, before the Rebels could survive a poor shooting game and still walk away winners most nights. It could take a bit longer this year. They still aren't at that level.
But know this: You will hear about Adams making 7 of 12 3s and sophomore Tre'Von Willis scoring 19 and a 15-0 run to start the second half. What tends to get lost is that during that pivotal stretch, 11 of those points came off six forced turnovers.
You don't have to be perfect, which 12-year-old Ellie Smith was nearly so during her own terrific national anthem rendition before tip-off. You can be like Hasselhoff. You can be a little off.
But for UNLV to be very good, to be the team that outclassed Arizona, it must own that edge. That fight. That little something extra.
"This way," Kruger said, "is a lot more fun."
Las Vegas Review-Journal sports columnist Ed Graney can be reached at 702-383-4618 or egraney@reviewjournal.com.
ON THE WEB
View the slideshow