UNLV's defense is still one of the worst in the country
Updated October 20, 2018 - 12:00 am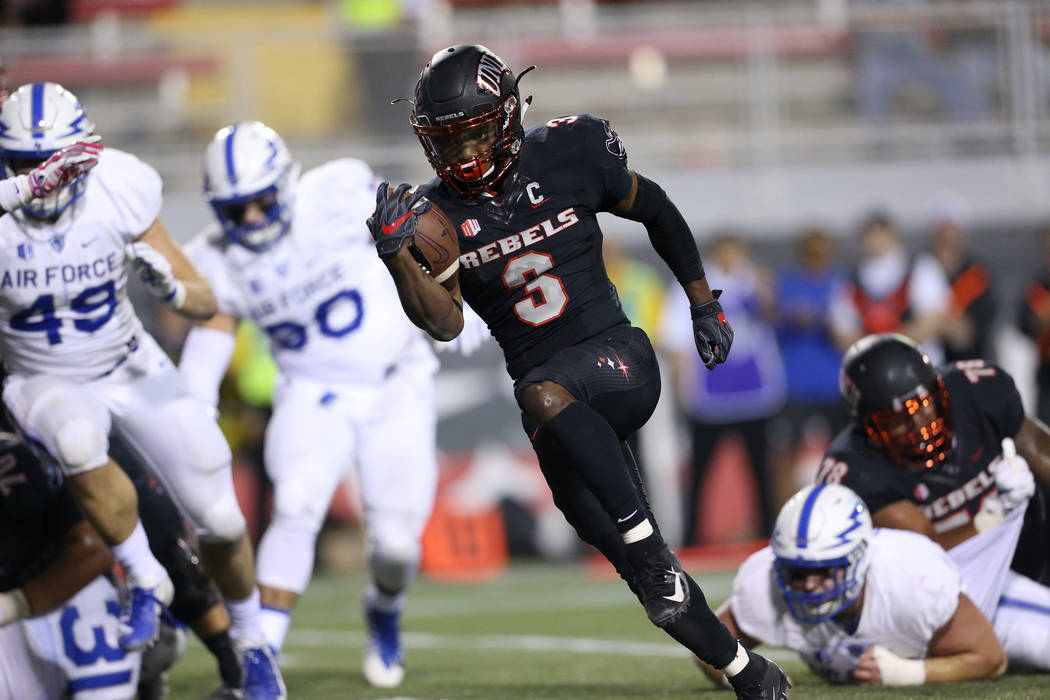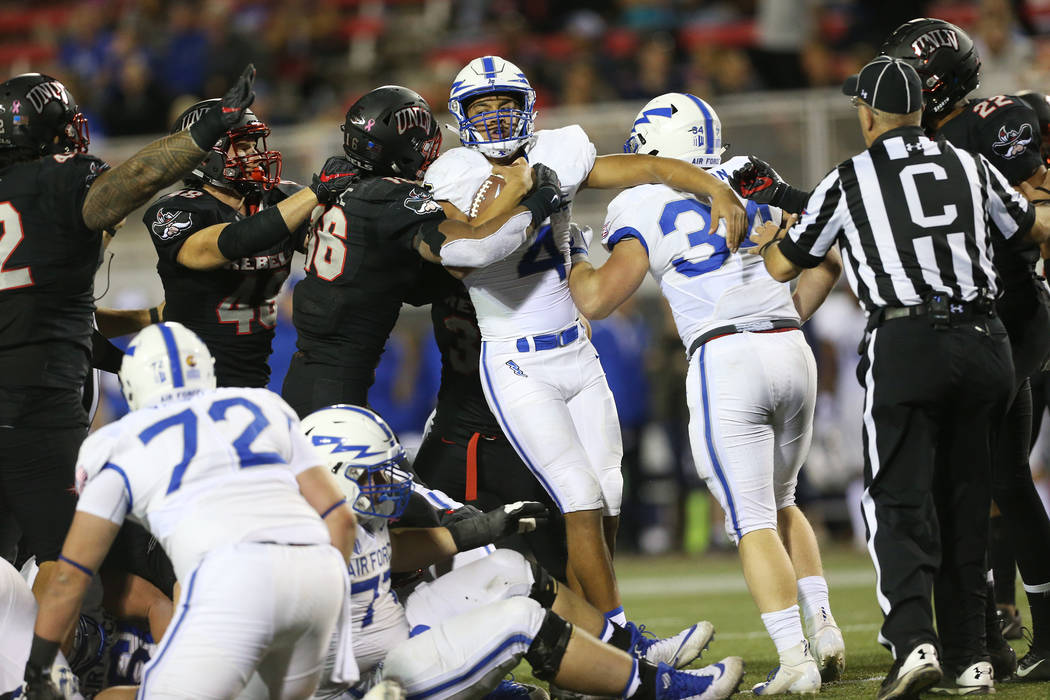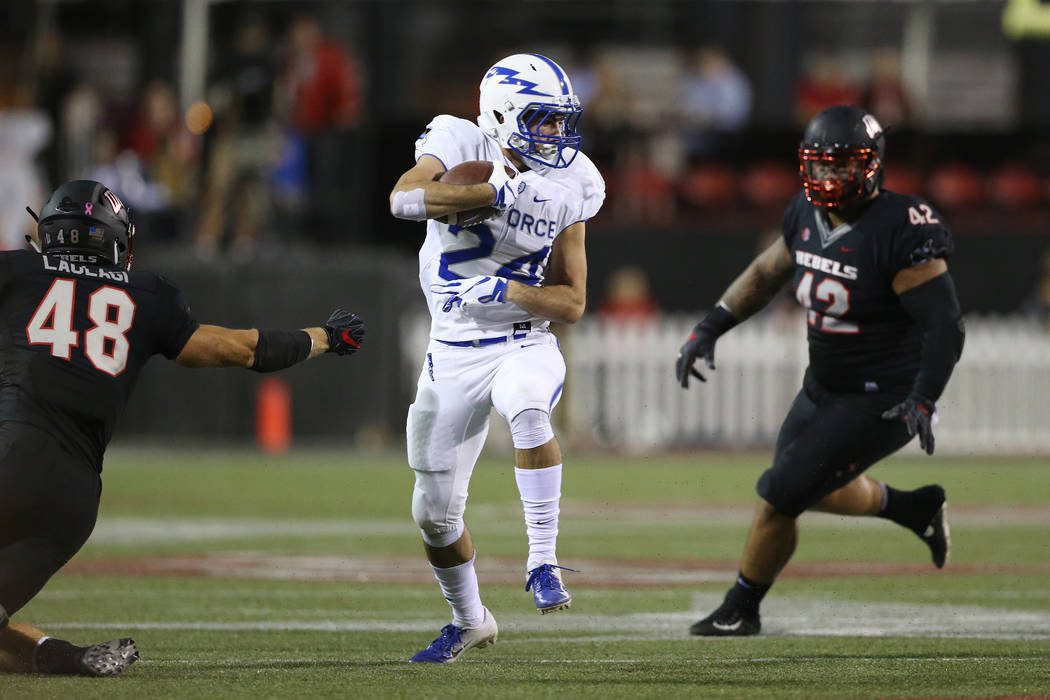 Somewhere near the the Bitterroot and Blackfoot rivers, in the western Montana town of Missoula, Kent Baer no doubt cracks a smile.
Pride can be a powerful sense of motivation in football, but not when you defend while waving a white flag.
I'm guessing Prairie View A&M and Texas-El Paso were even worse than believed earlier in UNLV's season, and I'm thinking someone spiked the pregame water of Southern California players with Tylenol PM, because this notion about the Rebels being better defensively was incredibly mistaken.
Thoughts of regaining its footing and possibly again creating a legitimate path to bowl eligibility were pretty much crushed Friday night when UNLV fell to Air Force 41-35 before an announced homecoming gathering of 17,881 at Sam Boyd Stadium.
It means the Rebels are 2-5 with the season's toughest slate of games awaiting them after next week's date at San Jose State.
It means the idea of six wins is far more fantasy than anything else.
Forget a fourth quarter on Friday in which the Rebels recovered two fumbles and forced a punt.
That stretch was a mirage.
UNLV lost its third straight game because for the previous three quarters it couldn't stop the Falcons and a backup quarterback to save its life.
Armani Rogers and his injured toe certainly has hurt UNLV's rush game, the quarterback lost for at least another month.
But the last anyone looked, he doesn't play defensive back.
In its past three games, UNLV has surrendered 150 points, reasons that point to it ranking 105th nationally against the run and 96th against the pass.
It couldn't possibly defend the latter any worse than it has since Mountain West play began.
I mean, it's brutal.
Baer was fired after last season as defensive coordinator and replaced with Tim Skipper, and it's true that in their first three games, the Rebels showed a more aggressive nature.
They were actually standing up to others.
But something went awry during an off week while preparing for the Mountain West opener against New Mexico, and we are back to the same ol' same ol' of UNLV defense, which means applying little pressure up front and getting beat bad on the back end.
Consider: Air Force scored on its first seven possessions.
Field goal, field goal, touchdown, touchdown, touchdown, touchdown, touchdown, buffoonery.
Isaiah Sanders, a real nice player as a junior and backup but who won't make anyone forget the great Air Force quarterbacks of past decades, finished 9 of 11 for 217 yards and a score.
That's a rating of 277.5. He's not that good. UNLV just made him appear so.
His first incompletion came in the fourth quarter.
Sanders also ran for 173 yards and three touchdowns.
"Disappointing loss," UNLV coach Tony Sanchez said. "We struggled, struggled defensively in the first half and got down big and put ourselves behind the eight ball. We just sputtered in the opportune times. No doubt, we fought our tails off. They were more physical than we were.
"We have to play better in the back end against the ball. So here we are, sitting here after a very tough loss. But if we can't get off the field on defense more than that, it's going to be tough."
It was too much for UNLV to overcome — although the Rebels rallied from down 20 to within the final margin of six and had the ball late before turning it over on downs.
But you can't wait until the fourth quarter to get your first stop and expect to beat anyone.
Gilliam better
Max Gilliam was better in his second game than his first after replacing Rogers, and he was better Friday in his third start than his second.
The junior completed 26 of 38 for 273 yards and three scores.
He also doesn't play defense.
It's not going to get any easier after San Jose State, and who knows what might happen next Saturday depending on the mindset in which UNLV arrives to the Bay Area.
But then it's a home game against Fresno State and road games against San Diego State and Hawaii and a regular-season finale against UNR at Sam Boyd.
This team, specifically this UNLV defense, can't beat any of those people.
Which means Skipper needs to find solutions fast.
"I told our guys, 'I'm proud of the fight,' but to win close games like that comes down to execution," Sanchez said. "And there were just a few things out there we were unable to get done when we needed to."
Look, they didn't play a lick of defense for three quarters.
That's a lot more than a few things.
It's also why UNLV is 2-5 and those bowl dreams are all but extinguished.
Yet again.
Contact columnist Ed Graney at egraney@reviewjournal.com or 702-383-4618. He can be heard on "The Press Box," ESPN Radio 100.9 FM and 1100 AM, from 7 a.m. to 10 a.m. Monday through Friday. Follow @edgraney on Twitter.