UNLV's new coach Chris Beard already winning in composure game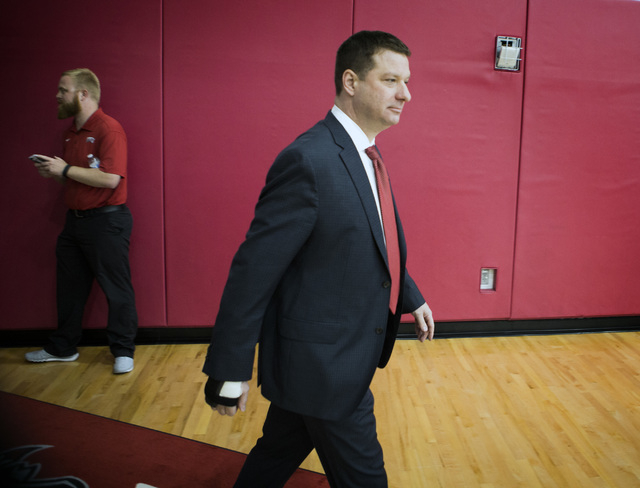 There is hope for UNLV basketball today.
Once the silly marathon that was a Board of Regents meeting to approve the contract of a head coach had passed the two-hour mark on Friday with the speed of a tortoise on NyQuil, once 15 members of the public offered their opinions, once I had come to the conclusion yet again that regents should be appointed and not elected, once a press conference was finally held to make things official, once the president hiring the coach called him by the wrong name, this fact rang true: The most impressive person throughout the entire process was Chris Beard.
By far.
By a landslide.
UNLV officially has its coach and you couldn't have hoped for a better opening message from him, one about building and winning and sustaining a level of success all the right ways, that the goal is not to get things done quickly but rather correctly.
You want a resourceful guy?
Beard has spent the last few weeks with a cellphone on the fritz and lived to tell about it.
For a college basketball coach, that's like a baker being told to make a loaf of bread with no flour.
"You don't ask somebody to trust you," Beard said. "You ask them to give you some time to earn your trust. That's what we're going to do with the fan base here. Give us some time to earn your trust, earn your support, and I think they will be very pleased when they see how we go about it, what kind of players we bring in here and how hard we work to win."
It would be nice to write in detail about a coaching search that culminated with Beard's hiring and how the regents came to voting 9-4 in favor of approving his contract, but Tolstoy already gave us War and Peace and it would be in bad form to try and match his 1,440 pages.
Besides, that would only get us past the part about comments on the Academic Progress Rate. That, and the process didn't need chairman Rick Trachok, who voted against the contract, telling Beard that if he has half as much success next season as a coach as he did negotiating his deal, things should be great.
It came off as a bit of a cheap shot. What was Beard supposed to do, try to land a bad deal?
Simply, this became incredibly obvious throughout the process and especially Friday: There is a serious disconnect between some regents and both UNLV president Len Jessup and athletic director Tina Kunzer-Murphy. Fault that lies on both sides in terms of communication and transparency. Jessup might need a new cellphone, too. He apparently struggles returning calls.
A few things in the public comments portion of the meeting stood out. Most notably, when it was asked via Skype if anyone in Reno had something to say, I was shocked UNR basketball coach Eric Musselman didn't appear on the screen and, given Beard's contract of five years for $5 million, demand an immediate raise.
That, and you would have received better-than-even odds that basketball supporter Tom Jingoli would go over the allotted two minutes. He spoke for just under one, a bigger upset than the U.S. hockey team beating the Soviet Union the 1980.
Trevor Hayes is the regent who asked unquestionably the best and most important questions to Jessup and Kunzer-Murphy, specifically about an athletic department budget that will fall more than $1 million in the red and could climb to as much as $3 million or more in the coming years. Jessup went on record twice pledging he would deal with and ultimately right the capsized financial ship.
The clock is ticking on him now, and not because he later introduced Beard at the press conference as "Coach Bird."
Ouch.
It became apparent throughout the meeting that some regents were about to vote on a contract they hadn't read, given a line of questions on the APR and how performance incentives in Beard's deal were tied to it. Which they aren't.
But then the vote was taken and the contract was approved. Beard, who sat in a chair for more than two hours without saying a word, listening to others debate whether he is worth what UNLV will now pay him, stood up and in 30 seconds worth of comments changed the entire mood of the room to one of energy and laughter and an amazingly positive vibe.
That's seemingly one of the best characteristics about him: In a college world where head coaches are the stars and the most recognizable of all faces, Beard has this self-effacing quality that is both refreshing and admirable.
He told the story Friday about how one of his daughters — he has three — called him that morning. He assumed she was excited about the day's events and him officially being named head coach.
"She actually wanted to let me know the new American Girl Doll comes out tomorrow and could she have my credit card number," Beard said.
UNLV's new coach: The most impressive person in a long, somewhat bizarre process and day.
By far.
By a landslide.
Ed Graney can be reached at egraney@reviewjournal.com or 702-383-4618. He can be a heard on "Seat and Ed" on Fox Sports 1340 from 2 p.m. to 4 p.m. Monday through Friday. On Twitter: @edgraney