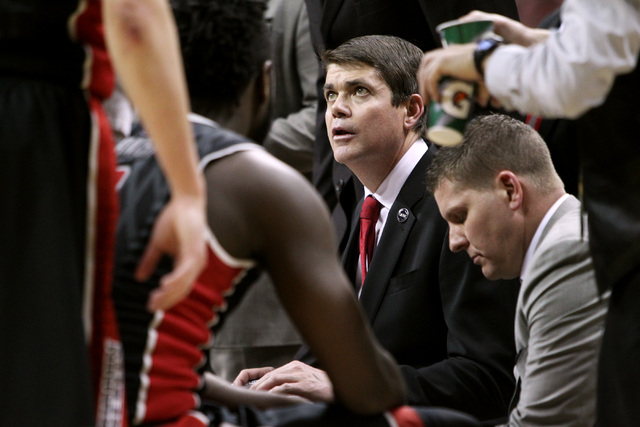 The message becomes clearer each time another top 50 prep basketball recruit pledges his intentions to play for UNLV.
The margin for error has dwindled to an indiscernible level.
It's smaller now than those kids Rick Moranis once shrunk in a movie.
Dave Rice really, really needs to win.
Like, really.
While he has yet to prove March as a month that can define his program as either successful or relevant, Rice has this recruiting thing going like nobody's business.
He's no April fool.
Rice the coach has often struggled demonstrating a grasp of things on the floor, but sits among the game's best when it comes to landing players off it.
You won't hear his name mentioned among the likes of Mike Krzyzewski or John Calipari or Sean Miller or Bill Self or Rick Pitino or an ocean's worth of others in regards to those paramount letters of X and O, but he has more than earned a seat at the leading table when comparing who is best in a living room.
He's a major part of the club in that respect.
He also has assembled a staff which, while its collective reputation nationally has nothing to do with tactical strategy or in-game adjustments, is extremely capable in the significant skill that is selling and nurturing and convincing a recruit and his family that UNLV should be their college of choice.
It was another banner week for Rice and the Rebels, who added yet even more upside to a roster already believed heavy on ability.
Derrick Jones, a 6-foot-7-inch forward from Pennsylvania who apparently has the leaping ability to just skip the whole plane ride theory and simply jump from his hometown all the way to Las Vegas, signed a letter of intent Thursday.
Hours later, Bishop Gorman High star Stephen Zimmerman tweeted that he also had selected the Rebels, meaning the 7-footer chose staying home over attending Kentucky or Kansas or UCLA or Arizona.
Big news for UNLV, literally and figuratively.
The reaction was swift and deservedly positive, with the Rebels moving into the top 15 of most national recruiting class rankings and Rice again hauling in more stars than the Orion and Taurus constellations combined.
Also, final word has yet to come on whether Chris Wood will enter the NBA Draft as a projected first-round pick or return for his junior season and the likelihood of being named preseason Player of the Year in the Mountain West.
But no matter which avenue Wood travels — take the guaranteed money now or return with the hopes of elevating himself into a lottery pick — the Rebels again will be perceived as one of the league's most talented sides.
Some things never change.
Which brings us back to that message.
Rice has now landed nine top 50 recruits in four years at UNLV.
He also has zero conference titles and NCAA Tournament wins.
Among the mass amount of tweets that followed Zimmerman's commitment was this from a national college writer: Dave Rice, who has truly done less with more than anyone in college basketball, will continue to have more next season.
It's a subjective stance, meaning you have to believe the part about more being a true indication of UNLV's talent. If that's the case, perhaps those deficiencies on the bench ultimately will be overridden by all the skill.
Meaning, the Rebels eventually might be so talented, so deep, so capable at every spot, March success will come whether the X's and O's improve or not.
The landing of Zimmerman was critical for many reasons, the most important being he is a skilled big with a terrific feel for the game. He knows how to play. Great passer. I love bigs who can pass.
It also meant that Rice won another recruiting battle this week, convincing assistant coach Ryan Miller to remain at UNLV and not return to one of his previous stops at New Mexico. The Lobos reportedly made a hard run at Miller. He declined.
Miller was the lead recruiter on Zimmerman and developed an extremely close relationship to the player and family members. He went the extra mile and then some in pursuing the commitment of a 5-star player who had his pick of destinations. Miller in Albuquerque could have meant no Zimmerman in Las Vegas.
So it's true that April again has been kind to Rice. It's now on him to make March a whole lot better for his program, because as the elevator of recruiting continues to rise for UNLV, a new season will arrive and you're never quite sure what you might find when the door opens.
As for the part about UNLV continuing to go the extra mile when chasing top players, I'm guessing Rice supports one action: Carry on.
Las Vegas Review-Journal sports columnist Ed Graney can be reached at egraney@reviewjournal.com or 702-383-4618. He can be heard from 11 a.m. to 2 p.m. Monday through Friday on "Gridlock," ESPN 1100 and 100.9 FM. Follow him on Twitter: @edgraney.