UNLV's Wood made right choice in most disrespectful manner
April 23, 2015 - 10:25 pm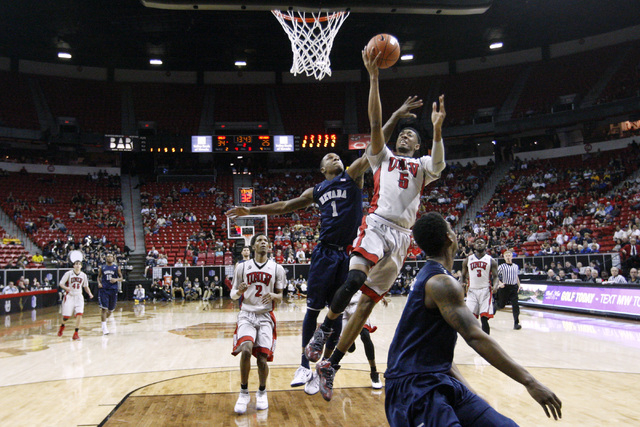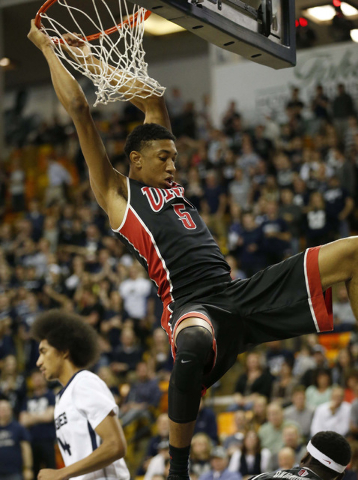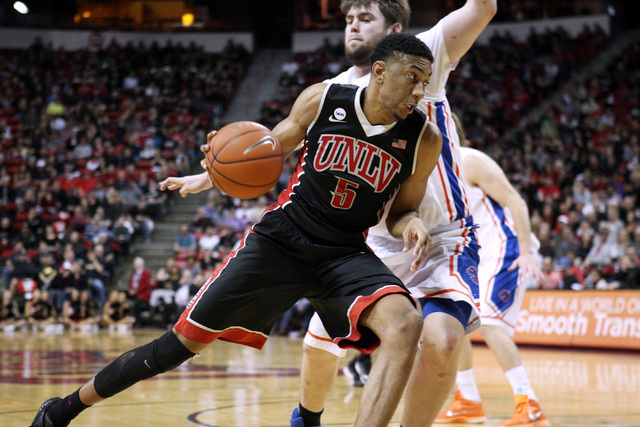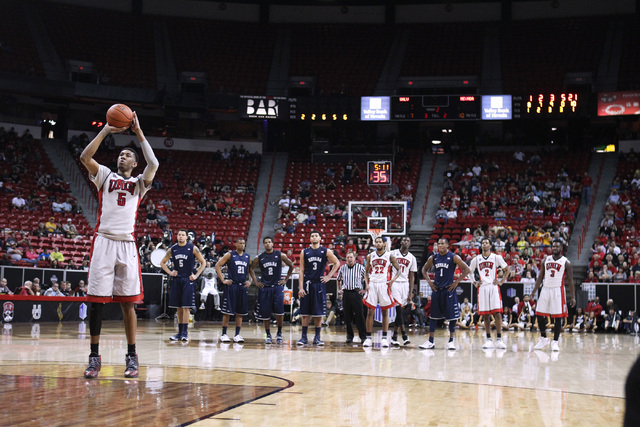 The truth: Chris Wood made the correct choice. He should depart UNLV's basketball program and enter the NBA Draft, because those who are projected as first-round picks risk far too much financially against a potential injury that could seriously damage their earning power.
If guaranteed money is on the table — picture Wood doing that spoon-fed gesture after a 3-pointer — you eat it up.
What was that line from Ben Affleck to Matt Damon in "Good Will Hunting," something to the effect that hanging around here would be a waste of your time. When you are this close to securing millions of dollars, you start the engine in the slick black SUV, or whatever it is Wood drives nowadays, and head toward the bank.
But there is another truth, and it speaks to how Wood went about informing the Rebels and others of his decision: There is a right way and wrong way to handle such matters, and Wood failed about as miserably as one can in the process of leaving after his sophomore season.
He pretty much whiffed on a breakaway dunk, difficult for someone 6 feet 11 inches tall.
And yet the only surprising thing about his self-centered antics is that anyone was surprised.
It's unfair to paint all players in such a situation with the same brush, not to mention a somewhat slippery slope when trying to moralize the actions of a college athlete whose massive ego has in part been shaped by those who recognized his talent early on and helped develop it.
But there is a bigger issue here than Wood's elitist attitude, and probably dates to when he first showed any promise on a basketball court.
Wood informed the public of his choice Wednesday night via video on Twitter, and after watching it, I wondered when he had become such good friends with Martin Scorsese.
It was more mini-documentary than anything else, an impressive four-minute, 24-second clip that obviously took great thought and time and care and planning to produce.
It absolutely wasn't shot, edited and posted in a matter of hours.
Probably more like days.
Which causes us to wonder: Why, then, did Wood post a photo to Twitter on Tuesday of himself standing in front of a group of fellow Rebels players, all wearing UNLV uniforms and with this caption: "Kind of a cool pic what do yall think??"
Why insinuate you were returning to school — a ploy that worked so well that several NBA Draft websites reported such news Wednesday afternoon — and toy with the emotions of many who followed and supported you at Findlay Prep and UNLV?
Why approach a staff member on Wednesday with a smile and hug and inform her that you were staying in school?
Why the games? Why the deceit?
Why the inference that you struggled with this decision at all?
Those close to Wood deserved better. Dave Rice and his coaching staff absolutely deserved better. Rice deserved to hear the news in person, or at least via telephone call, and not from a text.
You can think anything you want about Rice as a coach, but he spent countless hours recruiting Wood and two years helping develop him into a likely first-round pick.
And he didn't warrant a phone call?
Wood, and those who counseled him in this course, should be embarrassed.
I'm guessing they're not.
I don't for a second accept the popular theory that these are merely the actions of a young, immature kid. If you're old enough and responsible enough to choose a professional path defined by men, act like one.
But herein lies that bigger issue: Wood is the perfect byproduct of a system that coddles and praises and spoils its best talents, one in which any college coach with a pulse could tell you today who the nation's best fifth-grade player is.
There's something very wrong about that.
Is it any wonder why a player such as Wood craves this amount of attention, that he becomes a Twitter troll during such a significant process as deciding his future in hopes of earning even more adulation, that he obviously basks in the notion that the happiness of others depends on him?
He doesn't seem like a terrible kid, just a really misguided one who obviously didn't get the best advice on how to handle this situation. His mother reportedly wanted him to return to UNLV. Wanted it more than anything else. Others, those Wood obviously listened to in the end, didn't.
I hope he makes an NBA team. Hope the past 48 hours doesn't harm his draft position when general managers and coaches begin to dissect his character. This isn't Karl-Anthony Towns or Jahlil Okafor we're talking about. Wood is not a can't-miss player at the next level, and you can be sure teams would pass on him if they deem his makeup too flawed and not worth the time. He's all upside and potential right now.
Guys like that can become great.
They also can become busts.
It's a fine line.
But it's best for UNLV that he departs now. Wood probably would have been named the Mountain West's preseason player of the year next season, but within his immense skill set also exists an attitude that can potentially soil a locker room.
Rice didn't have the depth last year to sit Wood when he either didn't play hard or buy in. UNLV has it now.
Does anyone truly believe the fallout of Wood either potentially being benched at times or having his role diminished in the slightest manner next season would have been beneficial for a team with a legitimate chance to compete in league?
This is an ideal case of addition by subtraction for UNLV.
Wood made the right choice. He needed to go. Needs to get paid.
But in charting the correct route for his continued journey in basketball, he sprung some massive leaks in the ways of character and class. Maybe he learns a lesson from it. Maybe he doesn't believe one is needed.
The truth: Chris Wood is every bit the talented college basketball player in 2015, meaning every bit the perfect byproduct of a system that coddles and praises and spoils kids with admiration and flattery from the first time they pick up a ball.
And we're surprised by any of it?
Las Vegas Review-Journal sports columnist Ed Graney can be reached at egraney@reviewjournal.com or 702-383-4618. He can be heard from 11 a.m. to 2 p.m. Monday through Friday on "Gridlock," ESPN 1100 and 100.9 FM. Follow him on Twitter: @edgraney.