Urban Meyer case is latest example of greed in college football
Updated August 22, 2018 - 9:00 pm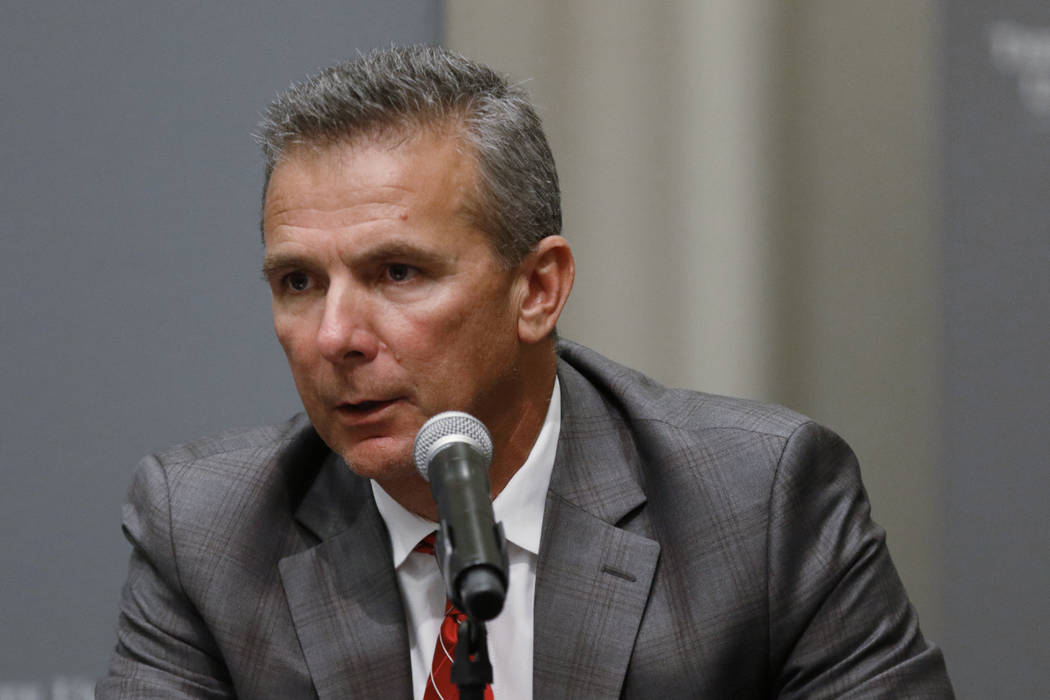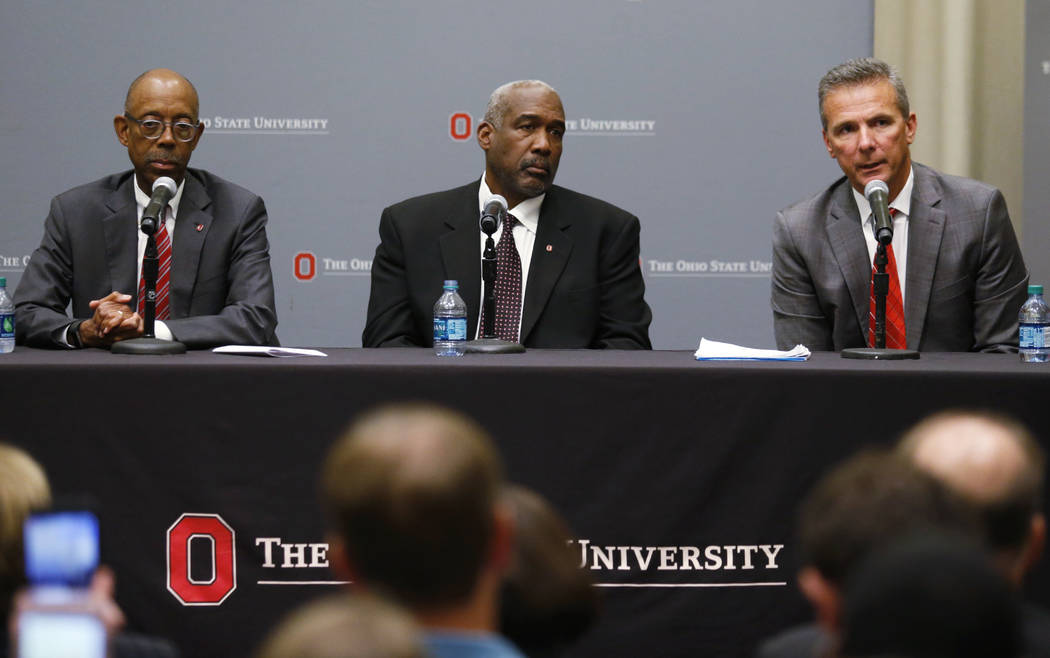 There will come a time when college football reaches its tipping point, when the side of winning at all costs is opposed, once and for all, by one who seeks to protect whatever integrity might still exist on campuses of higher learning.
Did we reach it in Columbus, Ohio, on Wednesday?
Is this it?
I wouldn't think so, and yet through the bizarre theatrics that played out with Ohio State coach Urban Meyer being suspended for the first three games of the season, we are again reminded about that long-standing struggle those in major college football face: Do anything and everything to make the most money and win the most games or instead uphold the ethics and values upon which universities desire to be defined.
Problem is, many try to do both, and that's impossible.
The marathon in Columbus eventually ended, a span of more than 10 hours passing as officials discussed the findings of an investigation in the wake of domestic abuse allegations against former wide receivers coach Zach Smith.
The ultimate decision was to suspend Meyer for games against Oregon State, Rutgers and Texas Christian for how he mishandled those accusations made by Smith's ex-wife.
By the way, with Meyer and athletic director Gene Smith and seemingly everyone else wearing a suit at Ohio State proclaiming how sorry they were to Buckeye Nation, did anyone think of apologizing to Courtney Smith?
I sort of lost track when, during the news conference to announce suspensions for Meyer and Smith, it was stated that the coach had lied but not deliberately.
What does that even mean?
Whether the discipline was three games or two or one or Meyer being fired or nothing happening to him, it's a subjective argument sure to create countless opinions.
I believe three games is, more than anything else, a way to avoid a public relations storm of negativity about going too soft on the state's highest-paid public employee than showing any real teeth.
Here's why. Never in this space will you find a hint of defending any level of domestic abuse, but what happened at Ohio State only reinforces a troublesome truth: Coaches such as Meyer are paid to win games. That's it.
Some would also like him to be a saint who follows all rules and religiously adheres to protocol, but that's not reality.
He doesn't make $7.6 million annually to worry if his wide receivers coach is a total creep who allegedly beat his wife, had $2,200 worth of sex toys delivered to the program's headquarters, took photos of his penis inside the White House and photographed himself in the coaches' offices engaging in sexual acts with an university staffer.
Some person, that Zach Smith …
Not enough done
Should, as the coach, Meyer have done more by firing Smith sooner and helping to protect a woman reportedly being abused? Absolutely.
But it's also true Meyer felt a great sense of loyalty from Smith — the grandson of former Ohio State coach and Meyer mentor Earle Bruce — and nothing, I mean nothing, is more important to the guy running a program than an infinite level of allegiance from those working under him.
That's how ridiculously stupid football's sense of commitment can be inside a locker room.
There is no excusing how Meyer handled all this, but if you're waiting for some moral epiphany from him or most within college football, some understanding or enlightened sense about how things can go so terribly wrong and how best to fix them, well, God bless you.
The world needs more positive thinkers, even if they are incredibly naive.
"I'm sorry we're all in this situation," Meyer said when asked what he would say to Courtney Smith.
Only he could somehow find a way to play a victim.
Meyer is a bad guy, man.
But, man, does he win.
Don't worry, Buckeye Nation, because we all know 100,000-plus will show up for that season opener against Oregon State, and the program will make millions of dollars at the gate that afternoon, and things will move forward on their merry way to another successful season.
Because that's big-time college football, having long ago forfeited any sense of moral code, a chasm of greed perpetuated by the bogus premise of upholding educational missions and enforcing the sanctity of amateurism.
College basketball, too, but let's set it aside for now.
You know, at least until the FBI makes its next arrest.
Contact columnist Ed Graney at egraney@reviewjournal.com or 702-383-4618. He can be heard on "The Press Box," ESPN Radio 100.9 FM and 1100 AM, from 11 a.m. to 2 p.m. Monday through Friday. Follow @edgraney on Twitter.