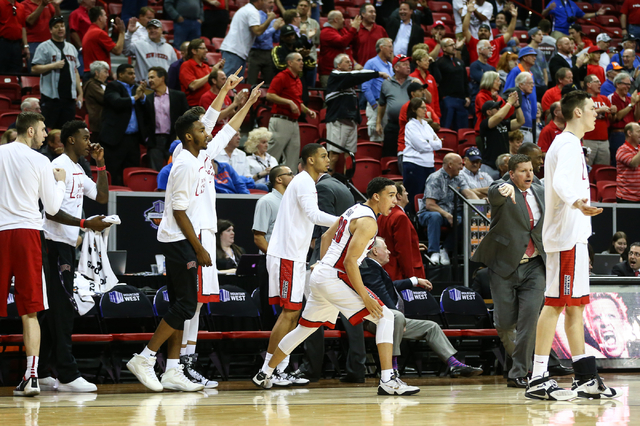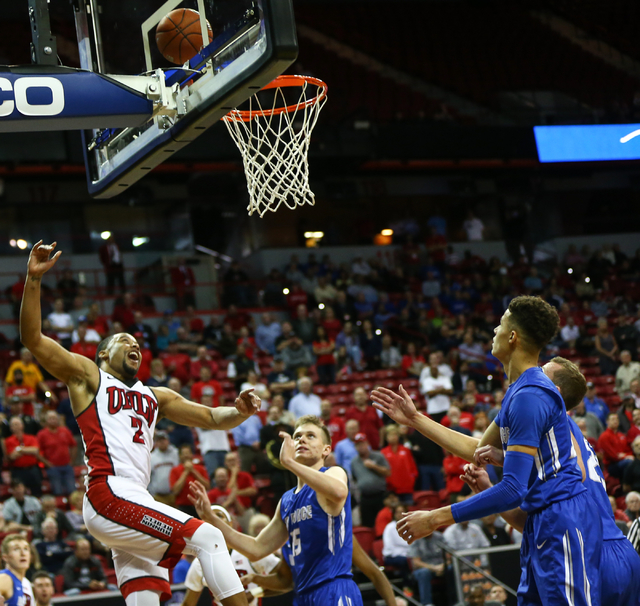 When it was over, when the last bizarre whistle had been blown, when the UNLV walk-on guard had played more minutes than the future first-round NBA Draft pick center, when Ike Nwamu somehow discovered the energy to jump high enough so that he might dunk the final of his career-high number in points, when 55 minutes had elapsed and eight players had been disqualified because of fouls, Jerome Seagears bent at the waist and exhaled, his calves burning and his hand throbbing and his heel screaming in pain.
"This is it," the senior guard said. "There is nothing after this. There is no more. This is the last chance to play with these guys, to be on the same court with them.
"So we grind it out. We just keep playing."
UNLV's basketball program is in for some major changes when the season ends, and it is highly likely the faces of those coaching and several of those playing won't return next year.
But credit the Rebels for this: No one has picked up a white flag.
In this way, things all changed last month.
The Mountain West Tournament has never had a 10 or 11 seed win a game, and it took UNLV three overtimes against Air Force on Wednesday to ensure that streak would remain perfect, outlasting the Falcons 108-102 at the Thomas & Mack Center.
The Rebels as a No. 7 seed advance to play No. 2 Fresno State at 6 p.m. today, a Bulldogs team that leisurely sat and watched most of regulation between the Rebels and Falcons, sat and watched and rested and undoubtedly smiled all the way back to their hotel as more five-minute overtime sessions arrived.
How much fuel the Rebels have left — Seagears played 54 minutes and fellow starters Nwamu and Patrick McCaw each went all 55 — is anyone's guess.
Although it appears Nwamu's conditioning is on another level, given the last two of his 38 points came via an energetic dunk to close out the scoring.
Most would have needed a ladder to reach the rim at that point.
"You don't get an asterisk if you complain about being tired," Nwamu said.
Something happened when UNLV lost at Air Force on Feb. 16, a switch was flipped, a collective attitude altered as the team's charter flight bounced above the Rocky Mountains. The Rebels didn't play especially hard that night in Colorado Springs, Colo., didn't arrive with a strong enough will to win on the road, and if you watched that game and don't believe it, you're kidding yourself or are too much of a fan to admit it.
But in honor of wake-up calls, dropping that game led to a different UNLV, one whose effort hasn't since been debated.
Injuries continued to mount and different names circulated as to whom the program's next coach will be, and UNLV still just split its final four regular-season games, but desire has remained a constant theme.
"I don't think with what has happened since that (loss at Air Force) anyone could question the resolve of our group," Rebels interim coach Todd Simon said. "I don't think anyone could possibly challenge their heart and toughness in any way, shape or form … I think these young men are going to have life lessons that will apply and reach back and find for a very long time. We talked about (Wednesday's game) was an epic battle and the pride I have in them for continuing to dig in and find it, and for guys stepping up."
The team that played at Air Force last month doesn't win Wednesday, regardless of who is in the lineup. But the team that saw McCaw and Nwamu combine for 65 points, that saw two of the five players on the court at the end for UNLV being walk-ons, that had freshman center Stephen Zimmerman Jr. foul out in 17 minutes with two points and two rebounds, that played Barry Cheaney two more minutes (19) than he had all season, does.
And did.
Fresno State swept the regular-season series from UNLV, winning 69-66 and 111-104 in double overtime. The Bulldogs have won six straight and eight of nine. They are confident, rested and about to play a Rebels side that went 55 minutes just 24 hours before the game will tip.
Just don't tell any of that to the burning calves and throbbing hand and painful heel of a certain point guard.
"Rest, hydrate, eat the right food and just come ready to play," Seagears said. "That's all we can do. We just played a crazy game. Interesting calls, up and down all day. If you told me (Cheaney) would play more minutes than (Zimmerman), I would have said you were lying. But no matter how many guys we have, we know we can win games in this tournament."
Because this is it.
There is nothing after this if UNLV loses.
There is no more.
So they grind it out.
They just keep playing.
Ed Graney can be reached at egraney@reviewjournal.com or 702-383-4618. He can be a heard on "Seat and Ed" on Fox Sports 1340 from 2 p.m. to 4 p.m. Monday through Friday. On Twitter: @edgraney