Villanova rides small ball to second title game in 3 years
Updated April 1, 2018 - 5:35 pm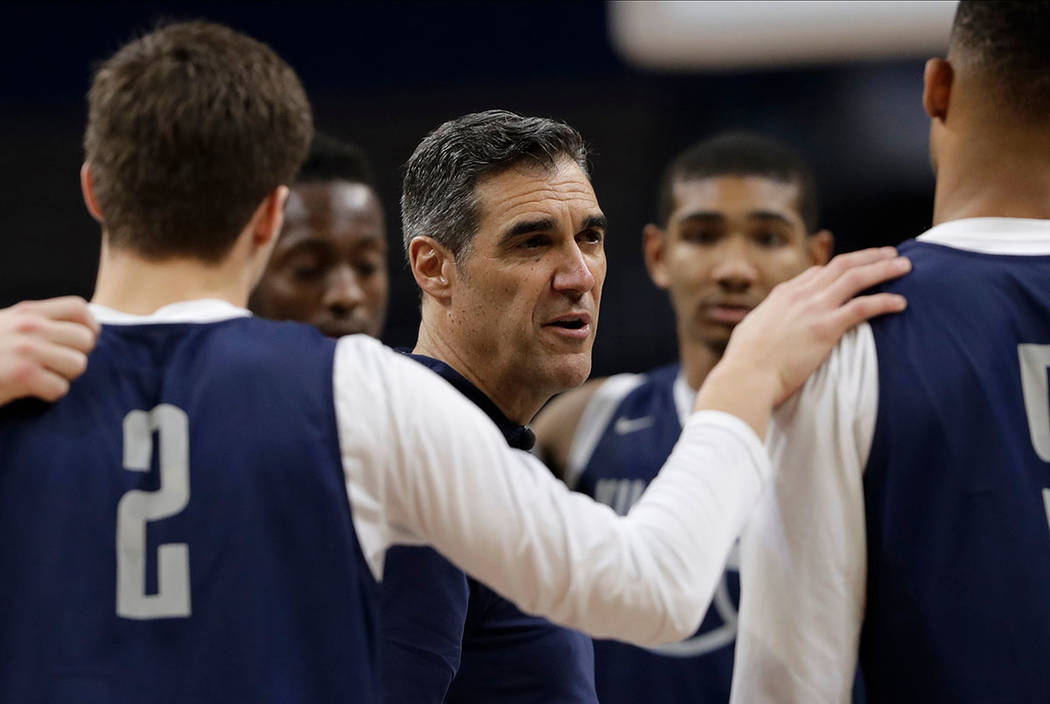 SAN ANTONIO — The blueprint, or at least mindset, stretches to the early 1980s and a private liberal arts college in Lewisburg, Pennsylvania, where there are academic programs in the arts and humanities and sciences and engineering and so on.
When he was a basketball player at Bucknell, Jay Wright led the Bison in scoring his junior season at 11.9 points per game.
He was team captain and MVP.
When he was a senior, he lost his starting job.
At no point did he lose this attitude: "If you had your shot, you took it. If you missed, you kept shooting. I just always remember as a player having that confidence, something I have carried on with our teams."
He has transported such ideals to the point of changing the college game, or at least defining how a small-ball revolution should look at its most beautiful and meticulous level.
Villanova has always run good offense under Wright.
Now, it's doing so on a historic level.
The Wildcats are favored to beat Michigan on Monday night at the Alamodome and win a second national championship in three years, and should such a forecast prove true, it will undoubtedly occur with five Villanova players on the court all superbly efficient at shooting and dribbling and passing and moving.
A popular comparison to the Wildcats is the Golden State Warriors, and yet while Wright agrees he has patterned some of his team's style after the defending NBA champions and all their versatile stars, he points further back to the Phoenix Suns teams of the mid-2000s, then coached by Mike D'Antoni.
Reaching even further: In routing Kansas 95-79 on Saturday, Villanova set a Final Four record with 18 3-pointers.
The previous mark was 13, set by UNLV in 1987.
The Rebels in that game against Indiana also attempted a semifinal-record 35 3s.
Villanova bested that with 40 against Kansas.
Put it this way: Freddie Banks would love this Villanova team.
"That really surprises me because a lot of things we still do defensively, we picked up watching Coach (Jerry) Tarkanian's teams with (former UNLV assistant) Tim Grgurich," said Wright, himself a former UNLV assistant under the late Rollie Massimino. "I wouldn't have thought that about the 3s. The 3-point shooting is taken more from the NBA. We watch all of the NBA and how everyone picks parts of that stuff. That's more of where the influence came."
How important is the style to Villanova's success?
In 35 wins this season, the Wildcats have shot 42 percent on 3s.
In four losses, they have shot 28 percent.
It's not that Wright doesn't recruit or desire to sign one-and-done players, but his is a system in which fit matters most. The longer a player remains at Villanova, the better he becomes at executing the attack that has college basketball on its collective and defensive heels right now.
Think about it: The Wildcats, who have made an NCAA single-season record 454 3s, often put lineups on the floor in which all five players shoot 39 percent or better from distance.
"It's just comes from the confidence we have in each other, our work ethic," said junior All-American point guard Jalen Brunson. "We're making shots right now. That's a good thing. It's a plus."
It's one thing to be a great shooter. It's another to be a great player. Villanova has far more of the latter, because as much as its offense deservedly gets credit for this dominating run through the NCAA bracket, it also has been ranked in the Top 20 for defensive efficiency all season.
And still, to win, Michigan has to hope and pray Villanova players don't continue to resemble the NBA's most explosive team.
"This is the Golden State Warriors here," Wolverines coach John Beilein said. "This is Draymond Green-type stuff where they can all shoot, pass, do everything. It's how we like to play, as well, but it doesn't mean we can stop it."
If they can't, Villanova will win a second title in three years, and a mindset stretching to a private liberal arts college in Lewisburg, Pennsylvania, will again have Wright holding a pair of scissors atop a ladder.
Contact Ed Graney at egraney@reviewjournal.com or 702-383-4618.