Villanova's Jenkins realizes his destiny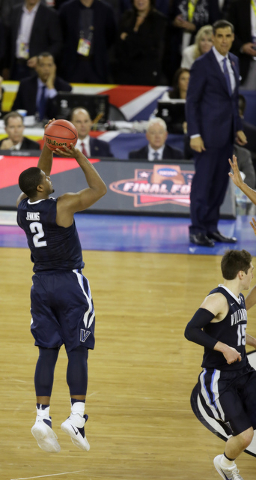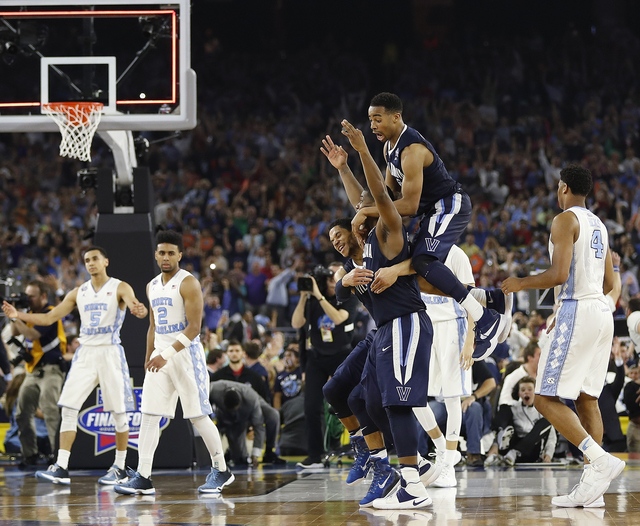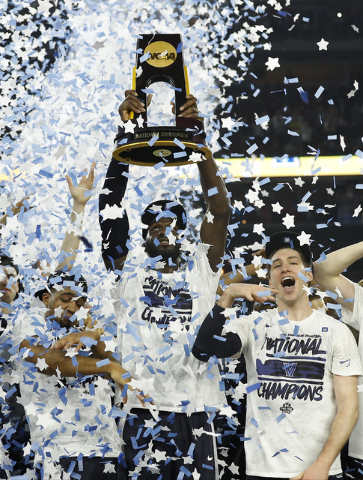 HOUSTON
It is believed that we can control our destiny, that there are countless opportunities to turn this way or that in life, that it is not a fixed and sealed component like fate. Ten years ago, the death of an 11-month-old little girl pointed Kris Jenkins on a journey that was both frightening and unknown.
Pointed him towards his destiny.
On Monday night, it was realized with what is arguably the biggest shot in the history of an NCAA Tournament championship game, one that allowed Villanova's basketball team to do the impossible and top the wonderment of 1985 and the fairy tale that was born from it.
The Wildcats have won a second national title in the most dramatic and memorable fashion, beating favored North Carolina 77-74 before a first raucous and then stunned and then euphoric 74,340 at NRG Stadium.
Jenkins stepped into a deep 3-point attempt as the clock was about to expire, let it go and watched as it fell through net and set off the most incredible of celebrations. In a game that had already been labeled a classic when North Carolina erased a 10-point deficit over the final 5:29 and had just tied it at 74 on a double-clutch, circus 3 at the other end from senior Marcus Paige, the Wildcats answered with their magical ending.
It took all of 4.7 seconds, all of guard Ryan Arcidiacono rushing the ball up court and finding Jenkins on the right side.
One Shining Moment became One Legendary Shot.
"I think every shot is going in," Jenkins said. "That one was no different."
He was 10 and playing AAU ball in Washington D.C., when his baby sister took ill and his mother Felicia, a travel basketball coach, had to spend every waking hour with her at the hospital. Jenkins was taken in by his coach, Nate Britt Sr., and his family. Nate Britt Jr. was a teammate.
Kori passed away at 11 months, and it was later decided that Jenkins had found a sense of stability with the Britts he couldn't with his mother traveling so much to coach, so it was decided Kris would remain with the family permanently.
But the overwhelming joy of Monday's victory didn't come without a deep level of sadness for the Britts, given Nate Jr. is a guard for North Carolina who played nine minutes and scored two points.
"It hurts," Britt said. "I congratulated him. He hit a big-time shot to win the game. At the same time, this hurts. It's bragging rights for the rest of our lives."
Said Kris: "Nate is my brother. I love him. To play against each other in the national championship, it was something special for our family."
Keith Smart's jumper in 1987 against Syracuse that won Indiana the title came with four seconds remaining; Mario Chalmers made a dramatic shot to save Kansas in 2008, but it only forced overtime against Memphis, where the Jayhawks eventually won; Michael Jordan's shot to give the Tar Heels a championship in 1982 happened with 15 seconds left.
For drama's sake, perhaps Lorenzo Charles leaping from nowhere and slamming Dereck Whittenburg's miss at the buzzer to lift North Carolina State past Houston and Phi Slamma Jamma in 1983 is bigger than the shot Jenkins hit Monday.
It's a great argument for standing around the water cooler today.
This is better than 1985 for Villanova, more impressive. That was Cinderella with a coach named Rollie going to the ball against Georgetown and finding a slipper that fit by shooting an ungodly 78 percent. This was the nation's best team proving it on the sport's biggest stage against the side everyone assumed was the best.
This was beating a No. 1 seed in Kansas and a 2 in Oklahoma and a 1 in North Carolina to claim the championship, the latter also watched in person by that coach named Rollie.
Jay Wright insisted that winning wouldn't change his program all that much, that it would recruit the same type of players and preach the same message about humility and promote the same culture of togetherness, that the things which have shaped Villanova basketball for so many years would remain consistent and coveted.
It was late Monday night, streamers still falling from the rafters, players and coaches and family and friends embracing, tears flowing from here all the way to suburban Philadelphia, when Wright put his arm around Rollie Massimino, the two coaches who have now each brought Villanova a title, who spent a few years together at UNLV in the early 1990s, who share an unbreakable bond.
"Very rewarding for me," Wright said. "Everyone in coaching has to be given a chance by somebody. You don't have internships or apprenticeships in coaching where you learn the craft. Somebody has to give you the opportunity, then they have to spend the time with you to teach you. He did that for me. To be able to share this with him …
"You know, it is still surreal. I don't think I've really digested this yet. I don't think this has hit me yet. It's amazing to be out there watching 'One Shining Moment,' standing up on the stage, seeing those kids cut down the net. I don't really think I have the words to explain it."
One Shining Moment.
One Legendary Shot.
The best team won in the most historic of ways Monday, and a young man's destiny was fulfilled.
Ten years later, Kris Jenkins turned the perfect way on his life's journey.
Ed Graney can be reached at egraney@reviewjournal.com or 702-383-4618. He can be a heard on "Seat and Ed" on Fox Sports 1340 from 2 p.m. to 4 p.m. Monday through Friday. On Twitter: @edgraney