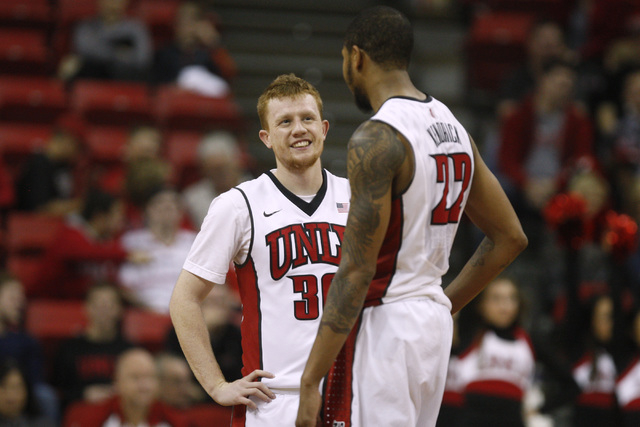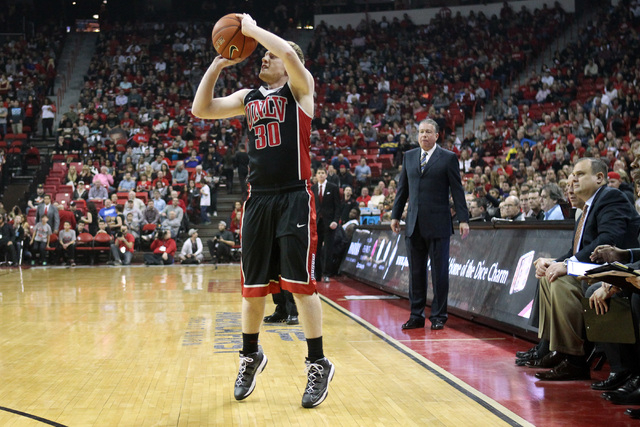 Paradise is a short walk from Waikiki Beach.
Chaminade University sits at the base of St. Louis Heights in the historic Kaimuki district of Honolulu, and when you stand outside one of those white stucco buildings with the red-tiled roofs and glance left, you get a clear picture of the volcanic tuff cone that is Diamond Head. If you look right, there is nothing but a vast, beautiful ocean swaying toward the horizon.
They say Hawaii is not a state of mind but rather a state of grace.
Dantley Walker hopes it is one of opportunity.
"I have to work on my swimming," he said. "We didn't really do much of that in Panaca."
His basketball journey has been somewhat of a wave, still curling into an arched form. He isn't near ready for it to break on shore.
Walker has departed UNLV for a land of mangoes and guava and cooling trade winds, for a Division II program in Chaminade whose history is defined by one of the biggest upsets in college basketball history.
Yes, it's the school that toppled No. 1 Virginia and Ralph Sampson in 1982.
Walker wasn't born until 10 years after that remarkable result in the Maui Invitational, an annual tournament hosted by Chaminade and one in which the Rebels will compete in November.
There is a place in college ball for anyone who shoots like Walker, one of those players who believes range is a concept that begins when exiting the car in a parking lot.
Sometimes, it just takes a while to discover where the best fit exists.
His was a game of legend at Lincoln County High School, nurtured in Southern Nevada's first permanent settlement. Panaca sits off Route 319 and near the Utah border, a town founded as a Mormon colony that stretches just over three miles.
There isn't much surfing there.
But it is where Walker became Nevada's all-time leading prep scorer, where he left school as the state record holder in 12 categories, including 3-pointers and assists. His dream was to play at UNLV, to stay home and launch long and significant jumpers at the Thomas & Mack Center, and former Rebels coach Lon Kruger obliged with a scholarship offer.
Dave Rice honored that deal when he took over for the departed Kruger, and when Walker returned from a two-year LDS mission, he redshirted in 2013-14 before playing limited minutes last season. In 11 games, he averaged 2.4 points and 5.8 minutes. A knee injury ended his season in February.
"You know, we had played a few games to start the season and I hadn't gotten in a whole lot, so I started to think how fast the window closes in college," Walker said. "I began to think that maybe it was better to go somewhere where I could play and have an impact. I met with Coach Rice throughout the season, and he was always honest with me about what my role would be. I had a really positive experience and loved the coaches and my teammates.
"I knew coming out of high school I wouldn't get as many shots. My mindset was always to try to help UNLV win as many games as I could. Not playing much took some time to adjust to, but I have no complaints. I played against two guys (Rashad Vaughn and Chris Wood) every day in practice who are going to be NBA Draft picks this year. That is only going to make me better moving forward."
He could have transferred closer to home and played at a smaller Division I school in Utah, but the sand in his college hourglass had begun to exude a yellowish-brown tint. Walker's game had taken on rust from two years on a mission — "I would play a little on the weekends against some missionary kids, not Rashad Vaughn for sure," he said of the competition in Spokane, Wash. — and sitting out another at UNLV.
He wanted to play big minutes immediately, which meant sitting out a transfer year wasn't the most attractive option, unlike the immediate eligibility he would have at a Division II school.
There is a difference between getting your shot off at Lincoln County as opposed to defenders from schools such as Arizona and Kansas and San Diego State. Walker was one of the best prep players Nevada ever witnessed, but the transition to major college ball was always going to be a significant struggle for him athletically.
It just wasn't the best fit for him, is all.
"Dantley is a great young man and very popular with his teammates," Rice said. "There was certainly a place for him here, but he expressed often that he wants to play starter's minutes. I think he has found that place in Chaminade. Everyone is different. Some young guys are happy as role players at the highest level, and others want to play a lot. I know he loved his time here, and we're very supportive of this next step for him."
It is one that, ironically, could have Walker shooting jumpers against the Rebels at the Lahaina Civic Center, an old, hot, dusty gym next to the Pacific Ocean that annually hosts the Maui Invitational over three days each November.
This year's bracket — which will include the likes of Kansas and UCLA and Indiana — has yet to be announced. Walker wouldn't admit to having any desire for Chaminade to ultimately meet UNLV during the event, only that he looks forward to again seeing his former coaches and teammates.
"I went for a visit and fell in love with Hawaii, like everyone does," said Walker, who has three years eligibility remaining. "On the flight back to Las Vegas, I couldn't stop smiling. I'm very happy."
His is a wave that continues to curl into an arched form, not yet near ready to break.
Las Vegas Review-Journal sports columnist Ed Graney can be reached at egraney@reviewjournal.com or 702-383-4618. He can be heard on "Seat and Ed" on KRLV 1340 from 2 p.m. to 4 p.m. Monday through Friday. Follow him on Twitter: @edgraney.