Warriors celebrate title in way Las Vegas can only hope to know
Updated June 15, 2017 - 11:32 pm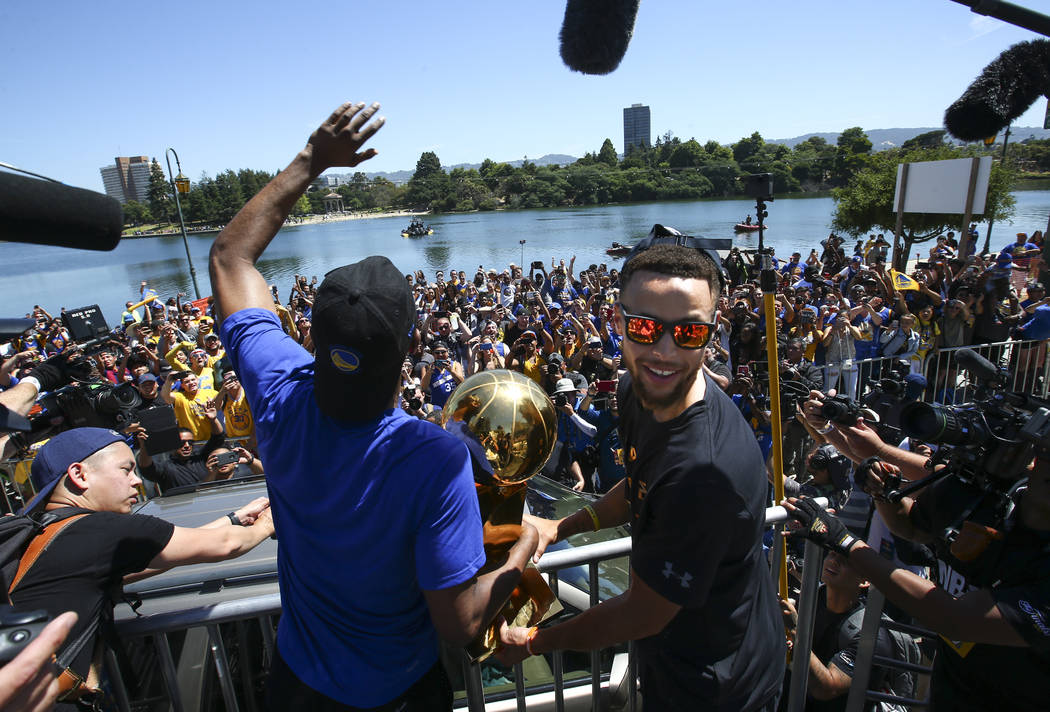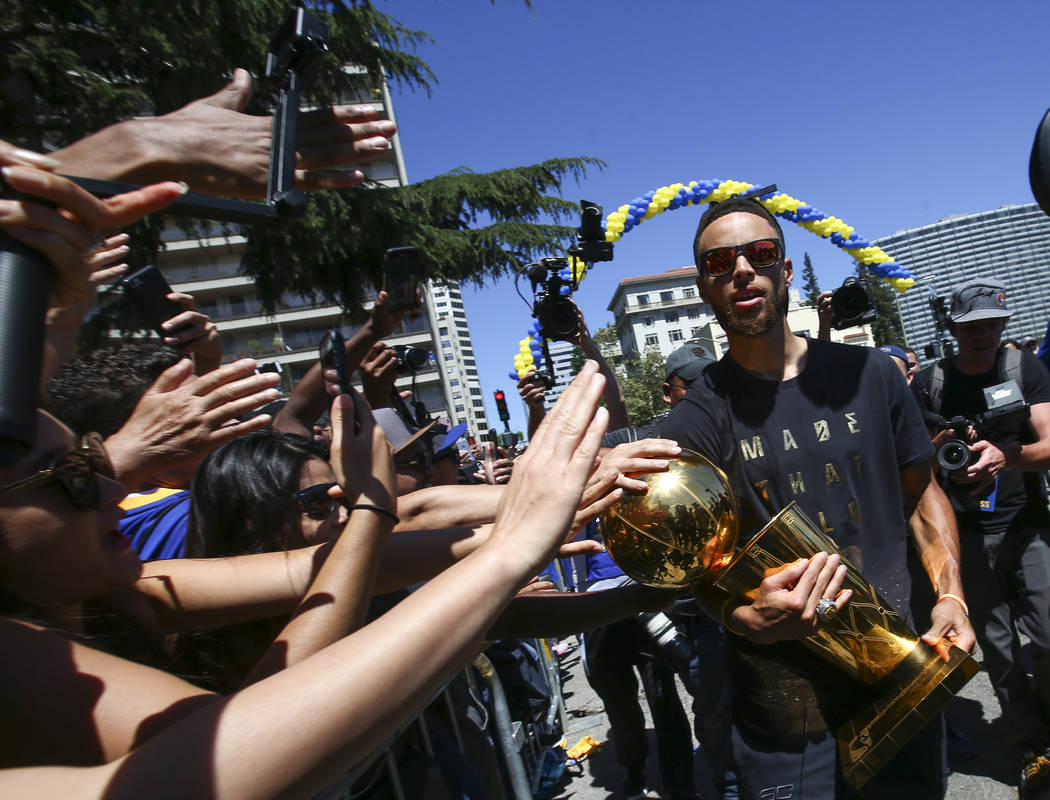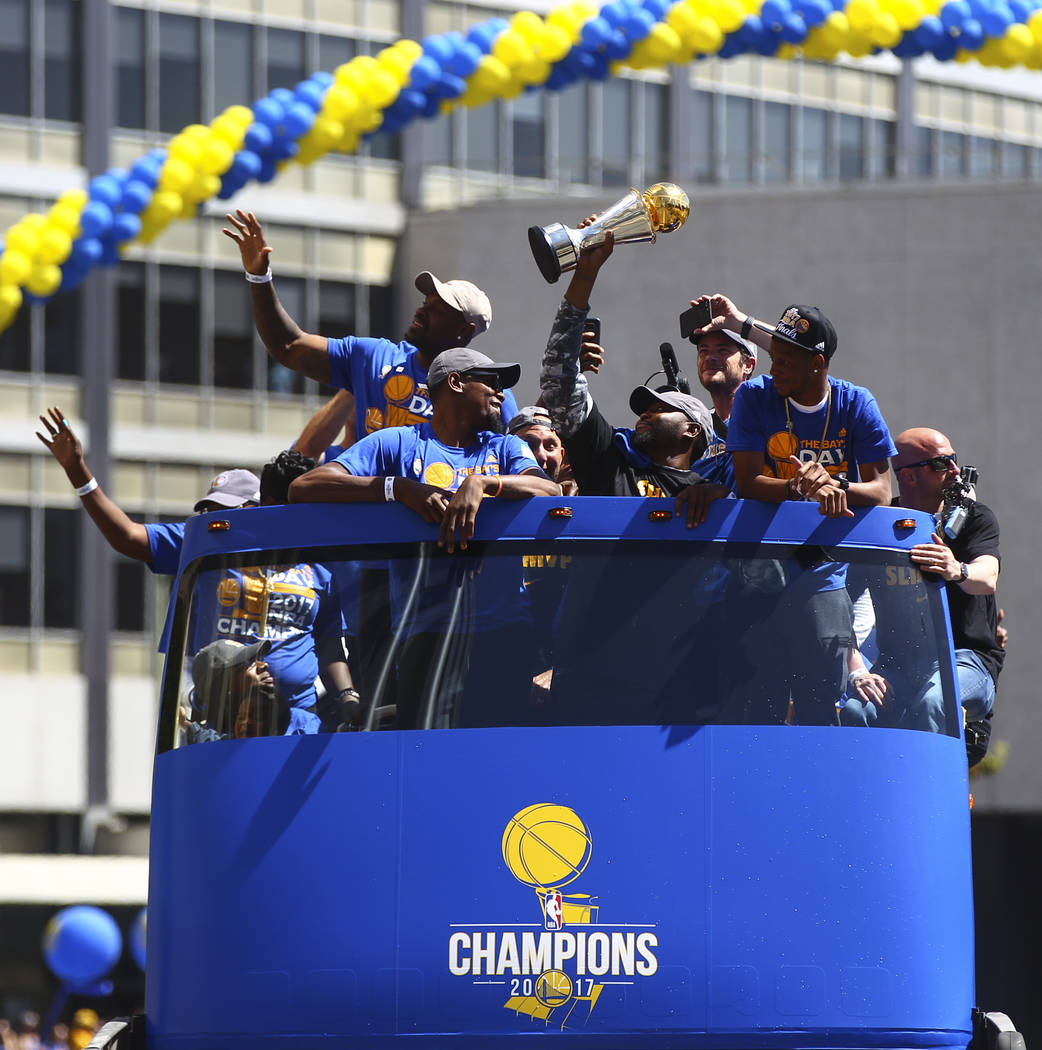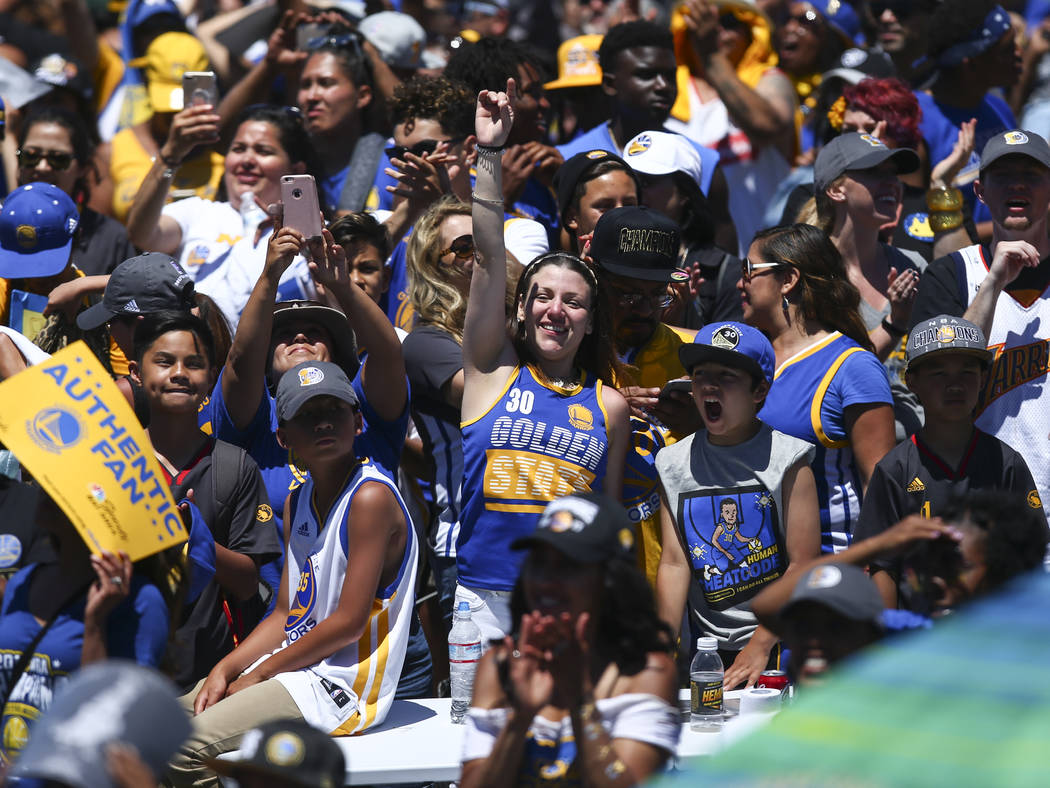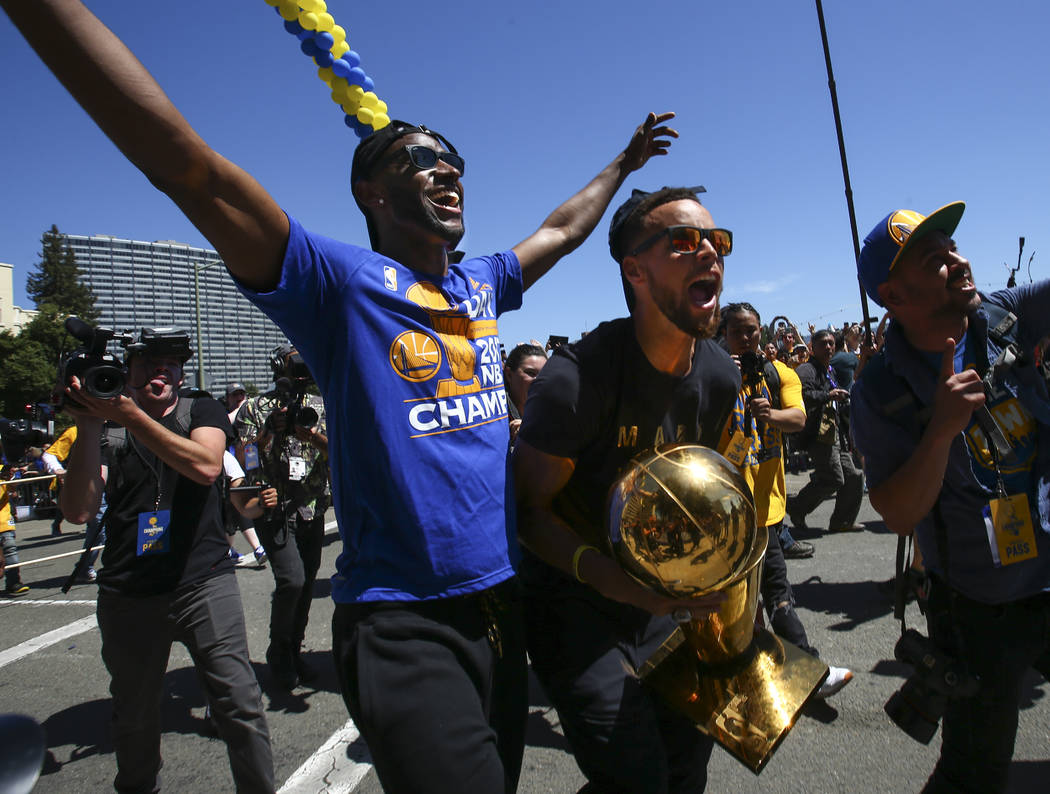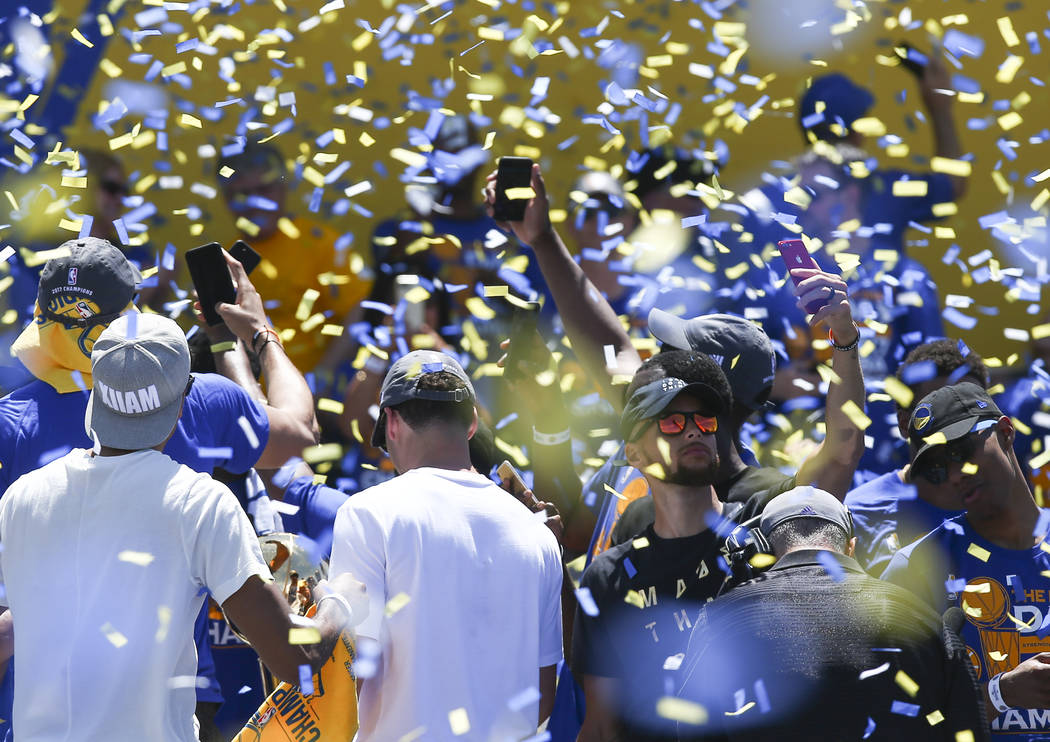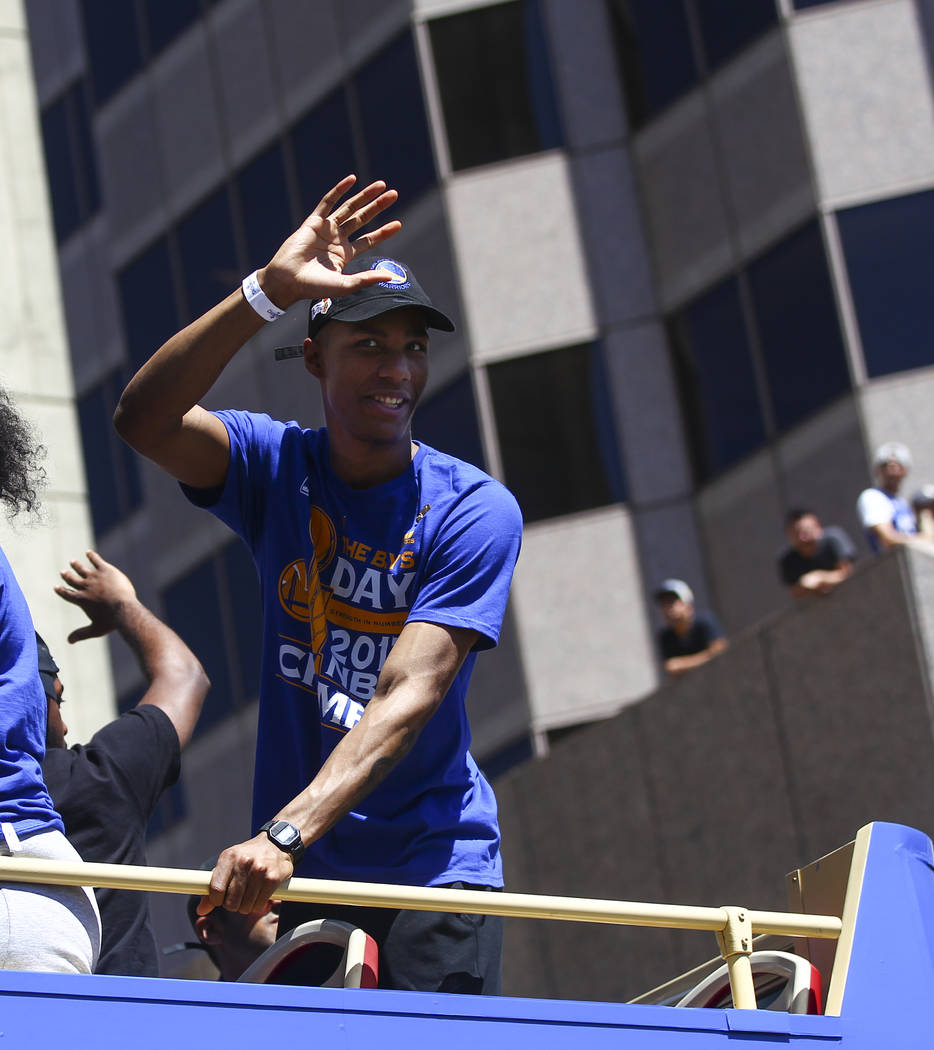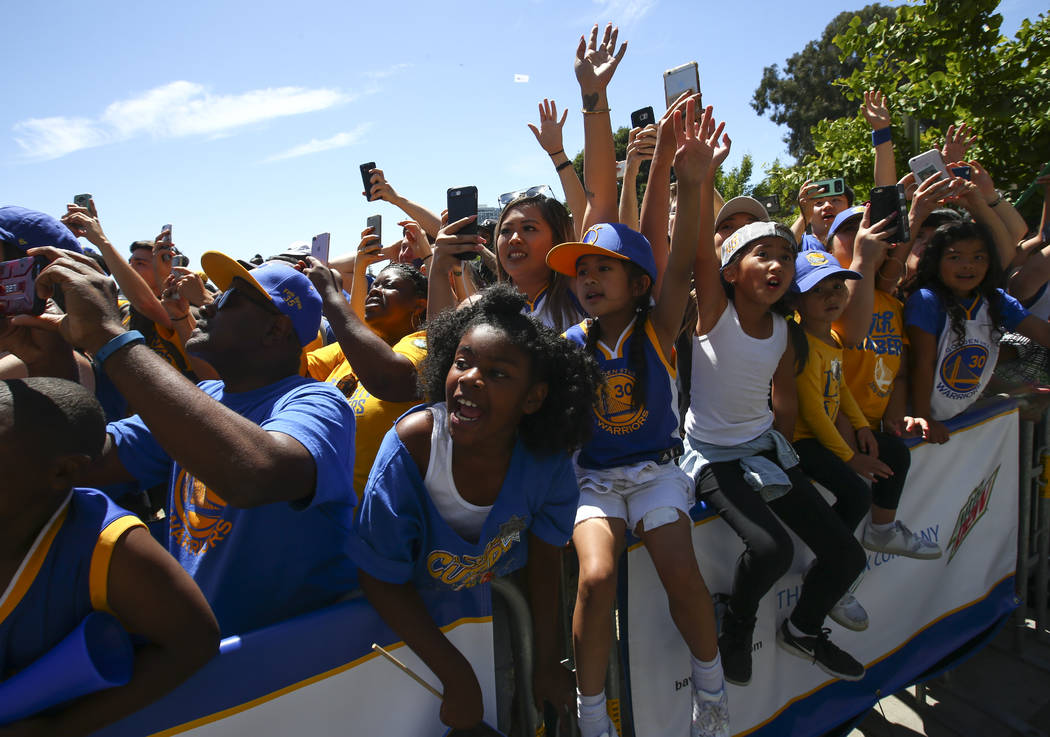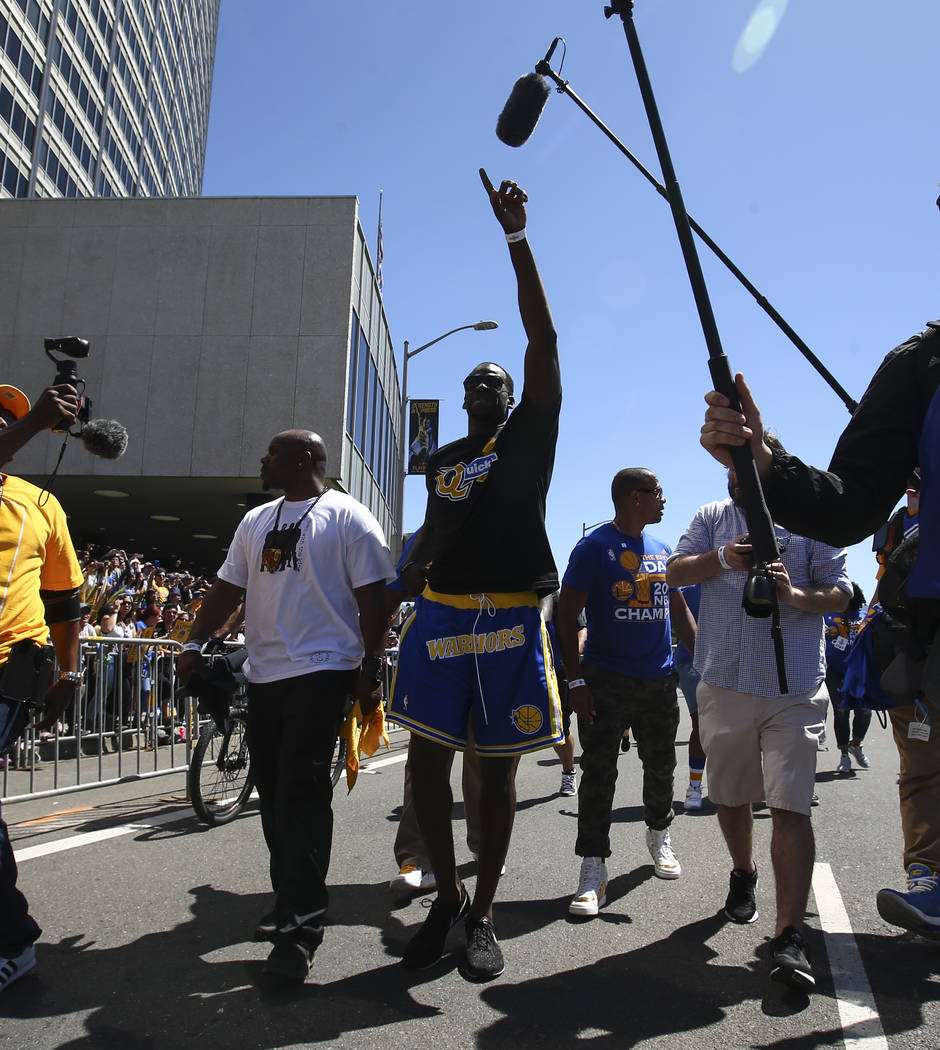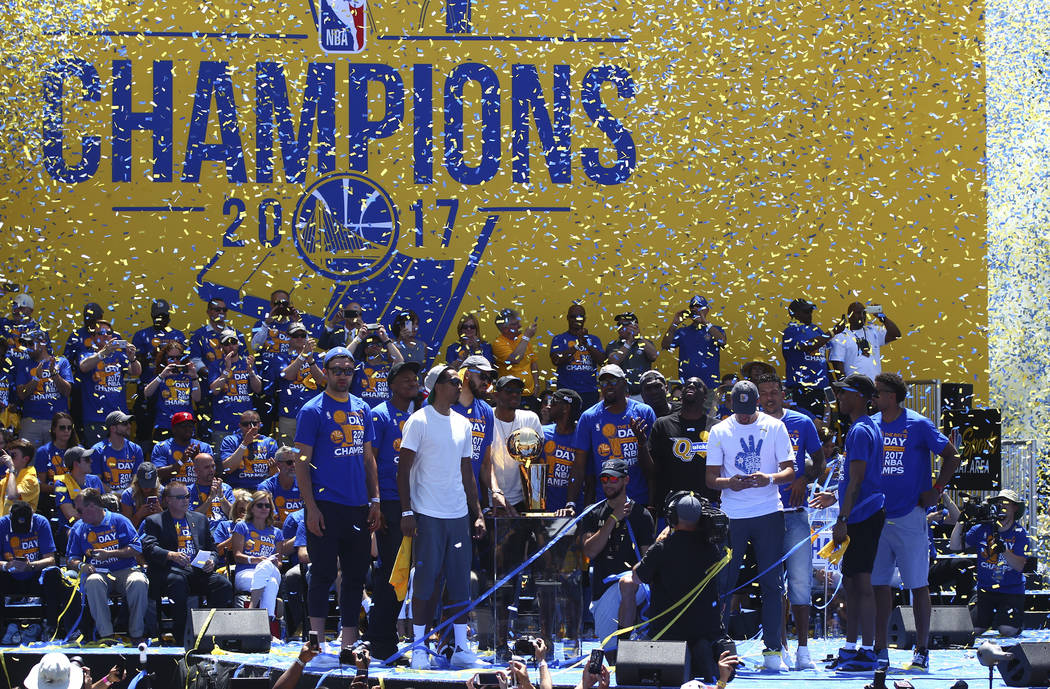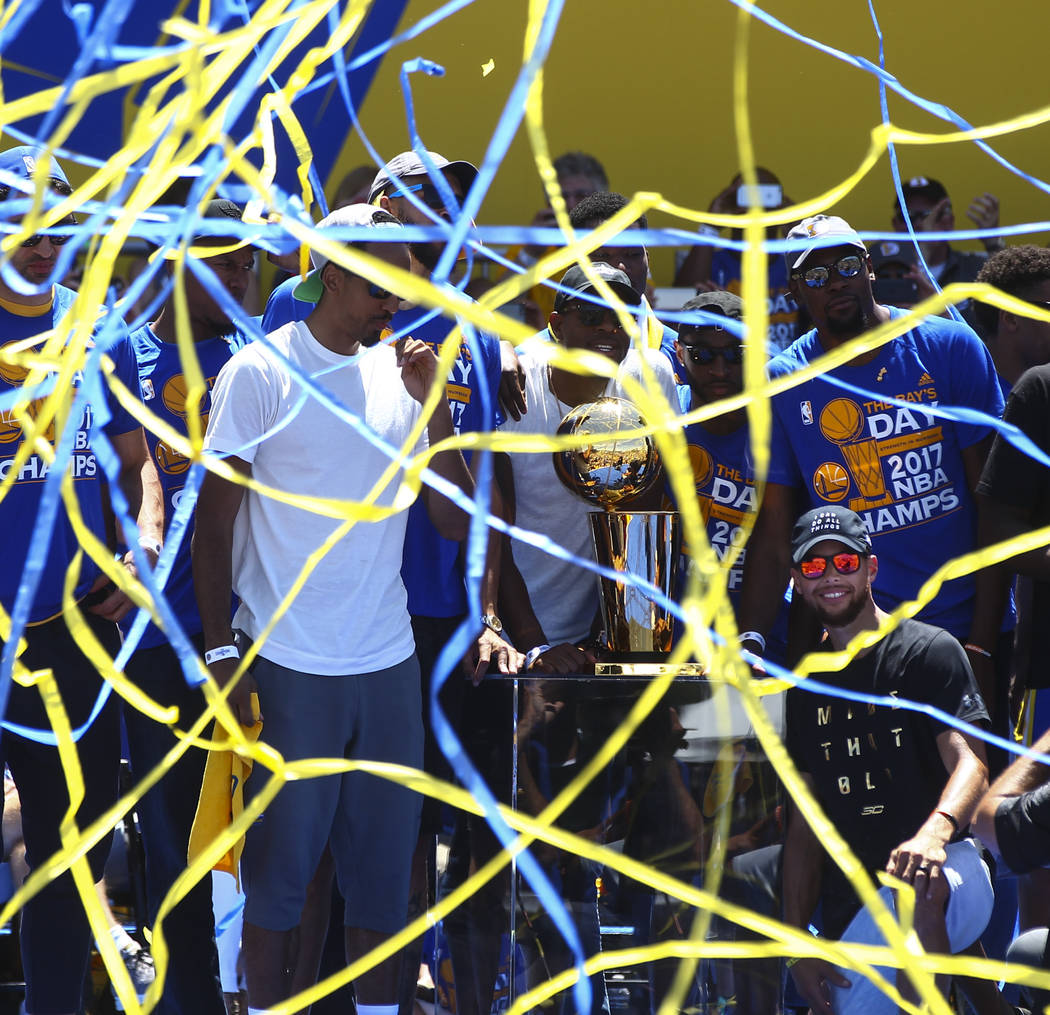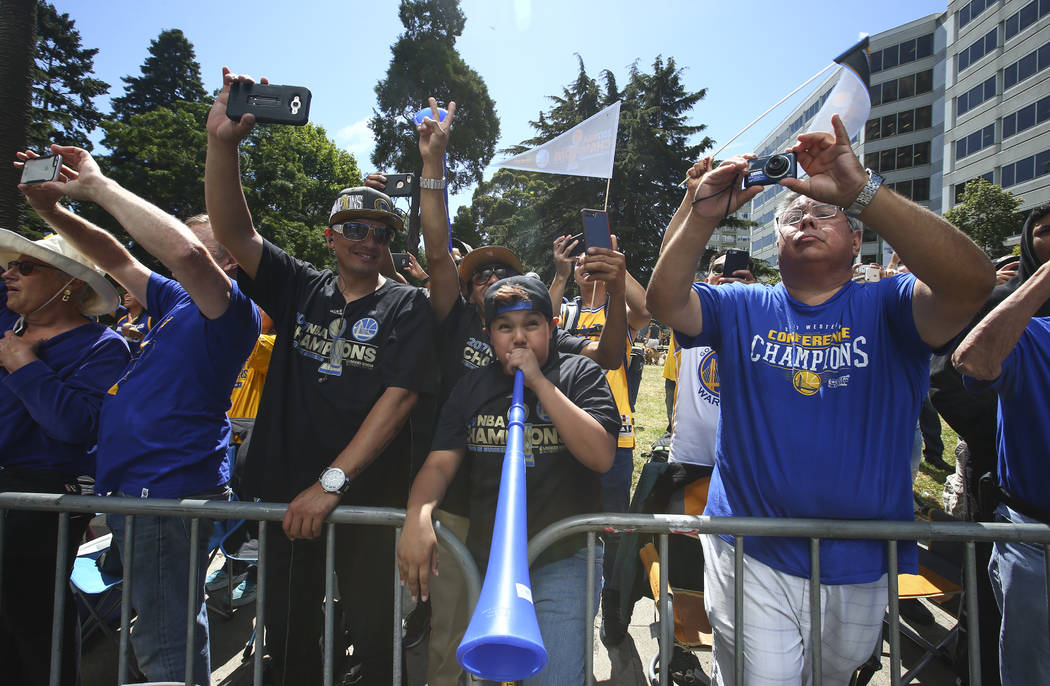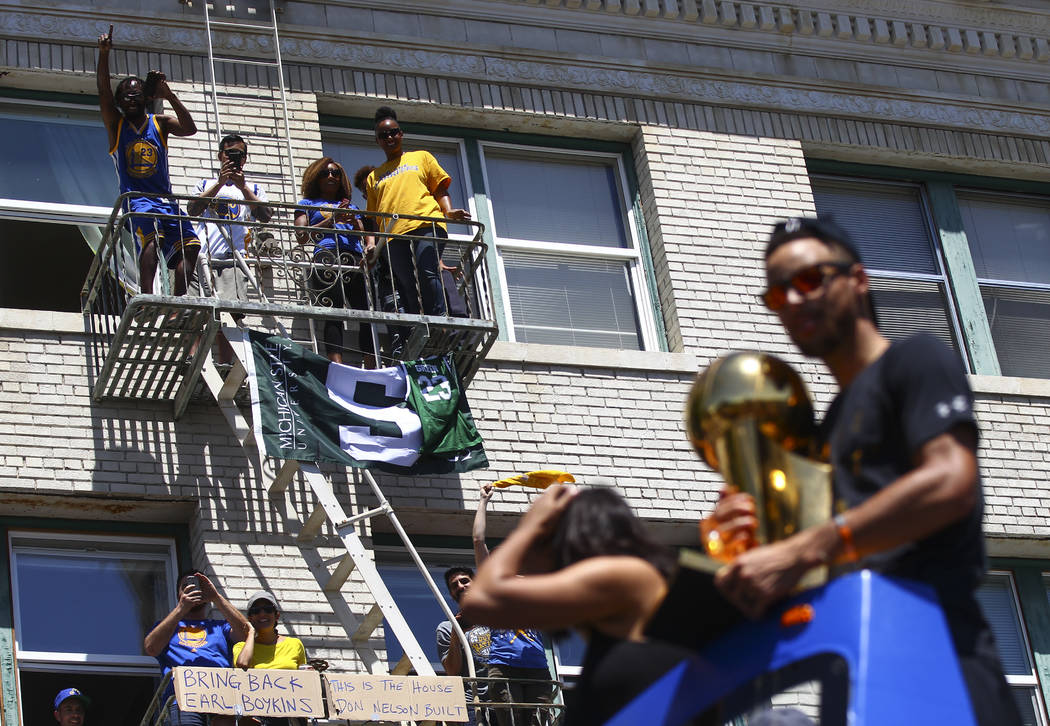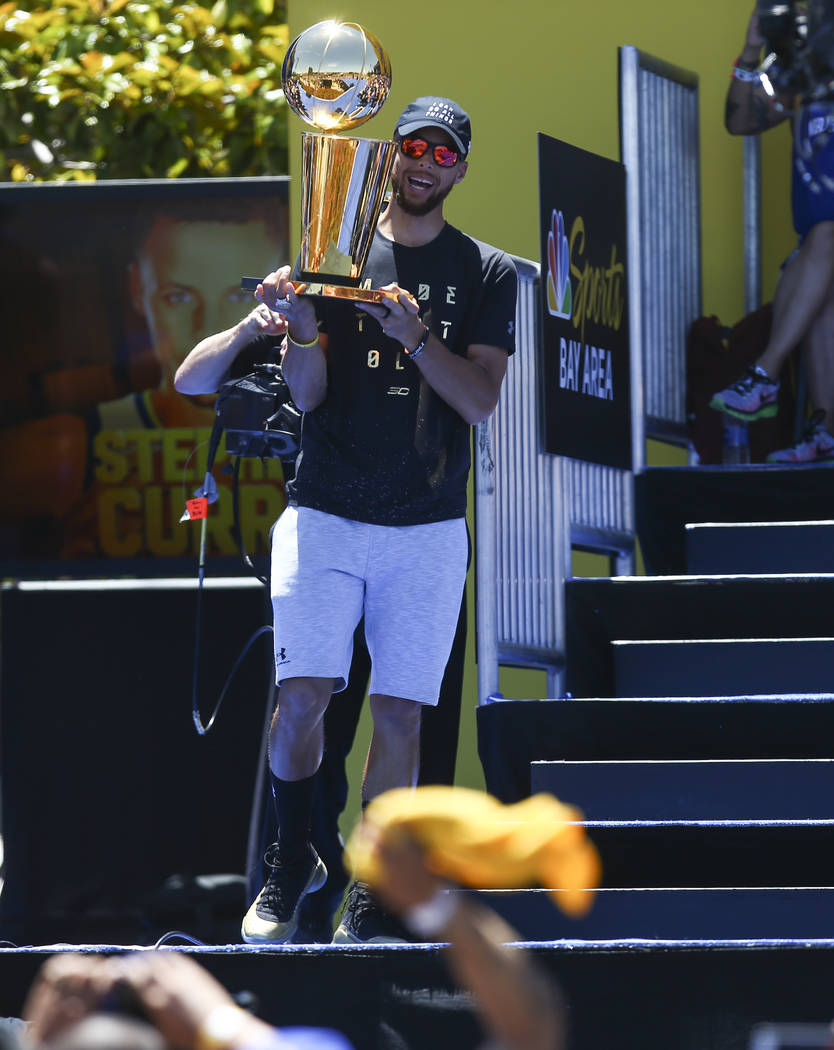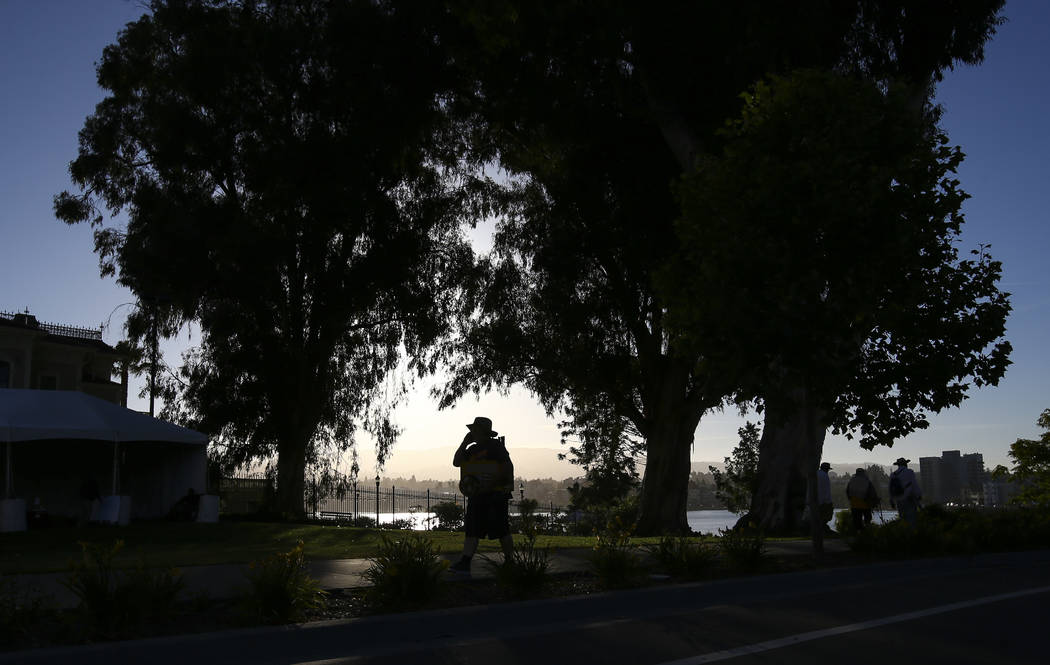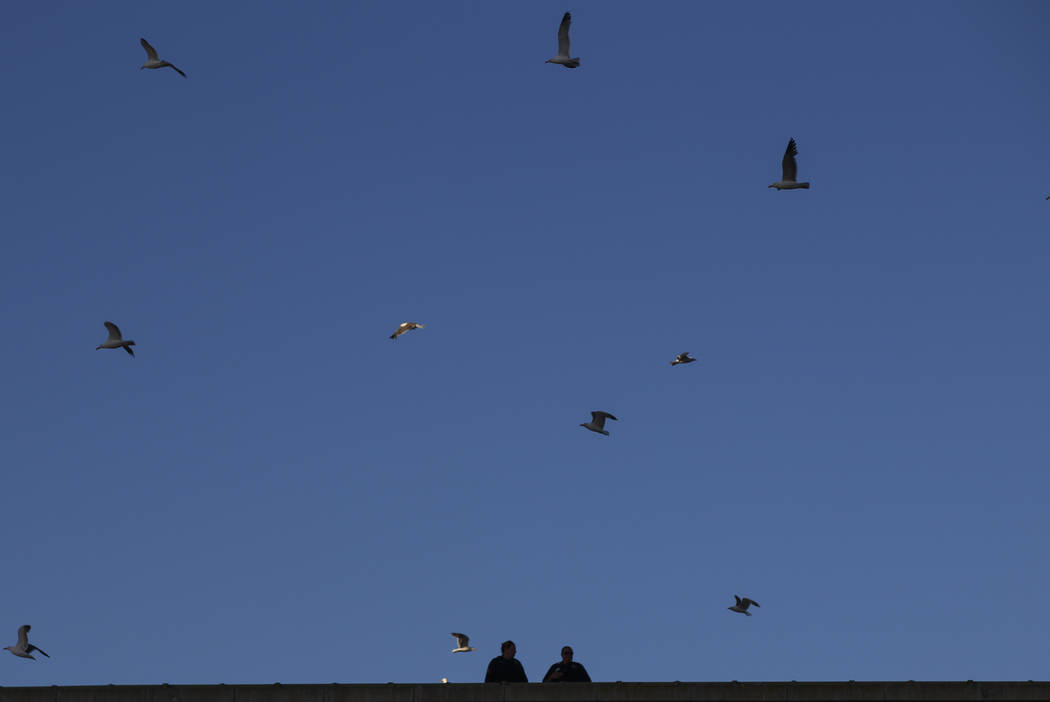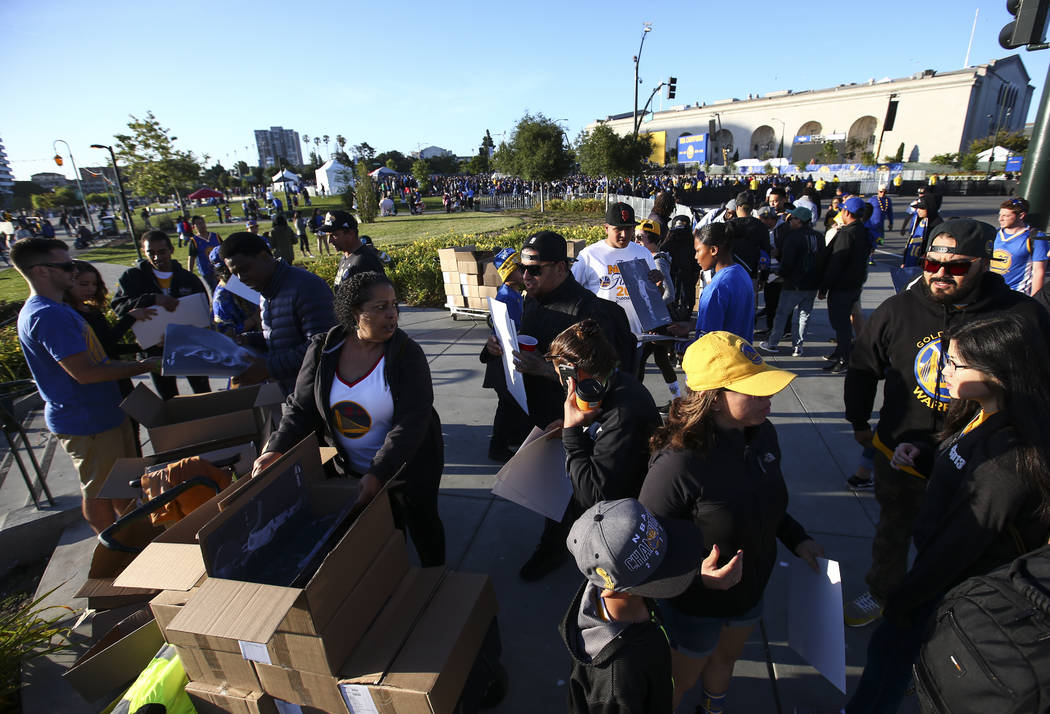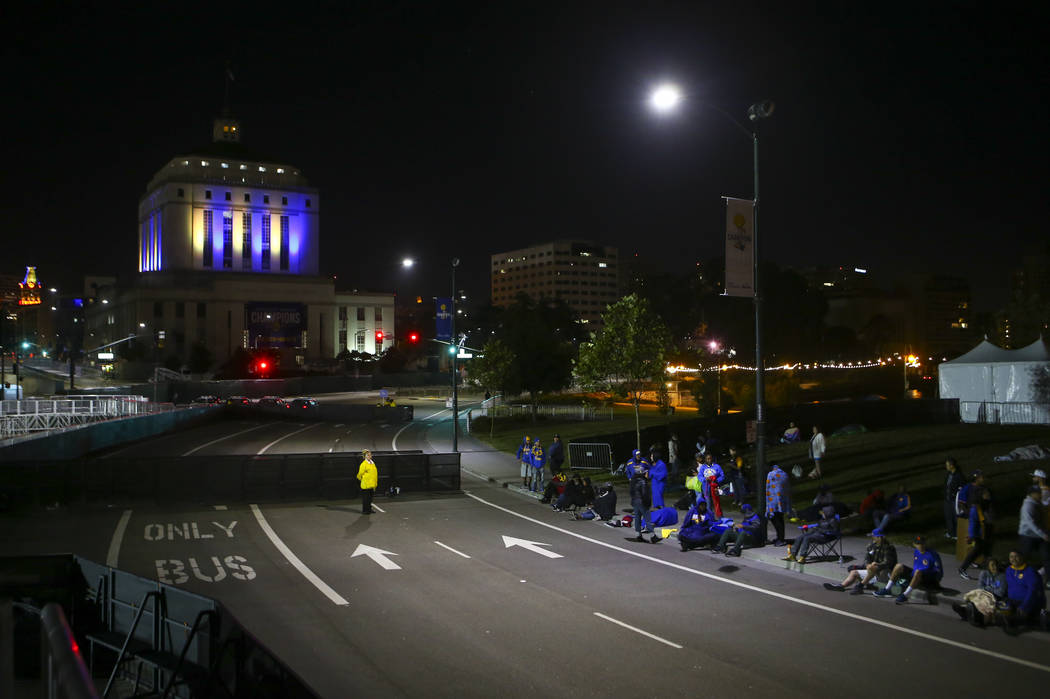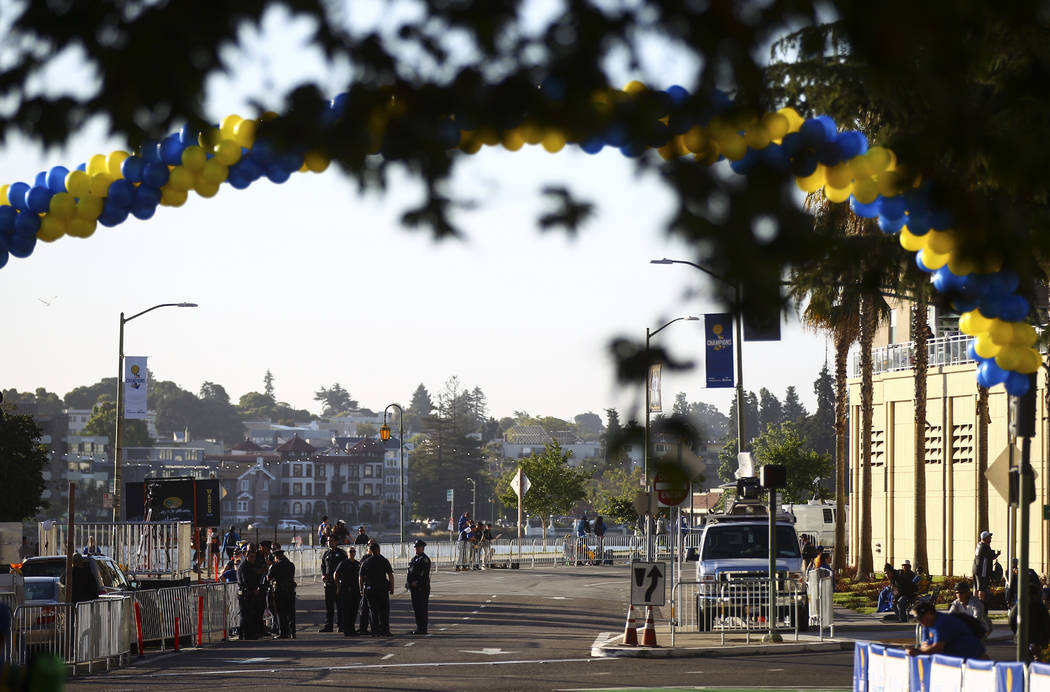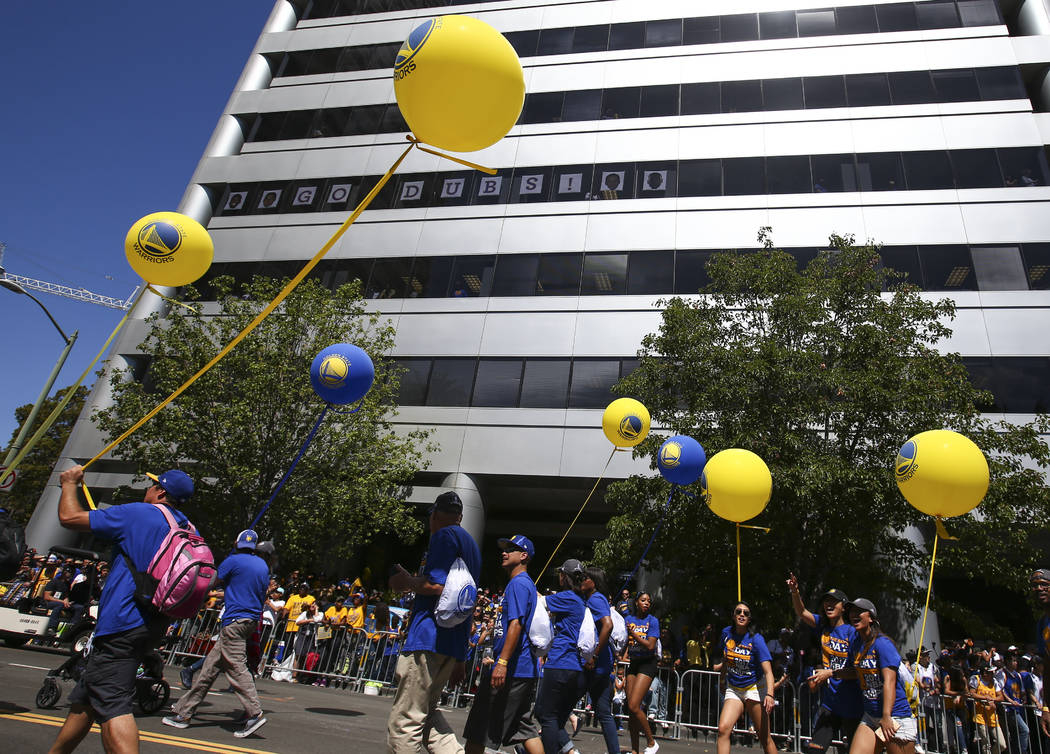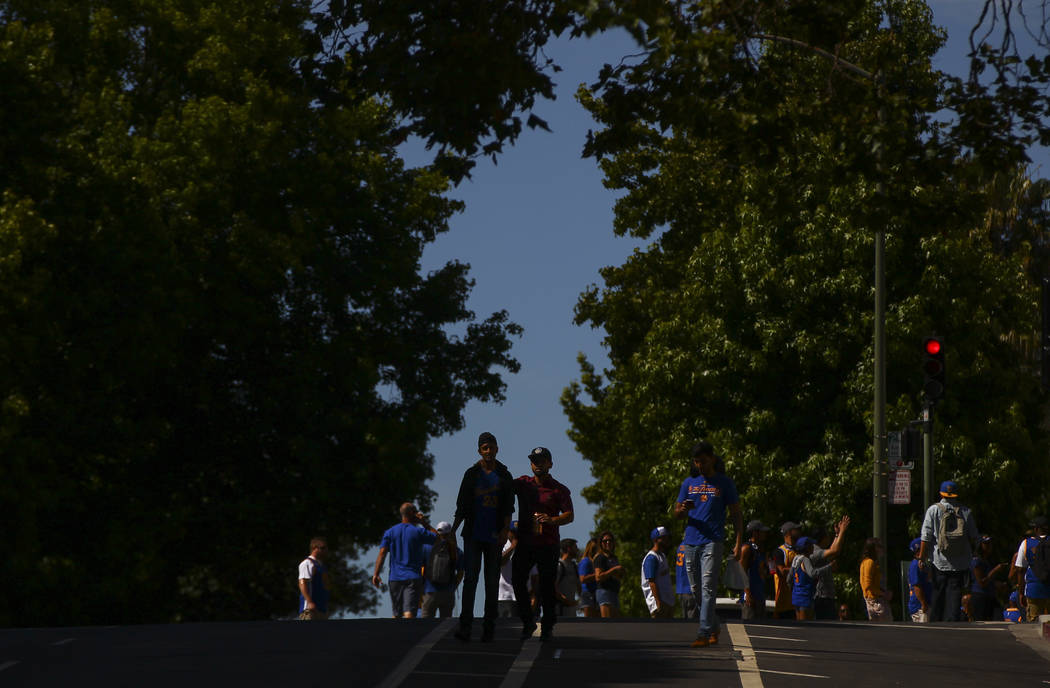 OAKLAND, Calif.
They began lining downtown streets at 4 a.m., hours before their basketball heroes climbed aboard trolley buses and slowly made their way through a sea of blue and gold.
The elation in honoring an NBA champion for the second time in three years also wasn't reserved Thursday for just those who idolize Golden State players and wear their jerseys, but was also able to grasp hold of even some media members assigned to cover the massive party known as The Bay's Day.
"There goes Wilt Chamberlain by us right now," said one television commentator.
Wilt, dead 18 years, was nowhere near his family being driven in a BWM. But you can bet with the strong odor of cannabis sifting through a crowd estimated at 1.5 million, many others also saw him. Some probably even had a conversation with the big guy.
Few single-day events draw the sort of swelling crowds and community fulfillment like celebrating a major professional sports champion. People flock to designated spots for things like papal visits and royal weddings and music festivals.
They also show up when their team wins a title.
Close your eyes, then, and wonder not about an East Bay route of Broadway to Grand to Harrison to Lakeside, but rather one that begins at Mandalay Bay, proceeds across Tropicana and down Las Vegas Boulevard, and eventually lands at a newly renovated convention center. Or, perhaps, one that in some manner incorporates a new NFL stadium off Russell Road.
Of folks 20 rows deep, of tiny, impressionable faces pressed against guard rails, of the Bellagio fountains orchestrated to the sound of Queen's, "We Are the Champions," of some not dressed as SpongeBob Squarepants and transformers, but rather Darth Raider and Gorilla Rilla.
Imagine a newly crowned champion being greeted not by a glistening sun bouncing off a wildlife refuge like Lake Merritt, but instead its players dancing and waving and soaking in the atmosphere amid Elvis impersonators.
It would make the 1990 parade for UNLV's basketball championship appear more like a neighborhood ride of a few families admiring Christmas lights.
Las Vegas is soon to welcome two major professional franchises, first with the Golden Knights of the NHL in October and then the Raiders of the NFL in 2020. It's possible decades upon decades would pass before either won a championship in Southern Nevada.
Maybe longer.
Maybe never.
But should it occur with one or both teams, a reward for such achievement is always a parade and rally and opportunity for fans to congregate and look past any social or cultural differences, to stand as one and embrace the sort of joy only loving a town's sports teams can create.
"Even in the toughest of times, a day like this shows there is still a bright spot," said Sam Hill, a retired Warriors fan who has lived in Oakland for 65 years. "Oakland is family. We'll still follow the Raiders when they go to Las Vegas. And if it's able to win a championship and have an event like this, it would be enormous. With this kind of parade? Out in Las Vegas, it would probably go on for days.
"On a day like this, everything is set aside. It's all positive. I'm sure Las Vegas would be the same."
There is nothing about Golden State's young and incredibly talented roster to suggest this won't be an annual occurrence for some time should things like serious injury avoid the Warriors, and included in those future plans is former UNLV standout Patrick McCaw.
A champion in his rookie season, he was the first player to address the crush of supporters surrounding the Henry J. Kaiser Convention Center, where Draymond Green trolled the Cleveland Cavaliers and Finals MVP Kevin Durant was greeted with the sort of adoration reserved for someone who chose to join the team last summer and delivered it a title.
"It's unreal, indescribable, to be on a team surrounded by such great players," McCaw said. "My phone is blowing up. Everyone wants to be my friend now."
Said team president and general manager Bob Myers: "We told (McCaw) at his exit interview he can be as great as he wants."
Green wore a T-shirt that used the logo for Quicken Loans, title sponsor for Cleveland's home arena, and changed the text to "Quickie," while also featuring the Larry O'Brien Trophy.
As in, the NBA Finals went pretty quick with Golden State winning in five games.
It's part of the gamesmanship often played at such rallies, the winning team either chiding those it just defeated or predicting future titles. The latter wouldn't surprise anyone from a team with Steph Curry and Durant and Klay Thompson and Green.
So maybe the Warriors do this again next year and maybe there is another parade and maybe, one day, Las Vegas also basks in such civic pride and unbridled fanaticism.
If so, I bet a certain odor along The Strip might even lead to a few Frank Sinatra sightings.
Contact columnist Ed Graney at egraney@reviewjournal.com or 702-383-4618. He can be heard on ESPN Radio 100.9 FM and 1100 AM from 11 a.m. to 2 p.m. Monday through Friday. Follow @edgraney on Twitter.