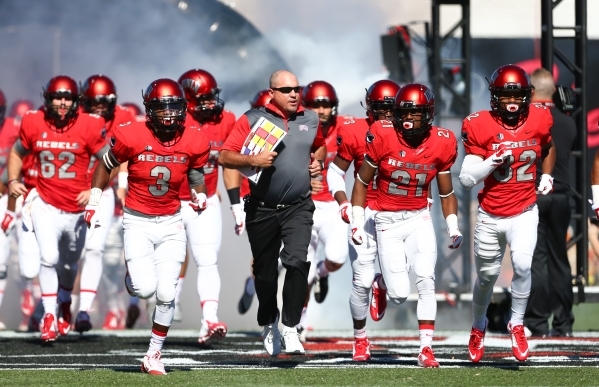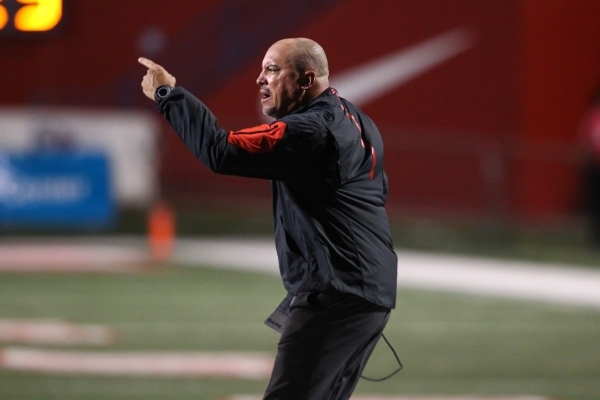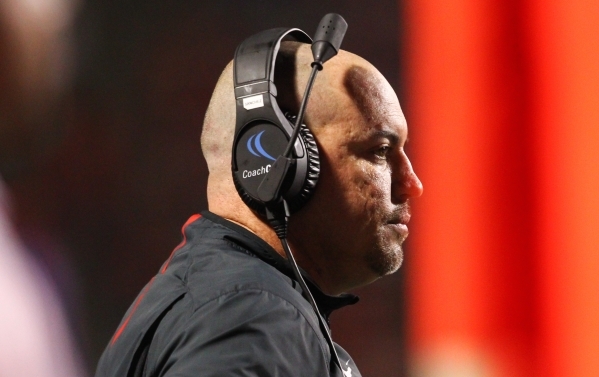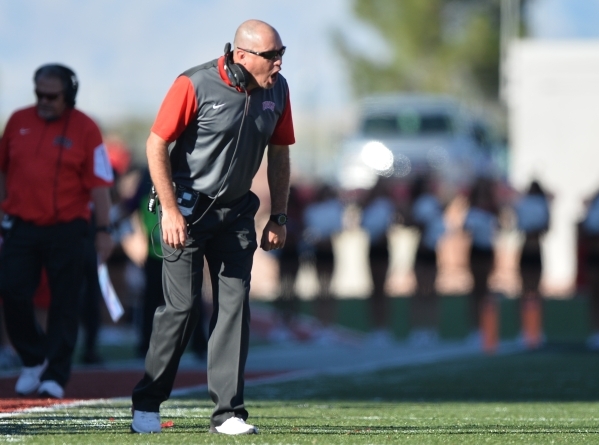 In the vacuum that was 12 college football games, Tony Sanchez saw progress.
In the reality of what he expects, UNLV still hasn't separated itself from the starting blocks in a sprint towards respectability.
The Rebels still crawl in far too many areas.
"Losing sucks," Sanchez said. "But if I had an out-of-whack expectation of what this job was, it probably would have been a little tougher. How could you put a number of wins on this year? I had no idea what to expect until we got into the fight."
Translation: He knew immediately this wasn't Alabama.
Or, for that matter, South Alabama.
Or, in some ways, Clay-Chalkville High in Alabama.
(Those guys really win a lot.)
Sanchez has completed his first season as UNLV's head coach since arriving from Bishop Gorman High and in turn generating more national publicity for the Rebels than the program had received in decades. His hiring at this time last year made news across the country, a sense of hype and excitement that continued through spring ball.
But eventually, headlines were replaced with games. Intrigue was replaced with facts.
The Rebels finished 3-9, above a projected win total of 2.5 and are owners of a now-shiny red Fremont Cannon as the prize for beating in-state rival UNR. That last part matters. People here care deeply about something that has occurred just twice in the last 11 seasons.
But all things remain relative when evaluating a UNLV program that has also produced seven two-win seasons during that span. The Rebels must compete before they win big, and it's true that under Sanchez they were far better at the former.
Among the losses this season were margins of 8, 6, 3 and 7 points. Outcomes in nine games weren't decided once the fourth quarter arrived.
That's definite progress for UNLV, however minor in scope.
It's also an example of how much the Rebels still must improve to become relevant.
Sanchez acknowledges UNLV left some wins on the field, a bitter reality when you consider this season produced the worst collection of Mountain West teams in history. The league stunk, given the one side that went undefeated in conference (San Diego State) over the regular season was 1-3 in the non-league play and lost to the seventh-best Pac-12 team by four touchdowns.
The mystique is also gone at Boise State.
This is a really bad league right now.
UNLV was 2-6 in conference for a variety of reasons, mostly because what was a taxing non-league schedule finally caught up to the Rebels in the season's second half. Sanchez desperately needs to sign a quarterback capable of leading UNLV to more victories, but perhaps more important is adding quality depth across every position.
The Rebels ultimately broke down this season. They weren't physical enough. They played tired. They weren't anywhere strong enough at the point of attack. They had 210-pound linebackers and 268-pound offensive linemen overmatched weekly.
They offered, without question near season's end, the matador defenses of Mike Sanford and Bobby Hauck.
They couldn't stop anyone.
They couldn't stop pathetic Wyoming, for goodness sakes.
"Those are all issues we need to fix," Sanchez said. "Other than the UCLA and San Diego State games, we were competitive in every one. But toughness trumps everything, and we need to develop more toughness in this program.
"I don't give a crap if you're the most intelligent and accountable group of guys, if you're not tough, it makes no difference. In the off-season, we're going to get in their face and challenge them and take them to different mental places than they've ever been. We're going to attack their weaknesses. Guys are going to have to fight for their jobs, and if that makes them uncomfortable, this isn't the right place for you. We need to learn how to compete here."
What they need is plans for an on-campus football facility to continue forward and pick up steam towards some sort of official announcement. Accuse us of playing a broken record if you must, but the fact remains UNLV football, no matter how capable Sanchez and his coaching staff prove to be, will never win at the rate desired by the university if the culture doesn't change at a financially committed level.
The Rebels over time will lose far more recruiting battles than they win if certain aspects of the program such as facilities aren't upgraded, and losses in recruiting ultimately translate to those on the field.
"We can win here for a short period of time without (a facility)," Sanchez said. "But if we're talking about building a sustained, successful program, we have to build one. We are out raising money. We have the drawings. We have to hit certain levels before saying anything. But we're beating a dead horse if we're not going to put anything into this program. I believe it will happen and no one in America is going to outwork me to do it.
"We won three games this year. That's not where we want to be. I'm hell bent on getting this thing done. This is where I want to hang my hat for the rest of my friggen career. I'm fired up about being a Rebel. I'm fired up about our future. We can win here. We can be a big-time place."
First things first. He needs some big-time depth, much better and tougher players and a new building from which to recruit them.
And not necessarily in that order.
Ed Graney can be reached at egraney@reviewjournal.com or 702-383-4618. He can be a heard on "Seat and Ed" on Fox Sports 1340 from 2 p.m. to 4 p.m. Monday through Friday. On Twitter: @edgraney