We're still trying to figure out the Las Vegas hockey fan
August 3, 2016 - 10:18 pm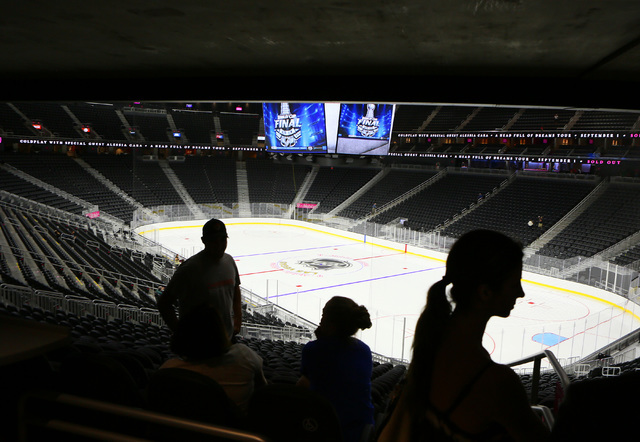 They walked around concourses of different levels, interested in catching all sorts of viewpoints of the striking scene below. Mostly, they sought out those seats that would allow them to be part of history.
Mostly, they noticed how cold it was.
"I forgot a sweatshirt," remarked one visitor. "Maybe because it was 105 degrees outside."
The ice was set down at T-Mobile Arena this week, and many of the thousands who made deposits on season tickets came to see how things will look for games once the town's NHL expansion team begins play in 2017.
At first glance, it will be an upset the size of Zdeno Chara if the venue isn't considered one of the league's finest.
It was built for hockey, and it shows.
George McPhee is the team's general manager who is devising a plan on how to build the roster, beginning to identify players he believes might through expansion and entry drafts give Las Vegas a better than even chance to compete early.
But who exactly will be cheering for it?
Who is the Las Vegas hockey fan?
"Hopefully, we can help mold that," said Murray Craven, a former NHL player and adviser to team owner Bill Foley. "It's almost a direct challenge to the local fan base. Who are you? Our best salesman for the casual fan who might not know the game is going to be that person sitting next to them or all around them that does.
"All of sudden, you catch the fever and start asking questions, and that's how you learn as a fan. Don't be afraid if you don't know much about the game. We will have those people. Come and be entertained, because we will definitely entertain you. When you have fans that learn the game and become passionate about it, that's how you develop a lifelong love for it."
Hockey fans are among the most passionate and knowledgeable in sports. They know the game's history, its nuances, its creative nature. But this isn't Detroit or Chicago or Philadelphia — all cities Craven played in during his 18-year career — and there is no telling the level of understanding many Las Vegas fans will have at the outset.
There will be transplants, those season-ticket holders who grew up on the game elsewhere and will now shift their loyalties to the local side. There also will be some who don't know the difference between a blue line and a crease.
Fact: Las Vegas needs all of them to build a sustainable franchise following the initial wave of elation for merely having a team. The litmus test for fan support isn't opening night in 2017. It's opening night in 2020.
Craven says it's true that there is nothing like fans in Philadelphia, that when things are going well and the team is winning, you're supported and loved at levels incomprehensible to most markets. When things aren't going well, you receive a level of disapproval also not found elsewhere.
"I don't think casual fans exist in Philly," he said. "You can't compare them to anyone. You always knew where you stood with them and, from a player's standpoint, you can't ask for anything better. Here, we want the fan to be everybody. We want to create an entirely new identity for this town. We want you to pick up the newspaper every morning and see how the team did. We want you to be able to interact with some of the finest athletes in the world. We're going to tell that story from Day 1.
"Winning sells, but we're also going to make sure everyone who is coming to the game enjoys the experience. Ultimately, you hope the product sells itself. We're hoping the level of play is the main driving force. We want that to be the show. But we will supplement it with other things. This is still Las Vegas. Our game day presentation will be as good as anyone in the league."
Henry and Cassie Bojda are among those with season-ticket deposits who checked out their seats Monday, a couple from Summerlin via Chicago. When he met Foley some time back, Henry was wearing a Blackhawks jersey, and told the owner that other than those nights his beloved team was in town, he would be cheering like crazy for Las Vegas.
Which is how one group of local fans are surely to be defined.
"I go back to watching the Hull brothers, Dennis and Bobby," Henry said. "I got my wife involved a few years ago, and now she's the one who reminds me when the game is on.
"I think the locals will follow this team closely. Then, you'll have a lot of tourists coming to games. I would think if you spent the money on deposits, you know at least a little about the game. I'm just hoping the team is called the Scorpions. That's my nickname for it."
Oh, yes. The nickname. The logo.
This, the fan base seems unanimous about: They want both revealed sooner than later, and later seems to be in play right now.
It doesn't take much hockey knowledge to purchase a sweater, because even the casual fan will learn it gets cold when the ice is down.
Ed Graney can be reached at egraney@reviewjournal.com or 702-383-4618. He can be a heard on "Seat and Ed" on Fox Sports 1340 from 2 p.m. to 4 p.m. Monday through Friday. On Twitter: @edgraney