Wisconsin spoils Kentucky's quest for 40-0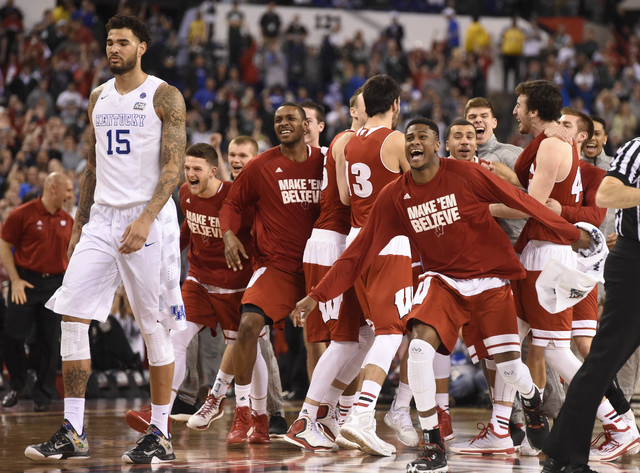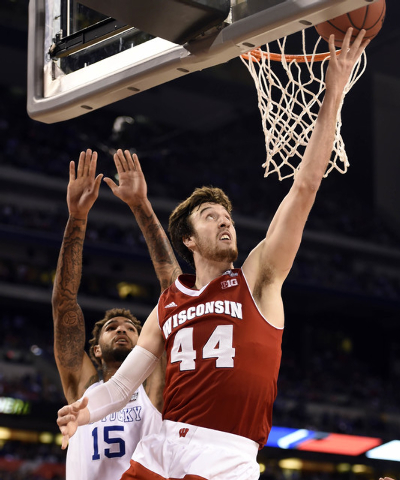 INDIANAPOLIS
John Calipari said he will live with it, deal with it, accept it, take responsibility for it. This is what you do as Kentucky basketball coach when your team hits an iceberg for the first time all season.
You pull an Edward Smith and go down with the ship.
Much like 24 years ago, when UNLV's basketball team arrived to this city for what most viewed an inevitable coronation as a repeat national champion in college basketball, perfection wasn't meant to be.
I don't know what the Big Blue Nation will do with all those "40-0" T-shirts that have been for sale on every corner of downtown, but they sure could hold a massive bonfire upon returning to Lexington, their hopes and dreams of the Wildcats making history having gone up in flames Saturday night at the hands of a veteran, talented, incredibly efficient side.
Wisconsin is the reason Kentucky's season fell two wins short of undefeated, the Badgers having proved a better No. 1 seed with a 71-64 semifinal victory before a Final Four gathering of 72,238 at Lucas Oil Stadium.
Kentucky finished 38-1.
That close to perfect.
That far away.
"I don't think it weighed in on us, the 40-0 hype," Kentucky junior forward Willie Cauley-Stein said. "If that was the case, we would have lost a long time ago. It's just time and circumstance. We didn't make plays in the last five minutes to hold a lead. If you don't make those plays, you will lose. So that's it."
It didn't end without a hint of irony. All season, as Kentucky mostly sailed and sometimes trudged and a few times escaped its way to win after win after win, unselfishness became more and more a defining theme. The Wildcats started five players who averaged 8.7 to 11.0 points.
Anyone could be a go-to guy on a given night, but always the Wildcats finished.
Not this time. Kentucky led 60-56 with 6:36 remaining, and on its next four possessions, it committed three shot-clock violations. Andrew Harrison passed up open jumpers. So did Aaron Harrison and Trey Lyles. It was as if the Wildcats were hoping the seconds would tick faster and they could merely outlast Wisconsin.
"We didn't slow it down," Calipari said. "We were trying to post the ball, run the pick and rolls, the stuff we were running. They crowded us a little bit, the guys got a little bit tentative. We were trying to still play. The thing that was tough is we are a finishing team, that's what we've been, and we didn't.
"They did, and we didn't. That's why they're still playing and we're not."
Kentucky scored on its final nine possessions to overcome Notre Dame in the Elite Eight last weekend.
On Saturday, it had one basket, four points and five turnovers on its final nine.
Wisconsin will meet Duke on Monday night for the national championship, a deserved placement given how the Badgers never blinked when falling behind Kentucky and igniting what had been mostly a despondent blue and white faithful.
Perfect is hard to accomplish. It's really hard to do when this happens: Kentucky shot 48 percent from the field, 60 percent on 3-pointers, 90 percent from the free-throw line, had 34 points in the paint, committed just six turnovers … and still lost.
This was a matchup of the nation's best offense against its best defense, and it wasn't close when it mattered most. Wisconsin scored 16 points on its first eight possessions of the second half against a team that had held opponents to a nation-low .856 points per possession.
Frank Kaminsky (20 points, 11 rebounds) showed like the national player of the year he is for Wisconsin, and Kentucky freshman Karl-Anthony Towns (16 points, nine rebounds) like the No. 1 NBA Draft pick he possibly will be.
But the first dagger came when Wisconsin junior Sam Dekker — who shot the Badgers past Arizona in the West Regional final last weekend in Los Angeles — made a step-back 3 for a 63-60 lead with 2:38 remaining. He then took a charge at the other end. The final dagger came when Bronson Koenig made two free throws to make the score 68-64 with 12 seconds left.
In the final 1:06, the Badgers were 8 of 9 from the line.
Finishing.
"It was not the mindset to try to end their streak," Badgers guard Nigel Hayes said. "The fact that we want to win a national championship and they were the team we had to play, inevitably we would have to end that streak if we wanted to reach our goal. The fact we were able to do that against a great team was definitely secondary, but we'll take it."
Wisconsin thought about this, dreamed about it, committed itself to the challenge ever since losing to Kentucky on a 3-pointer with five seconds remaining in a Final Four semifinal last year. Little did anyone know the Wildcats would arrive to such a moment with zero losses.
UNLV tried to make it happen 24 years ago, but Duke had other ideas. It means Indiana of 1976 remains the last team to finish a season unbeaten.
It means Kentucky might be throwing one heck of a bonfire upon returning home.
Just not as a celebration.
"I would imagine people are going to look on this season and say … You know what, who cares," Calipari said. "What these kids did was show all the young kids you don't have to shoot 30 balls, you can do right by your team and still be the No. 1 draft pick, still get drafted, your own awards come your way. So proud of these guys. It hurts. We would have loved to have been 40-0. Let's see if we can take another stab at it.
"But 38 wins, what these guys did in a row, incredible stuff."
Just not historic.
Just not perfect.
The iceberg finally got in the way.
Las Vegas Review-Journal sports columnist Ed Graney can be reached at egraney@reviewjournal.com or 702-383-4618. He can be heard from 11 a.m. to 2 p.m. Monday through Friday on "Gridlock," ESPN 1100 and 100.9 FM. Follow him on Twitter: @edgraney.