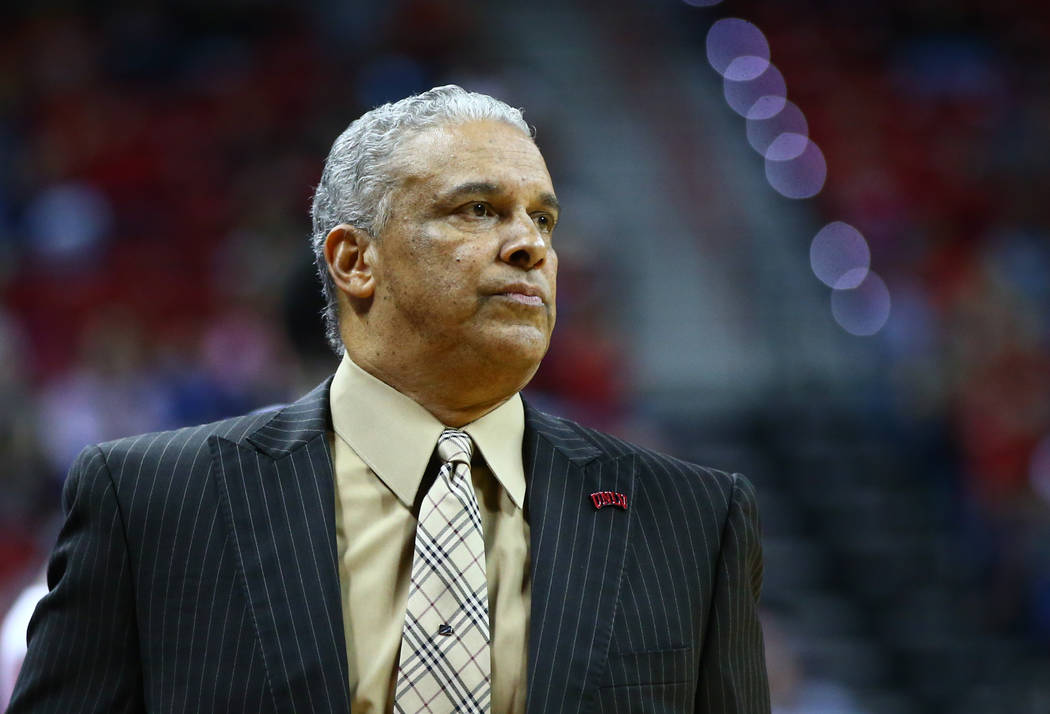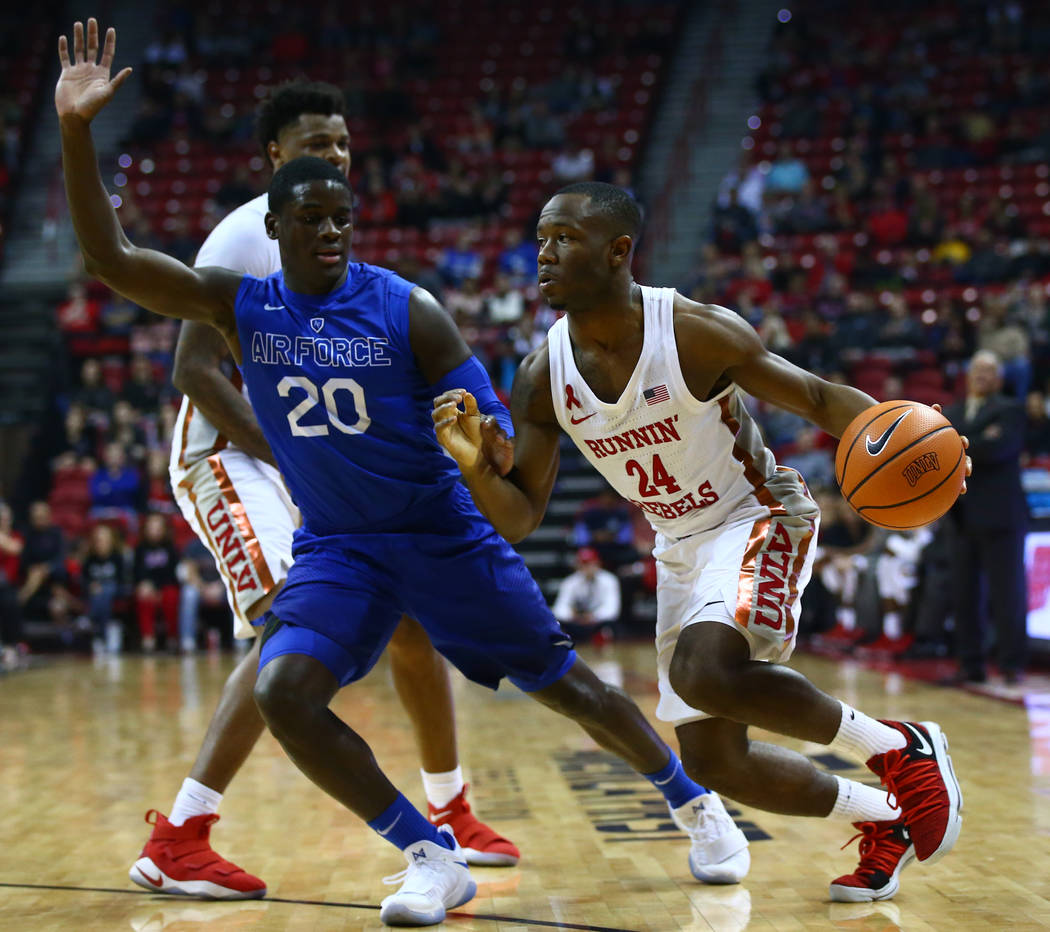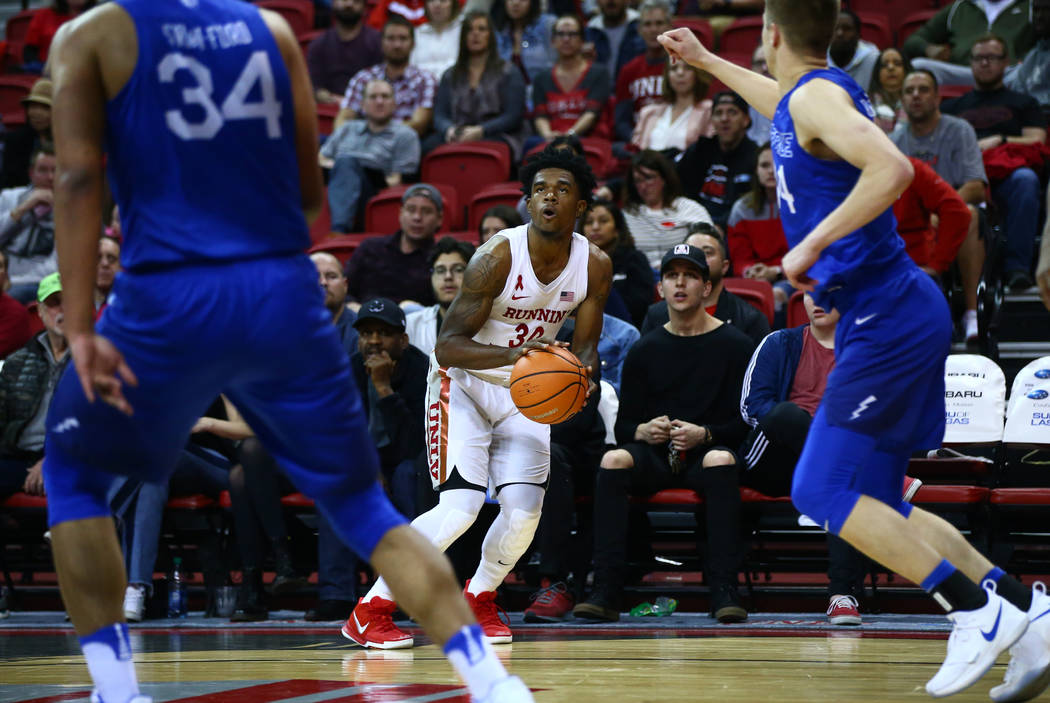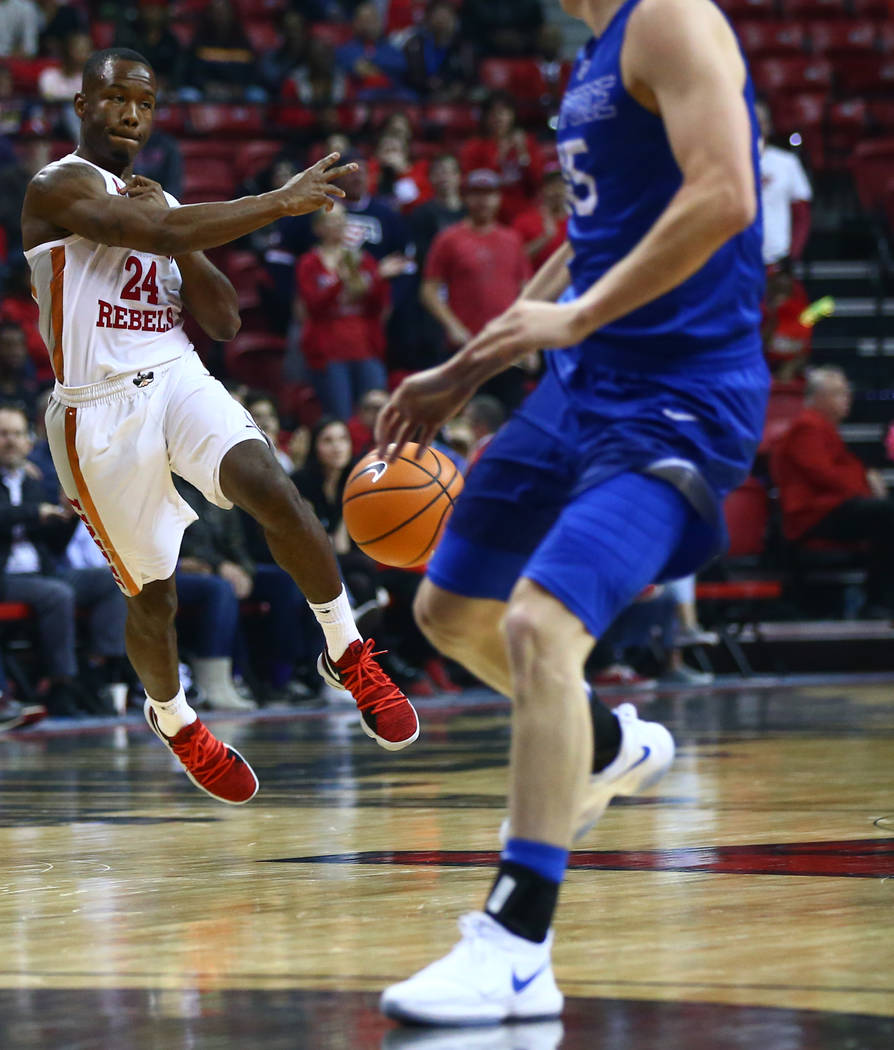 For those not in attendance — which pretty much means nearly everyone given what is listed as capacity — the number was reached Wednesday night against an Air Force basketball team once again heavy on effort.
UNLV beat the Falcons 81-73 before an announced gathering of 9,027 at Thomas & Mack Center — more on that count later — and with it allowed the Rebels to reach 30 wins over the tenure of second-year head coach Marvin Menzies.
It's an important hurdle to have climbed and with it remains at least six more games this season, meaning despite the ups and downs and twists and turns that invariably come with stamping one's mark on any program, Menzies has UNLV moving in the right direction.
I wrote early after he landed the job via a laughable coaching search process (any idea if the Board of Regents has kept up on a guy named Chris Beard?) that 30 wins over the first two years under Menzies would be a successful start to building a program.
The Rebels won 11 last season.
On Wednesday they won their 19th of this season.
The good news for them: This season has so much more left to chase.
UNLV finds itself tied for third in the Mountain West and has won five of six, meaning the idea that the team playing its best when the conference tournament commences has a terrific chance of winning it all would at this point be a conversation that should include the Rebels.
"Great staff, high character kids who want to get better and who are starting to believe in the lessons we are giving them," Menzies said. "Mad respect, as the kids would say, for the Air Force program. Just tough kids who make big shots and shots under pressure … Luckily, we did the right things in winning time. Right now, we keep chalking them up in the win column."Where is it all headed?
The NCAA Tournament selection committee on Sunday revealed what would be the bracket's Top 16 seeds if games began this week, and hidden within was this message: If you're a Mountain West team that could find itself on the bubble come Selection Sunday (UNR or Boise State), don't get your hopes up.
Think NIT.
It's obvious given who made the 16 how much weight the committee will attach to quadrant 1 wins, of which the two best Mountain West teams are severely lacking.
Which is a nice way to say UNR had one Top 50 nonconference victory and Boise State none.
It more and more paints a picture of the conference tournament here in March carrying with it just an automatic NCAA berth bestowed the winner, a carrot several teams are capable of grabbing.
UNLV has every right to think itself among the contenders right now, given UNR appears one more key injury away from coach Eric Musselman starting at point guard.
The Rebels team that beat Utah — I know, the Utes have hardly been world-beaters of anyone — and played Arizona to a 91-88 final can win three games in three days at the league tournament. So, too, can the UNLV team we have seen of late, the one which fell in overtime at Boise State and then snapped a 16-game home win streak of UNR.
The team that defended Air Force in the first half on Wednesday can also.
But as with any flawed team, which means everyone in college basketball this year, UNLV has its blemishes. More times than not, it plays to the level of competition. It goes through really bad, sloppy stretches.
It had them against Air Force and then decided to defend the final five minutes as it did the opening 20, and what was a one-point margin with 3:12 left ultimately proved an eight-point win.
Not that many came to see it.
There is a (very good) chance there were no more than 4,500 in the house — or, as we say around town now, less than half of what the Las Vegas Lights FC draws. I don't know. Maybe everyone was out purchasing last-minute roses and chocolates for their significant others.
Yeah, that must have been it.
But those who came saw a hurdle of sorts cleared.
Menzies won his 30th game in under two seasons. From where this project began, it's a number that suggests definite progress.
Better yet for the Rebels, this season isn't over. Far from it.
There is still much to play for.
Why stop now? No one is unbeatable in this league.
Maybe folks will even show up to watch.
Contact columnist Ed Graney at egraney@reviewjournal.com or 702-383-4618. He can be heard on "The Press Box," ESPN Radio 100.9 FM and 1100 AM, from 11 a.m. to 2 p.m. Monday through Friday. Follow @edgraney on Twitter.