With return of Schmidt, Knights could get the best of Colin Miller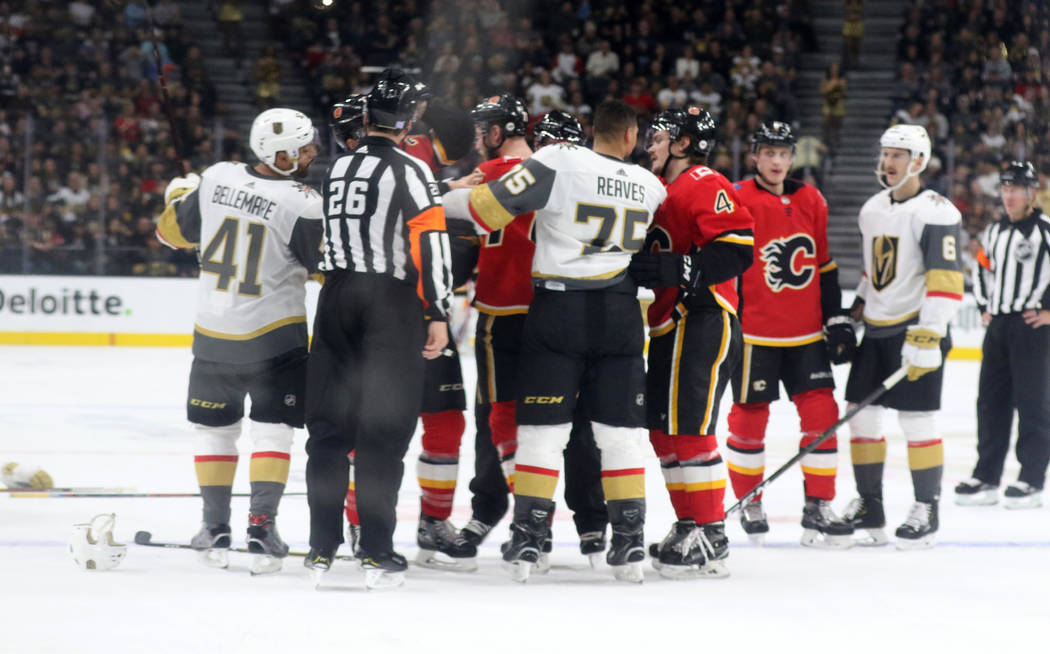 So this is what they say about the conscious mind: That if you keep it busy with expectation of the best results, other feelings that might be repressed can't impact you negatively.
Colin Miller might have had some of those hidden views over his hockey team's first 20 games this season.
He's not sure.
"I think it's natural to want to go out and show them they weren't mistaken in (signing you to a long-term deal)," said Miller. "Honestly, you just want to be part of a back end that collectively can make a difference."
Nate Schmidt has returned to the Golden Knights lineup and the team is much better for it, but perhaps no individual will benefit more from his presence than Miller, whose first goal of the season Friday finished the scoring of a 2-0 victory against Calgary before an announced crowd of 18,206 at T-Mobile Arena.
Miller was one of several Vegas players from last season's Stanley Cup Finals run to be rewarded with a new contract, his a four-year term for $15.5 million, the player who led the team's defensemen in goals and points in 2017-18 and who has the sort of powerful shot that would shatter most speed limits along your typical Texas highway.
He wasn't the only defender whose role was adjusted as Schmidt served his suspension for violating the league's performance enhancing drug policy, but with Miller's switch came the responsibility of facing the opponents top line each game.
A different game
Whether that was a direct influence on Miller not scoring until Friday, he ultimately played to a minus-4 with Schmidt sidelined. Miller, like most everyone for Vegas, struggled offering much consistency as teammates dropped off with injuries and seemingly everyone awaited the return of Schmidt.
Miller played more during that span. He took on a heavier burden.
Even when scoring chances came, his lasers would miss or hit the post.
"You have to be aware of who you're playing against, so maybe it was a case of not focusing on offense as much (going against top lines) or just trying to do too much," said Miller. "But that's also a credit to the guys who can defend and be good offensively, because it's a tough thing to do.
"I think, more than anything, I will look back on those (20 games) and say it was nice to have the opportunity to play against top pairings."
Vegas is 3-1 since Schmidt's return and, but for a disastrous effort in Calgary on Monday, seems to be trending more and more to a style that was so prevalent last season, meaning the puck gets to the forwards quicker, things are pushed into and through the neutral zone faster, the attack comes at a much swifter pace.
Which sounds pretty simple, but sure wasn't without Schmidt.
Power-play producer
Miller is back with the third pairing defensively, this time alongside Nick Holden, and yet can still be so incredibly dangerous on offense. Miller had a career-high 41 points (including 10 goals) last season and was third on the team in power-play points with 17, leading the second unit with that right-handed blast.
He showed it again Friday, when Miller's shot from the left point beat David Rittich at 2:34 of the third period and, given how well Marc Andre-Fleury was playing in goal for Vegas (free doughnuts for a league-best fourth time this season), was more than enough to avenge that 7-2 embarrassment to the Flames on Monday.
By the way, how Fleury is offering such terrific performances without those gold pads is beyond me … or not.
"Everyone is back in their spots (defensively) and they're all playing pretty well and confident," said Vegas coach Gerard Gallant. "Colin was a big part of what we did last year and that's why he got a long-term deal. We liked what he was bringing to (begin this season), but he just wasn't scoring until tonight.
"We know his (goals) are going to come because he shoots the puck real well and is a good power-play guy. We like the game he plays, but we also like it when he's getting a few points, too."
Nate Schmidt is back and Vegas is winning.
It's important for the Knights.
It's double that for Colin Miller.
Contact columnist Ed Graney at egraney@reviewjournal.com or 702-383-4618. He can be heard on "The Press Box," ESPN Radio 100.9 FM and 1100 AM, from 7 a.m. to 10 a.m. Monday through Friday. Follow @edgraney on Twitter.