World leaves U.S. behind in sprints
August 10, 2012 - 1:36 am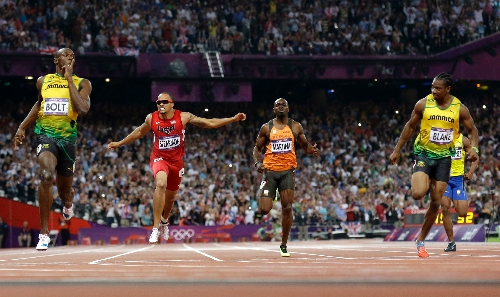 It has been described as the physical wearing out of a population and the deterioration of people that becomes a defining condition of their existence.
It's a fancy way of saying someone or something is experiencing a slow death.
In others words, sprinters for the U.S. track and field team as a dominant side at the Olympics.
The line isn't flat yet, but someone should call for defibrillators. Others, Jamaicans mostly, are winning the races that Americans once dominated, and the trend doesn't seem about to change.
Beijing was a wake-up call for American speed four years ago.
Here, you still can hear the alarm at high pitch when it comes to not crossing the finish line first.
The 100 and 200 meters for men are the most anticipated events of any Olympics, and America owned each for decades. Before Beijing, it had stood a male athlete on the medals podium for the 100 all but two times since 1908 in nonboycotted games and had swept the medals in the 200 six times.
"None of us run for second place," American 200-meter sprinter Wallace Spearmon said Tuesday after a qualifying heat. "That's why they hand out medals. We're not going to hand anything to anyone. If that was the case, we might as well all race for third."
They ran the 200 final Thursday night.
Gold: Usain Bolt.
Silver: Yohan Blake.
Bronze: Warren Weir.
Jamaica, Jamaica, Jamaica.
Spearmon, the only American to qualify for the final, finished fourth in a fast 19.90.
Just not fast enough.
It's sort of like men's basketball but not completely. The world wasn't going to sit back on its slow feet and allow America to continue leaving others in its spike-filled dust.
But unlike in hoops, everyone else hasn't merely become good enough to consider a 25-point loss progress. We're chasing others now. Jamaica, obviously. The winner in the 400 meters here is from Grenada; the silver from Dominican Republic; the bronze from Trinidad and Tobago.
In Beijing, the United States won four medals in sprints while Jamaica claimed eight, posted world records in the men's 100, 200 and 4×100 relay and swept the women's 100.
If he had been born and raised in the United States, Bolt would have been Randy Moss … only faster. Or a point guard on some NBA team. Or even a soccer player. Athletes with the most skill most always follow where the money leads them in their country, and in Jamaica that means track.
When young boys in the United States are signing up for Little League and Pop Warner, those in Jamaica are registering for the next track meet.
It's not that the U.S. doesn't medal anymore in sprints. It probably will six times here between men and women.
But gold now is more hope than certainty.
Allyson Felix might be the only American sprinter to stand atop a podium here, having won the women's 200 on Wednesday night.
There is a big problem with the men: age.
Justin Gatlin won a bronze in the 100. He's 30. Tyson Gay ran a ridiculously fast time – 9.8 seconds – for fourth. He's 30. Isiah Young is an American sprinter who failed to make it out of the semifinals in the 200, finishing last in his heat in 20.33.
He is 22, but didn't run track four years ago.
"I had to do something my senior year (in high school), and it was either go out for a sport or be in the band," Young said. "There's nothing wrong with band, but playing an instrument wasn't for me."
It's reality: These are the places from where the U.S. gets its sprinters. Nothing is wrong with that, but it can't come as a surprise when other nations that emphasize the sport at much younger ages begin to take control of races.
The U.S. made it a goal to win 30 medals in athletics at these games and is on pace to do so. It remains the most dominant nation on the track in an overall sense.
But when Saturday arrives and the 4×100 finals are staged, the guys wearing green and yellow will be who most set their eyes upon. Bolt and his teammates own the world record at 37.10 seconds and have said they will break it here.
As for the U.S. men and women, it's about doing everything they can to avoid a repeat of Beijing, where both dropped the baton.
These aren't your father's American sprinters.
It's a slow death from the top of the medals podium.
Las Vegas Review-Journal sports columnist Ed Graney can be reached at egraney@reviewjournal.com or 702-383-4618. He can be heard from 11 a.m. to 2 p.m. Monday through Friday on "Gridlock," ESPN 1100 AM and 98.9 FM. Follow him on Twitter: @edgraney.