Youth hockey could help Las Vegas NHL franchise grow — and vice versa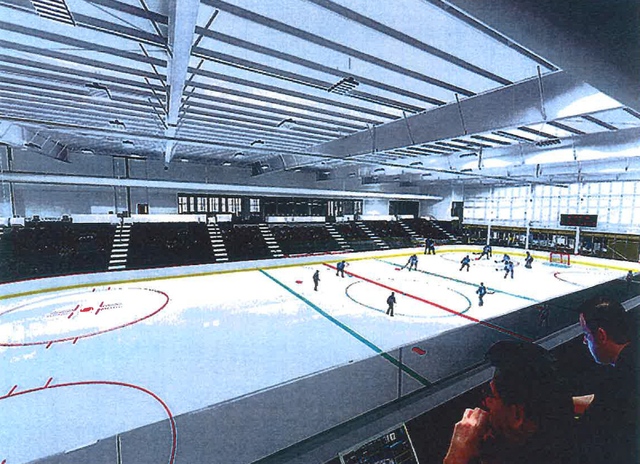 Gabe Gauthier has seen the blueprint work, understands its potential, and is convinced a similar model would produce just as much success here.
Except for the part about Wayne Gretzky.
Bill Foley is an impressive guy, but even he might have a tough time pulling that one off.
Unless those at the National Hockey League have a warped sense of humor — it's true commissioner Gary Bettman rarely comes off as a bowl of cherries — the league's Board of Governors will meet in Las Vegas on the morning of June 22 and officially award the city and owner Foley an expansion franchise.
Later that evening, the league will host its annual awards show at the Hard Rock Hotel.
Would the NHL really arrive here in such an official capacity, vote on expansion and deny Las Vegas a team?
If so, I imagine Bettman would desire a police escort to the airport for his Never Return Here flight to anywhere.
Gauthier is part of the overwhelming majority that believes hockey is coming to T-Mobile Arena, and knows better than most where Foley's franchise should begin its pursuit of a long-term fan base.
The younger, the better.
Gauthier is in his third season directing the Las Vegas Storm program. He's a former college All-American and professional player who spent time with the Los Angeles Kings and saw how and why interest in hockey throughout Southern California grew in the late 1980s.
He was born in the Anaheim area and had just begun playing as a child in 1988 when Gretzky was traded from Edmonton to the Kings. Such a massive turning point for the Los Angeles franchise created a groundswell of fan support.
"It brought an explosion to youth hockey all across the area," Gauthier said. "People who didn't know the game at all, some who had never heard of Gretzky, started getting their kids involved with the game. The biggest thing is establishing a fan base with the youth of a city. That can definitely happen here.
"All the kids in Las Vegas will be looking for a hero and role model and they will become attached to the Las Vegas team and many will eventually want to get involved playing hockey. That's how you build the base."
Gauthier seems to have a magic touch when it comes to introducing the ice to more and more kids. When he arrived to assume leadership of the Storm out of Las Vegas Ice Center, the program had 2½ travel teams, 115 players in the house league and 30 more in Learn to Play sessions.
Today, those numbers are 11 travel teams, a competitive junior team, a prep side that competes against those from the Anaheim Ducks High School League, 200 players in the house league and 80 to 100 more in Learn to Play.
Las Vegas never was a springboard for producing great hockey talent, so when he hired Gauthier, Las Vegas Ice Center owner Kirk Brooks wanted to develop a program that was in direct opposite of the career path his new director took.
He wanted to keep the best players home.
Gauthier proved too good a youth player for his California peers and at 14 left his family to spend a year at prep school in Massachusetts before joining the Chilliwack Chiefs Hockey Club in British Columbia, from which he earned a scholarship to the University of Denver and helped lead the Pioneers to consecutive national championships.
But it didn't come without cost or stress within his family, as years away strained relationships with those closest to him.
"Kirk and I want to give kids the ability to play a very high level of hockey without having to leave Las Vegas and their families to find the best competition," said Gauthier, 32. "We have a pathway for kids to do that now, from 6 years old all the way up to our Under-20 junior team, which competes against the best players across the country.
"It's all about communication and education and working on fundamentals and good coaches who teach the game the right way instead of just going out and shooting a puck. It begins with skating. If you can't skate, you can't play hockey.
"The entire hockey landscape was on a downfall when I got here almost three years ago. People came in saying they never knew there was an ice rink in town, that they thought we were an ice-making company that distributed to restaurants. Now, they walk in and see our two sheets of ice and the locker rooms and weight room and know it's a good program. Once the kids get on the ice for the first time, they're hooked."
This is how Foley can build a long-term base of fans: promoting the game at a grassroots level. Having youth tournaments and clinics at what will be the franchise's practice facility off Far Hills Avenue and Interstate 215. Embracing those wide-eyed and interested faces searching for heroes and role models.
When it comes to cultivating those who might be most excited about the NHL coming to Las Vegas, think this: the younger, the better.
Ed Graney can be reached at egraney@reviewjournal.com or 702-383-4618. He can be a heard on "Seat and Ed" on Fox Sports 1340 from 2 p.m. to 4 p.m. Monday through Friday. On Twitter: @edgraney