Zach Collins shines on the brightest of stages, leads Gonzaga to national final
Updated April 1, 2017 - 11:34 pm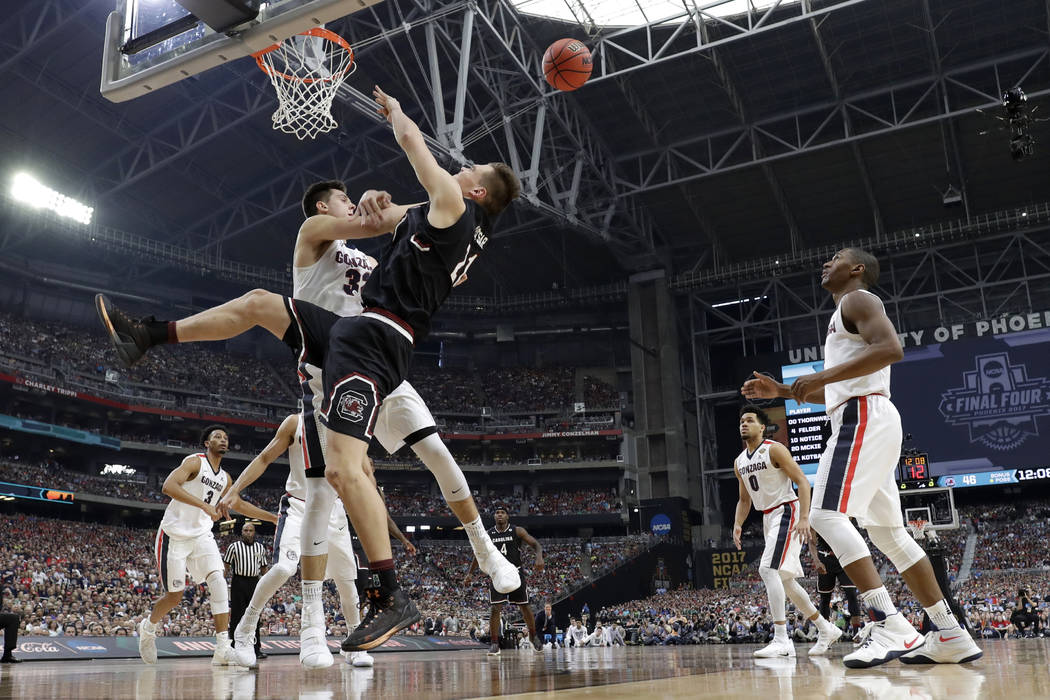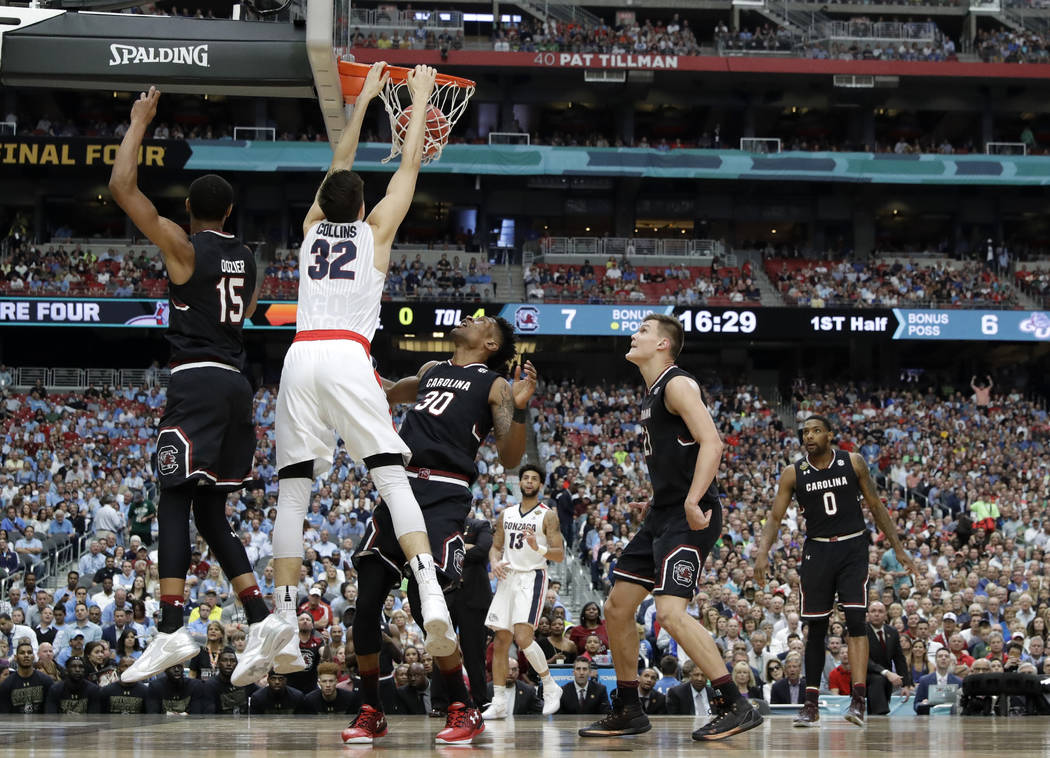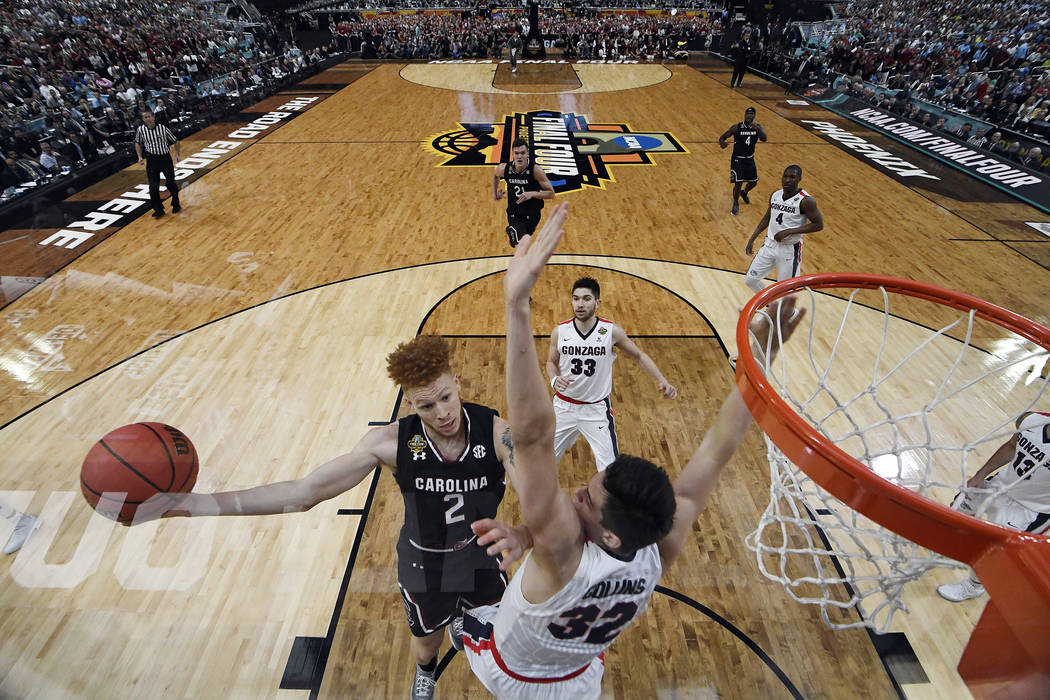 GLENDALE, Ariz. — The basketball just sort of plopped on the rim and paused, the hearts of those who follow and love and cherish all that is Gonzaga undoubtedly stopping in mid-beat.
It fell through net, of course, because when you're having the game of your life on the biggest stage your hightops have touched, the hoop gods tend to have your back.
Zach Collins told anyone who would listen that he wouldn't want to be South Carolina players facing him in a Final Four game Saturday, and the former Bishop Gorman High star was dead serious in his convictions.
He also was dead right.
West Coast Conference basketball has its first team in a national final since Bill Russell was dominating everyone in the mid-1950s, the result of Collins and his Gonzaga teammates outlasting South Carolina 77-73 before 77,612 at University of Phoenix Stadium.
Gonzaga, now an implausible 37-1, faces North Carolina on Monday night for the national championship.
The Zags are 40 minutes away, and the only thing standing in their path is one of the most storied programs in history.
It shouldn't surprise those who understand the major program Gonzaga has built while existing in a midmajor universe, just like those who know Collins best weren't at all shocked at how he performed under such intense and pressure-filled lights.
His biggest shot was that 3-pointer, the one that plopped and paused, and gave Gonzaga the lead for good with 6:42 remaining, but it was just one snapshot of an album full of moments that introduced the 7-foot freshman to a national audience unlike he has ever known.
The basket halted a 16-0 run by South Carolina that had brought it all the way back in a game most considered over minutes earlier.
Plop. Pause. Never trail again.
Collins has come off the bench all season, as good a backup center as college basketball knows, a kid who averages 9.9 points and 5.7 rebounds while shooting 65 percent in 17 minutes.
But he still oozed with confidence Saturday, making the pregame remarks about South Carolina to teammate Nigel Williams-Goss, a Findlay Prep product and junior point guard who impressively controlled things throughout in finishing with 23 points, five rebounds and six assists. They never played against each other while competing on Las Vegas area courts, but were paired as roommates on the road this season.
Still … South Carolina shouldn't want to face Zach Collins?
"I really did say that," Collins said. "And Nigel said the same thing back to me. I don't know, I just felt like we did our homework. And the scout was really good. And we've been guarding their plays really well all week. And we were all really confident whether they went zone or they went man.
"I knew I had a couple of rough games before this. And I wanted to come out and just play a lot better for my team."
A lot better looks like this: Collins had 14 points, 13 rebounds and a career-high six blocks in a season-high 23 minutes. It was the first time he had at least 10 rebounds in a game this season.
It was also his first double-double.
"I guess it was a pretty good time for him to get one," Williams-Goss said.
Collins played with such passion. His length bothered South Carolina time and again at the rim, and some of the back-screens he set nearly broke a few backs of the Gamecocks. He was active, energetic, passed well out of the post.
You don't as a 7-footer with this much skill offer that kind of performance in the Final Four and not begin to hear whispers grow louder about whether you will return to school or jump into the unpredictable waters of an NBA Draft.
Collins as a pro prospect this year would be mostly potential and hope in the minds of general managers, probably not strong enough to avoid significant time in the Development League. Collins as one next year, with more time in the weight room and the chance to compete at an All-America level for Gonzaga before entering a draft that appears far less deep than this one, is a possible lottery pick as a stretch four.
How he performs Monday night against the size and experience of North Carolina might offer a clearer picture as to which journey he will choose. That's how massive these games become, none bigger than the final one played of any season.
"Zach was the ultimate team guy for us," said Bishop Gorman High coach Grant Rice, who watched the game from Las Vegas and absolutely deserves credit for many of the fundamentals Collins displayed Saturday. "He got better every year. We knew Zach had the fire in him early, and now he's putting it all together.
"He loves the spotlight and big games."
None is brighter and bigger than a Final Four.
Zach Collins was dead serious in his convictions.
Dead right, too.
Contact columnist Ed Graney at egraney@reviewjournal.com or 702-383-4618. He can be heard on "Seat and Ed" on Fox Sports 1340 from 2 to 4 p.m. Monday through Friday. Follow @edgraney on Twitter.
Final Four
At University of Phoenix Stadium, Glendale, Ariz.
Saturday's semifinals
Gonzaga 77, South Carolina 73
North Carolina 77, Oregon 76
Monday's championship
Gonzaga (37-1) vs. North Carolina (32-7), 5:39 p.m. (KLAS-8)
Line: North Carolina -2; total 154½