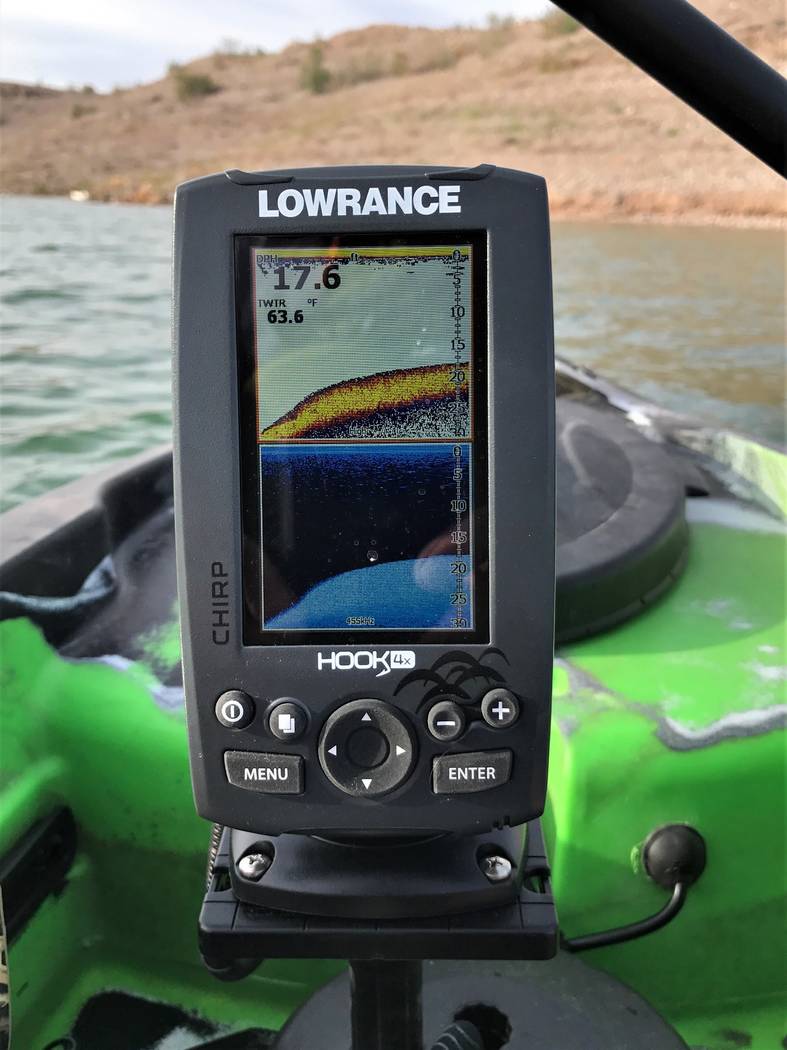 A primary tool for competitive bass anglers is the modern fish-finder. Walk down the courtesy dock at the host marina during a tournament weigh-in and you will see that each boat is outfitted with at least one of the devices.
So, imagine my surprise when Bryan Simons, a Las Vegas angler with a reputation for boating striped bass weighing 20 pounds or more, told me, "Unless I'm fishing in more than 30 feet of water I never use a fish-finder. Ever. I don't turn it on. There's no reason to turn it on."
That statement caught me completely off guard.
"No reason to turn it on? Then why does every angler I know who fishes from a boat own a fish-finder?" I wondered. "More importantly, why did I just put one on my kayak?"
Before I could ask, Simons explained. "The big fish, they can hear that (the fish-finder), and they'll get the hell away from your boat. In 30 to 80 feet of water, no big deal, they feel safe down in that 30- to 80-feet range."
Simons' explanation made me curious, so I turned on my fish-finder and crawled underneath the kayak. At first all was quiet, I didn't hear anything. Then just as I was about to call an end to my experiment, the motor in my freezer shut off, and I heard a distant clicking noise. It was so faint that I almost missed it, but when I finally pinpointed it there was no doubt it was coming from the transducer for my fish-finder.
The question is, can a fish hear that rapid "Click-click-click?"
Some anglers, like Simons, say fish can hear that almost inaudible click and point out that sound travels much faster and more efficiently through water than it does through air. Others say fish can't hear a transducer's click because it is a much higher frequency than a fish is capable of hearing.
'Unnatural noise in water'
According to fishfindersource.com, the idea that fish can hear your transducer is a myth that needs debunking. "The marine environment is hustling and bustling with noise! Even though the transducer may alarm fish every now and then, keeping it on is a lot more useful in the long run than keeping it off! In the water, other boats cause noise, bait fish make noise, grass that grows through the surface makes noise, and if a bass attacks some forage, it makes noise!"
Shawn Kimbro, a blogger who writes about chasing large stripers on Chesapeake Bay, disagrees. In a February 2016 post at chesapeakelighttackle.com, Kimbro wrote, "Not all transducers emit an audible click, but many of them do. Stripers can hear a lot better than you can and sound travels much faster through water. I'm convinced those clicks put fish on alert. It's even possible that they detect the inaudible high frequency sonar waves emitted by a fish finder. When you multiply those transducer clicks and sonar waves by four, five, or even ten boats, it can create a lot of unnatural noise in the water."
Perhaps the answer lies in how fish hear. In "The Diversity of Fishes," a textbook used by fisheries biologists, we learn that fish utilize both a lateral line system and their inner ear to keep them informed about what's happening in their neighborhood. The lateral line is a collection of pores along the side of a fish that allow it to detect vibrations in the water. Those vibrations might originate from the movement of prey, other fish or your lure.
A fish also captures sound waves through an internal air bladder which transfers vibrations through a small bone to the inner ear. Perhaps it's not the clicking of a transducer they hear, but the vibrations of those clicks that give away anglers.
On the other hand, if a fish's hearing is all about vibration, one has to wonder why a trolling motor won't scare fish, too. We may never know for sure, but Simons and other big fish enthusiasts aren't taking any chances. You can be sure their fish-finders will be off anytime they are fishing water less than 30 feet deep.
Freelance writer Doug Nielsen is a conservation educator for the Nevada Department of Wildlife. His "In the Outdoors" column, published Thursday, is not affiliated with or endorsed by the NDOW. Any opinions he states in his column are his own. Find him on Facebook at @dougwritesoutdoors. He can be reached at intheoutdoorslv@gmail.com