Digital fishing journal offers tips on hot spots, bait
Updated April 25, 2018 - 1:26 pm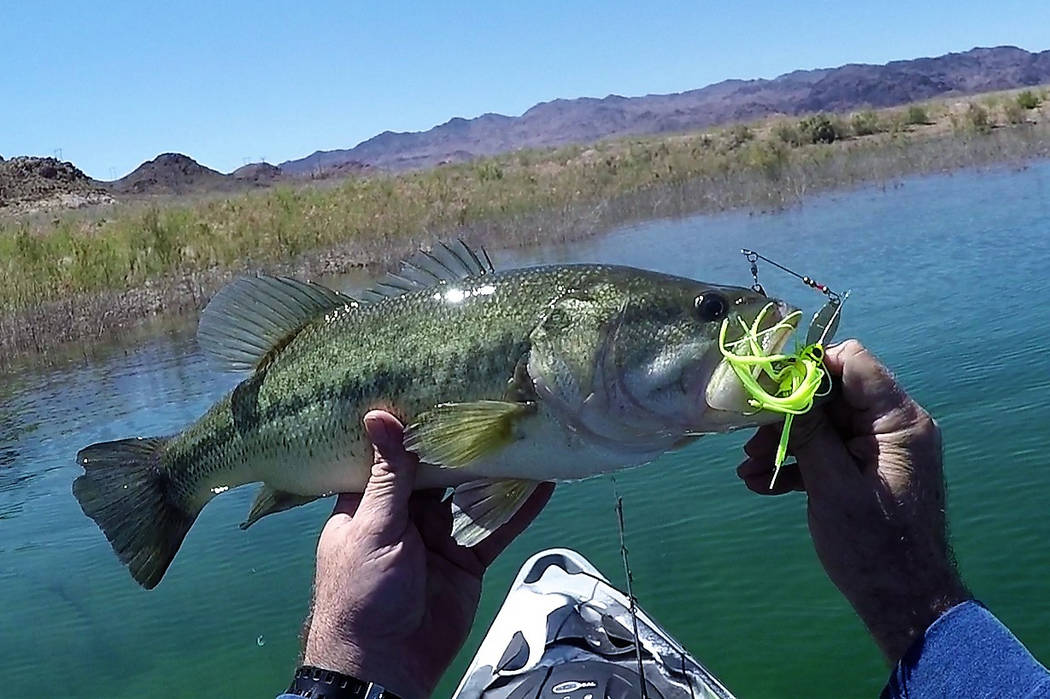 One of the fun aspects of technology is the ability to self-document our outdoor adventures. All you need to do is put a pint-sized action camera on your head, hit the record button and everything you look at is recorded in high definition.
When you get home, just plug the camera's memory card into a computer and download the photos. Of course, if you have access to the right software, that trophy fish you caught can continue to grow right along with the tale you tell about your miraculous catch. Then, with a simple file transfer, your photos can be easily moved to your smartphone.
Then, when someone asks if you have been fishing lately, the evidence you need to support your story is right there in your pocket. "Funny you should ask. I just happen to have a few pictures."
Some of you might be thinking, "I really don't want to be seen at the lake with a camera mounted on my head." And I get that. So, too, do manufacturers who have flooded the market with multiple mounting options. Your choices are limited only by the contents of your wallet and how much you want to spend.
Of course, another option is to simply use that camera built into your smartphone, but there is always a chance you might lose it to the depths of your favorite fishing hole. Only you can weigh the risks and make that decision. I have already drowned two.
Whatever you choose, the photos and videos you take during your fishing forays can serve as more than evidence proving you catch a fish now and then. They also can serve as a digital journal you can reference and even learn from. Here is a for instance.
Saturday was a good day at Lake Mead, even though it was almost noon by the time I launched my kayak. One of the benefits of a kayak is the freedom you have to move as fast or as slow as you want, giving you time to dissect a specific area without disrupting the natural flow of things. In many ways, it makes fishing much like hunting. Especially in the spring when bass are spawning, making it possible for anglers to sight fish.
I paddled my way along a familiar shoreline and made a few blind casts to likely looking structure, but getting no response turned my attention to the telltale signs that bass had been at work making spawning beds.
On a rock-covered flat in about 8 feet of water, I found a small bed, a dark circle perhaps 2 feet across. The nest stood out clearly against the silty covered substrate around it, but it was the smallmouth bass I pushed off the nest that caught my attention. So I backed off the nest and waited a few minutes before tossing a chartreuse spinnerbait just past the nest.
I let the spinnerbait settle to the bottom and turned the reel handle. Then, just as the bait neared the nest, it suddenly took a hard turn to one side and I set the hook. The fish wasn't big, but it was a fish nonetheless. There would be no skunk on me that day.
From there I spent the next four hours or so working a handful of small brush-filled coves and shallow flats. Along the way, I caught and released several more smallmouth bass and one decent largemouth. Most were caught on film, sort of. And that is where the concept of a digital fishing journal comes into play.
Upon returning home, I downloaded the images captured during my foray. It was then I noticed a folder labeled Lake Mead, April 22, 2017. I compared the images and learned some things. Using the exact same baits — a chartreuse spinnerbait and a drop shot with a 4-inch worm — I caught fish each of the two days. And on both trips the fish came from about the same spots.
Any guesses as to where I will be fishing in mid-April 2019? Or what I'll be using for bait?
Freelance writer Doug Nielsen is a conservation educator for the Nevada Department of Wildlife. His "In the Outdoors" column, published Thursday in the Las Vegas Review-Journal, is not affiliated with or endorsed by the NDOW. Any opinions are his own. Find him on Facebook at @dougwritesoutdoors. He can be reached at intheoutdoorslv@gmail.com.