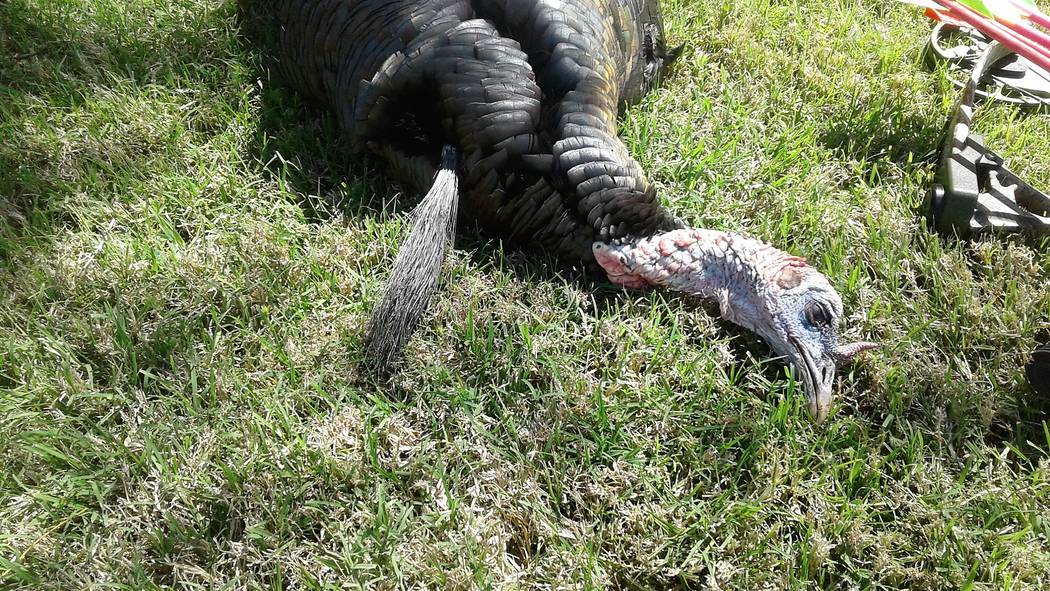 When you are the only Nevada female with a Rio Grande turkey in the National Wild Turkey Federation record book, one that places 147th nationally for female harvested Rio Grandes and seventh overall in Nevada for male- and female-harvested birds, what do you do next?
If you are Heather Pratt, you apply for another turkey tag and count the days, weeks, months and years until that tag finally shows up in your mailbox. Then, once you finally have that long-awaited turkey tag in hand, you leave your shotgun in the safe and break out your archery gear. That was something Pratt had been thinking about since harvesting her record turkey.
In the weeks between learning she had drawn a 2017 turkey tag and opening day of her hunting season, Pratt practiced daily on the archery range her husband, Kevin, built alongside their Moapa Valley home. She was determined to be ready if she had the chance to arrow a gobbler.
The tag she drew was for Moapa Valley, so the Pratts didn't have far to travel on opening day.
On the morning of April 1, they headed to the end of a field where Kevin had observed turkeys during his comings and goings in the valley. They settled in and waited for the sun to come up. But as the sky lightened, the couple was disappointed on two counts.
First, irrigation water flooded the field and the gobblers wouldn't come into it. Second, the toms were hanging out together with few hens in the vicinity.
"They weren't paying attention to the calls or anything because they weren't with the hens," Heather said.
With no cooperation from the gobblers, the Pratts decided to give the spot-and-stalk technique a try. Luckily for them, a herd of cows thought they were there to feed them and started following them as they put a sneak on a group of turkeys making their way through a stand of Mesquite trees. The cows made enough noise to cover any that the Pratts made. They slipped into position and waited.
It wasn't long before a gobbler came out of the trees.
"Don't miss," Heather said to herself as she prepared to draw her bow, but that's what happened. "I was able to get a shot, but I didn't lead him. So, my arrow went right over his back and he took off."
Disappointing, to be sure, but there was a lot of day left. It was time for Plan B.
With Kevin at her side, Heather spotted a group of turkeys with a gobbler passing through bushes down by the river and making their way across a field.
"We had to sit there and be patient a little bit and wait for the tom to come in close enough," she said.
Though she grew increasingly excited as the turkey drew closer, she remained calm and focused. The gobbler ghosted out of the trees within 30 yards of Heather's hiding spot. She came to full draw and released her arrow. This time she didn't miss.
"I was so excited," she said. "He's not the biggest turkey I have gotten, but I was absolutely ecstatic that I was able to shoot him with my bow and that I had my best friend, hunting partner, but most importantly my husband there to share the experience with me."
Next for Heather is an archery hunt for Barbados sheep in Arizona for Mother's Day.
Freelance writer Doug Nielsen is a conservation educator for the Nevada Department of Wildlife. His "In the Outdoors" column, published Thursday in the Las Vegas Review-Journal, is not affiliated with or endorsed by the NDOW. Any opinions he states in his column are his own. He can be reached at intheoutdoorslv@gmail.com.
Calendar
May 20: Annual Banquet of the Fraternity of the Desert Bighorn, South Point. Doors open at 5 p.m. For more information, see desertbighorn.com/banquet/