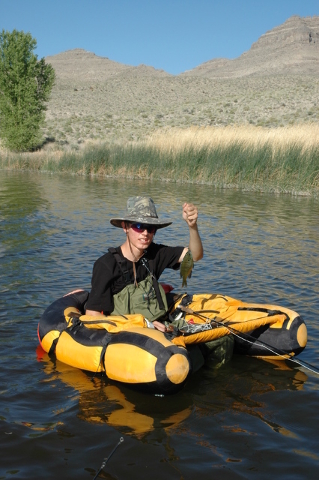 Sometimes referred to as belly boats or kick boats, float tubes are most often associated with fly-fishing for trout on relatively small waterways, but with a little creativity and effort, they can open the door to larger waters and multiple other species.
Float tubes are basically a small, inflatable fishing platform sought out for their portability and relatively low cost. No one knows for sure who invented the first float tube or what its origins were, but we can be thankful today that someone gave in to their curiosity and gave it a whirl. My guess is someone thought up the idea while floating around in an old truck inner tube.
Perhaps they saw a fish rise and said, "If only I had my fishing rod and someplace to sit while I cast my fly?" Then they went home and added some kind of seat to their floating tube, and the rest is history.
In an article written for Angler's Journal in 2001, Bob Wiltshire, then director for the International Fly Fishing Center, wrote that "Homemade tubes were the rule until the later 1940s when the Tucker Duck &Rubber Company of Fort Smith, Arkansas, produced the "Float-n-Tote" tubes. These first commercial efforts were made from truck inner tubes covered with canvas. These first tubes were primitive by today's standards. The seat was fixed, the canvas needed regular maintenance, the tubes were heavy (especially when wet), there were no pockets, and the single stitched seams were subject to sudden ripping."
Sudden seam ripping syndrome? That could lead to a rather unpleasant surprise for an angler in the middle of an ice cold lake.
The first float tubes I remember were of that simple variety — an inner tube with a canvas seat hung inside the center of the tube — but much has changed since then. Not only in terms of design and complexity but also in regards to the quality of materials used.
Today they are lightweight and come with pockets, an apron, sewn-in D-rings and carrying straps for easily packing the tube to remote locations. And rather than stepping into the center of a tube, you can pull the tube around your legs before sitting. Likewise, stepping away from the tube is easier than stepping out.
I purchased my first kick boat in 2002 and am now on my third. One of the most important things I have learned about float tubes through the years is that you want as much of your body out of the water as you can get. This reduces resistance and increases the amount of water you can cover in a day. Tube shape is also important to lessening friction. That is where the V-shape of my current float tube, the Fat Cat by Outcast, comes in.
This pontoon-style float tube is designed so only your lower legs are below the waterline, and with its V-shaped bow glides easily over the water. You won't win any boat races with this design, but you will cover more water than those who use a tube with a more rounded design. This is a lesson I learned the hard way.
Another trait you will want to look for in your float tube is a quality, adjustable backrest. This will determine the comfortability factor of your tube and how long you are willing to stay on the water.
Before purchasing a float tube, ask yourself where you intend to use it. Rivers and streams aren't the place for a kick boat, but if you have small ponds, reservoirs or lakes in mind, then you may be on to something. Large lakes with lots of boat traffic are "iffy" and probably more suitable to a pontoon boat or kayak. Keep in mind that a float tube is propelled by human power. Yours. If you aren't ready to work, and do so constantly, then look for something with a motor.
If you can find the opportunity to test-drive a float tube before you make your purchase, I recommend that you do so. That will you give you an idea of whether you really want a tube of your own and what you may or may not like in a particular tube design.
In addition to the float tube, you also will need a life jacket, chest waders, flippers and fishing tackle to get started. While there are many types of flippers on the market, I would avoid those made for scuba diving. They can be quite uncomfortable while kicking from a seated position. I have grown fond of Force Fins. They are pricey, but you get what you pay for.
Freelance writer Doug Nielsen is a conservation educator for the Nevada Department of Wildlife. His "In the Outdoors" column, published Thursday in the Las Vegas Review-Journal, is not affiliated with or endorsed by the NDOW. Any opinions he states in his column are his own. He can be reached at intheoutdoorslv@gmail.com.