Hunters beware of fire-damaged areas in Northern Nevada
August 29, 2018 - 3:23 pm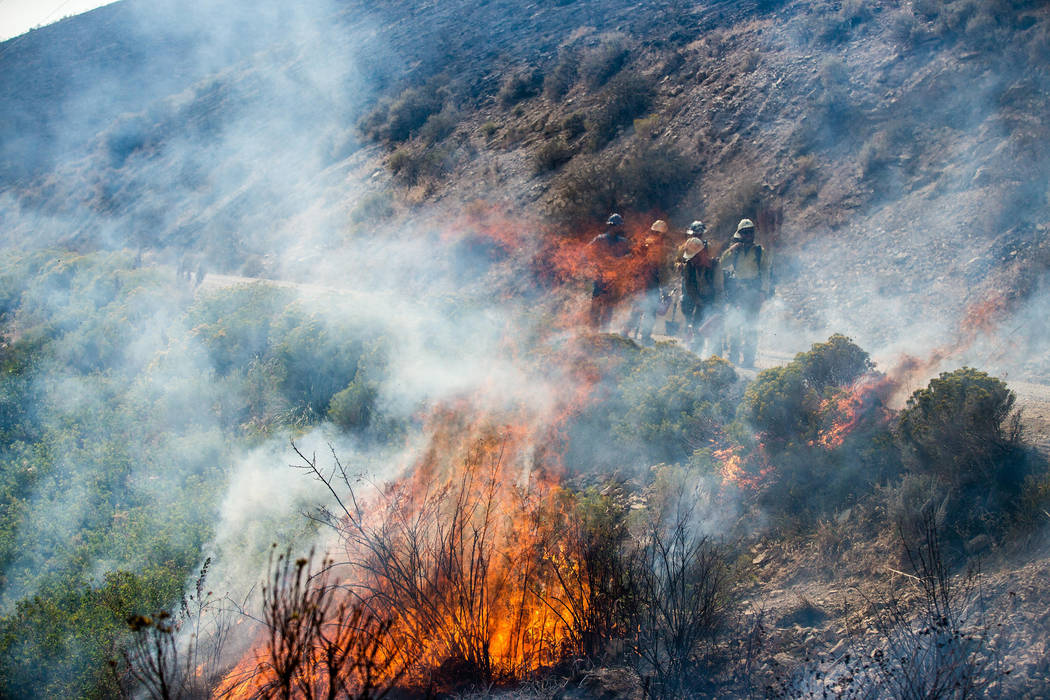 It has been another rough summer for wildlife habitat in Northern Nevada, as wildland fires have taken their toll on popular hunting areas. Especially hard hit are Humboldt and Elko counties, and that means hunters might need to alter their plans before going afield.
That's not to say you can't go hunting, but if you have a tag in these fire-damaged areas, you might need to be flexible during the planning and implementation phases of your hunt.
Things got started July 5 when the largest wildland fire in Nevada history began northeast of Paradise Valley and consumed more than 435,500 acres before firefighters brought the fire under control. According to a news release from the Nevada Department of Wildlife, the human-caused fire destroyed at least 39 sage-grouse leks, or breeding areas, in hunt units 051 and 066. These leks were known by state wildlife biologists to host 756 male sage-grouse.
Also lost were nesting, brood-rearing and winter habitat, one that could have a negative impact on the bird's annual production rates in that part of the state.
After considering the combined impact of the Martin Fire and the nearby 171,000-acre Snowstorm fire in 2017, the Nevada State Board of Wildlife Commissioners thought the situation was serious enough to warrant an emergency closure of the sage-grouse season in units 051 and 066.
Now, with big-game seasons underway, yet another fire is burning in Elko County. The South Sugar Loaf Fire has burned almost 238,000 acres, though it reportedly is 83 percent contained.
The South Sugar Loaf Fire was started by a lightning strike and first reported Aug. 17. The fire grew quickly enough that the U.S. Forest Service issued a voluntary evacuation order in the area stretching north from Wildhorse Reservoir to the Idaho-Nevada state line and east to the town of Jarbidge. The agency also closed several roads along with the Jack Creek, Big Bend, Wildhorse Crossing, Pine Creek and Sawmill campgrounds.
This fire is impacting hunt units 061, 062, 071 and 72, but the closures are limited to National Forest lands. That means hunters can access areas managed by the Bureau of Land Management and private property if they have permission to hunt there.
If the weather is favorable, the fire is expected to be contained by mid-September.
Mourning dove season
The mourning and white-winged dove season opens Saturday statewide and runs through Oct. 30. If you are new to the Las Vegas area, finding a place to hunt that is relatively close to the valley can be a challenge, but there are places you can go to bag a limit of the speedy birds.
There are two national wildlife refuges and two state wildlife management areas located within a 1½-hour drive from Las Vegas. You can hunt doves on each of these facilities. They are the Pahranagat NWR near Alamo, the Ash Meadows NWR north of Pahrump, the Overton WMA in Moapa Valley and the Key Pittman WMA in Hiko.
Reservations are required at the Overton WMA on the opening day and first weekend, but don't despair if you don't have one. The best hunting often comes after the opening day rush.
The Kirch WMA is located midway between Hiko and Ely about three hours from Las Vegas and is just far enough away that a campout is probably warranted. You also might consider the Fort Mojave Indian Reservation located between the communities of Laughlin and Needles. You will need a tribal license.
Freelance writer Doug Nielsen is a conservation educator for the Nevada Department of Wildlife. His "In the Outdoors" column, published Thursday in the Las Vegas Review-Journal, is not affiliated with or endorsed by the NDOW. Any opinions are his own. Find him on Facebook at @dougwritesoutdoors. He can be reached at intheoutdoorslv@gmail.com.