Leftover big game hunting tags available in Nevada
Updated June 13, 2018 - 7:51 pm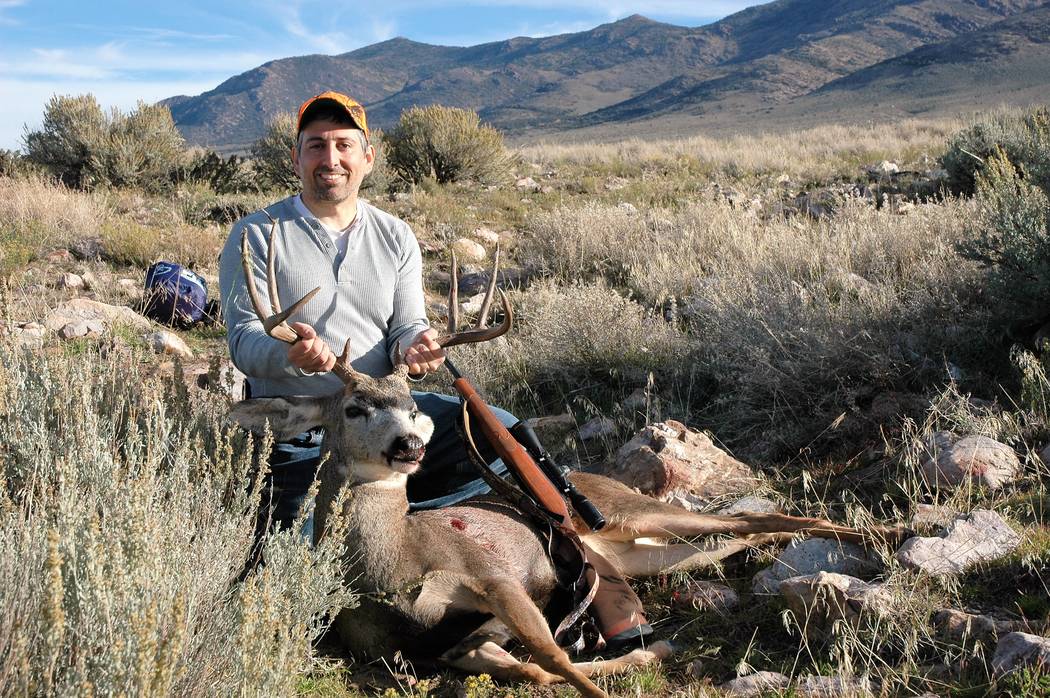 For hunters who want to pursue big game in Nevada, the second week of June can bring joy and disappointment. Joy to those who learn they drew a coveted big game tag and disappointment to those who didn't.
So great is the disappointment for unsuccessful tag applicants that often their friends who drew one are reluctant to share the good news. As least for a day or two. Then it's no holds barred, but don't mistake that for gloating.
If you are one of the lucky applicants who drew a tag for the hunting season, good luck on your hunt. And if you are one of the unlucky applicants who didn't receive a tag, don't give up. There are a few leftover tags available in Nevada's second draw and hunting opportunities to be found in neighboring states.
If you don't mind pulling a bowstring, there are 277 archery mule deer tags available in the second draw. These antlered deer tags are scattered across units 032, 101-109, 141-145 and 171-73. Also, there are five archery tags for antlerless elk in unit 074.
For those who are just looking to fill their freezer, there are 247 antlerless mule deer tags available in Area 6 and units 114-115. These any legal weapon hunts will be in November and December. If you don't like cold weather, this hunt might not be for you. If you don't mind sporting cold weather gear, this hunt is a good opportunity to secure free-ranging venison.
There also are 251 tags remaining for the junior mule deer hunt. With these either-sex tags, juniors can hunt the archery, muzzleloader and any legal weapon seasons until they fill their tag or the season ends. Tags are available in units 032, 035, 101-109, 141-145, 151-156, 171-173 and 251-254.
The application deadline is June 25, and results will be available July 20.
Deer and elk permits remaining after Utah's tag draw will go on sale in July and distributed on a first-come, first-served basis. The permits will be available for online purchase, or you can stop by a license agent in Utah. General season bull elk tags will go on sale July 17 and buck deer permits July 19.
Most of the available permits are for elk hunts. Archery bull permits are unlimited in number and available in spike or any-bull designations. For the general bull elk seasons, there are 15,000 tags remaining for spike-bull units and another 15,000 for any-bull units. These general bull permits are available for the any legal weapon and muzzleloader seasons. Included are Utah's new multiseason permits, which allow hunting in all three seasons — archery, muzzleloader and rifle.
Along with elk permits, there are more than 475 archery and 1,253 muzzleloader deer permits remaining. These permits are for six units in northern Utah. Another 3,661 deer permits are available for youth hunters for the archery season. These permits are for units across much of the state and include some for the Pine Valley, Panguitch Lake and Fishlake units in southern Utah.
As of May 9, Arizona has 576 elk permits remaining in Units 12A, 12B, 13A and 13B. The elk population in these units is quite small, perhaps no more than 50 animals in all four units. Permit holders should realize that their chance of success is low. The intent is to remove all elk in these units.
The application period for species other than pronghorns and elk ended Tuesday. Results are expected to be available by mid-July. Remaining permits will be available on a first-come, first-served basis starting July 23 via mail-in application. Walk-in sales begin July 30. In the meantime, Arizona does offer over-the-counter tags for archery deer permits.
Idaho has a limited number of over-the-counter deer and elk tags available to nonresident hunters.
Freelance writer Doug Nielsen is a conservation educator for the Nevada Department of Wildlife. His "In the Outdoors" column, published Thursday in the Las Vegas Review-Journal, is not affiliated with or endorsed by the NDOW. Any opinions are his own. Find him on Facebook at @dougwritesoutdoors. He can be reached at intheoutdoorslv@gmail.com.