National Weather Service helps boaters stay safe
Updated March 8, 2017 - 6:46 pm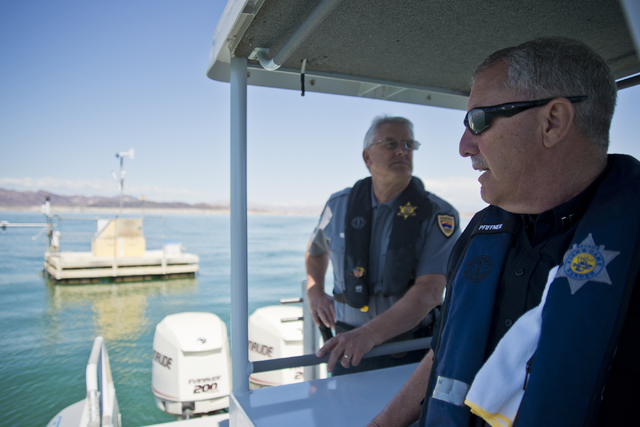 Driving though the open desert, one can't help but notice the color green is dominating the landscape.
It's everywhere, especially in the wild country and open lots we have not covered in asphalt and concrete. This green up is not only a welcome change but also could portend a good quail hatch later this spring. That's the good news.
The bad news is the steady flow of storms that have brought rain and the resulting green up to the Mojave Desert also have brought an equally steady flow of high winds that have made it difficult for anglers to spend time on the water. Anyone who has spent time on Southern Nevada's waterways knows the ability of high winds to inflict human sorrow and acts accordingly. Oftentimes that means making the decision to stay home, even though doing so is not as fun as spending a day on the water with a fishing rod in hand.
While experience has taught veteran boaters to exercise caution when it comes to boating during inclement weather, those who are new to the boating sports sometimes miss the warning signs. In some cases, they simply choose to ignore them, even when someone in the know points them out. The result often isn't good.
Luckily, there is a system designed to warn boaters and other outdoor recreationists of weather-related hazards boaters before they launch or head outside. That system is the National Weather Service (weather.gov).
Along with providing current conditions and forecasts, the NWS also issues weather warnings. One such warning is a small craft advisory that might read something like this one: "Small craft advisory remains in effect until 11 p.m. EST Wednesday … Winds … 18 to 33 knots within the small craft advisory … a small craft advisory means winds of 18 to 33 knots are imminent or occurring. Boaters operating smaller vessels should avoid navigating in these conditions."
A knot is equal to 1.15 mph, so the winds in this case were blowing from about 21 mph to 38 mph. That is enough to get your attention, or should be.
Warnings also are posted on launch ramps, though many people either don't recognize them for what they are or choose to ignore them. These warnings are given with various combinations of flags that can be seen flying in a conspicuous location in relation to the launch ramp. A single, pennant shaped red flag tells boaters the NWS has issued a small craft advisory. Two such flags are a gale warning, which means expect to see winds ranging from 39 to 54 mph.
If two pennant-shaped flags don't get your attention, a red rectangle-shaped flag definitely should. Once these flags show up, it means serious winds are on the way, 55 mph or more.
These flag configurations are common at places such as Lake Mead and Lake Mohave, and boaters need to keep in mind that just because the wind isn't blowing when you arrive, it soon will be if warnings are posted. This is where common sense should kick in. I've seen the aftermath when it doesn't.
Along with keeping anglers at bay, passing storm fronts have stymied prespawn activities of black bass. One of my game warden friends said the pattern of repeating storm fronts has the bass in Lake Mead a little confused. On warm days when the sun is out and water temperatures begin to climb, smallmouth bass have been moving up from deep water toward the shallows to get ready for the spawn. Then another storm front moves in, temperatures drop and the fish move back toward deep water.
That could all change this weekend if the weather forecast holds. Anglers can expect to see temperatures in the 80s, mostly sunny skies and light winds. Now maybe I can get that kayak out of my garage and on the water so I can justify the accessories that just kind of showed up over the winter.
Freelance writer Doug Nielsen is a conservation educator for the Nevada Department of Wildlife. His "In the Outdoors" column, published Thursday in the Las Vegas Review-Journal, is not affiliated with or endorsed by the NDOW. Any opinions he states in his column are his own. He can be reached at intheoutdoorslv@gmail.com.
CALENDAR
— The Wildlife & Habitat Improvement of Nevada annual fundraising banquet will be Saturday at the Gold Coast. Doors open at 5:30 p.m. A mule deer heritage tag and two turkey tags will be up for auction. For information, visit whinlv.org.