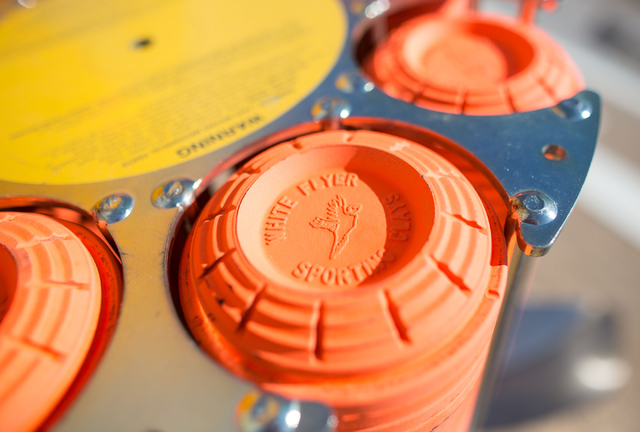 If you were to call "pull" on 200 clay targets, how many do you think you would hit?
You guys who shoot competitively don't count, because you get too much practice time. As for the rest of us — those whose time with a shotgun is generally limited to hunting season — my guess is our ratio of targets hit to targets thrown would be about 50 percent, perhaps 60 on a good day.
Those of you claiming a higher percentage should be grounded for fibbing. Now what if I told you I know a young shooter who just graduated from Shadow Ridge High School and is quite capable of hitting 200 of 200 and sending us all packing?
The young man's name is Jacob Eval, a member of the Shadow Ridge trap team. The school competes as part of the Silver State Claybreakers, the Clark County chapter of the Nevada Youth Shooting Sports Association.
On Friday, Eval led the Claybreakers' five-member varsity squad onto the trap fields at the state championships at the Fallon Trap Club. In the weeks prior, coaches had been training the team to focus without getting caught up in the stress of competition. They had one goal in mind, and it didn't involve not winning.
When the guns stopped barking and remnants of clay targets quit falling, the Claybreakers took first place by breaking 905 of 1,000 targets. Eval knocked down 197 of 200, 98.5 percent and the tournament's top score.
His team members weren't far behind. Tristan Navajo, Greg Hanley, Cameron Pink and Jack Evans shot scores of 184, 182, 176 and 166, respectively. The Claybreakers' junior varsity also won its division. Led by Jadin Loy's 194, the team busted 851 clay targets.
Eval, who has been involved in shotgun sports for five years, has been a consistent performer. At the state championships in 2014 and 2015, he shot 193 and 199.
"I was shooting 23s consistently when I started, and now I have gotten my 200 straight," he said. "I got that about six months ago, so I've come pretty far.
Along with learning how to shoot clay targets, Eval credits the NYSSA program with making him a better person.
"It's taught me a lot of discipline, and how to make friends and treat others. How to be a good loser," he said. "Nobody likes to lose, but when you do lose, it's not a bad thing. There is always something you can learn from it."
Eval said he also has learned the importance of not getting a big head, because there is always somebody better. In fact, the day I talked with Eval, he had been beaten on the practice range by a middle school shooter. He was not angry or disappointed, but recognized he needed to focus better. He even complimented the other shooter.
Mike Reese, a former professional shooter and one of the Claybreakers' coaches, said Eval is mentally tough. During one drill, each team member had to shoot his first 50 targets while sitting in a chair. Eval missed four of the first 50, then busted 50 straight.
Eval credits his mental toughness to music and thinking mistakes.
"I have to have a checklist before I leave the house in my head," he said, "because if I don't make sure everything is done at school and at home, then I'll be out here and I'll be like, 'Oh, is the dog out? Or did I unplug the toaster.'"
The sport also has helped Eval perform better in academics. All participants in the NYSSA must meet the same academic requirements as athletes in the more traditional high school sports.
But it's not just the academic requirement.
"It's the mindset," Eval said. "The way you approach things. I had a different mindset before I started shooting. I really never cared about school work. I've learned to take it more serious so I could shoot."
Eval said he hopes to receive a college shooting scholarship and perhaps compete at the Olympic level.
NOTE — Reservations are required to hunt doves on opening day and the first weekend at the Overton Wildlife Management Area. Applications are available at ndow.org and due July 13. Paper applications are required.
Freelance writer Doug Nielsen is a conservation educator for the Nevada Department of Wildlife. His "In the Outdoors" column, published Thursday in the Las Vegas Review-Journal, is not affiliated with or endorsed by the NDOW. Any opinions he states in his column are his own. He can be reached at intheoutdoorslv@gmail.com.