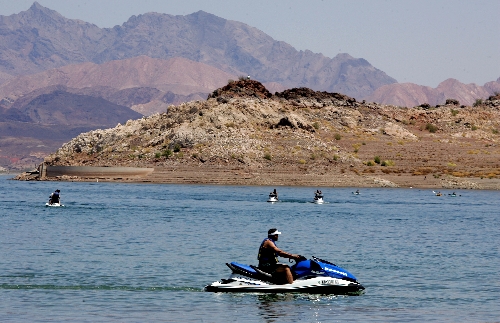 You have seen them for sale on street corners and vacant lots, in grocery store parking lots and neighbors' front yards, but don't let the low price tag lure you into a purchase you may regret. What might appear to be a good deal on a personal watercraft might actually be the seller's attempt to dump a boat that will soon be illegal on local waterways.
Beginning Jan. 1, some personal watercraft – also known by such commercial names as Jet Ski, Wave Runner and Sea-Doo, among others – will be banned from operating within the Lake Mead National Recreation Area, which includes Lake Mead and Lake Mohave. Keep in mind that Mohave actually begins at Hoover Dam, even though its upper reaches are more like a river than a lake.
According to Title 36 of the Code of Federal Regulations, personal watercraft affected by the ban are those that do not meet the 2006 emission standards set by the Environmental Protection Agency for the manufacture of two-stroke motors.
The bottom line is personal watercraft with carbureted two-stroke motors are out while those that meet "the EPA 2006 emission standards through the use of direct-injection two-stroke or four-stroke engines, or the equivalent thereof" are in and will still be allowed to operate within the recreation area.
Keep this in mind when you spot that for sale sign.
Though it goes into effect in January, the ban on personal watercraft was actually put on the books in 2003. It was part of a settlement negotiated between the National Park Service and the Bluewater Network, which filed a lawsuit in an effort to force the Park Service to ban the use of all personal watercraft on waters throughout the National Park System, including its recreation areas.
The Park Service delayed implementation of the regulation for 10 years to minimize impacts to personal watercraft owners and to provide time for people to make the necessary adjustments such as replacing their older carbureted personal watercraft with newer fuel-injected models.
For those who enjoy recreating at Lake Powell, a similar ban goes into effect at the Glen Canyon National Recreation Area. And just in case you were wondering, federal regulation defines personal watercraft as "a vessel, usually less than 16 feet in length, which uses an inboard, internal combustion engine powering a water jet pump as its primary source of propulsion. The vessel is intended to be operated by a person or persons sitting, standing or kneeling on the vessel, rather than within the confines of the hull."
If you own a personal watercraft that does not meet the EPA emission standards required for use at Lake Mead or Lake Mohave, you can still use that vessel on the Colorado River below Davis Dam at Laughlin, at Lake Havasu and other waters outside of the National Park System.
But another major issue now looms on the horizon. As personal watercraft enthusiasts begin searching for new places to enjoy their pastime, we can expect to see an increase in user conflicts on waters traditionally used by anglers and others who prefer a more tranquil environment than that generally associated with personal watercraft use.
Since regulations governing watercraft use often vary from one waterway to another, it would behoove boaters to double check the rules before making the trip and definitely before launching. At some small impoundments, for example, boats are limited to a "no wake" speed. At others, only boats without motors are permitted.
Though the Park Service will continue to allow all personal watercraft to enter the Lake Mead National Recreation Area, park rangers will begin using a variety of tools to educate boaters and enforce the regulation, including citations if need be.
In addition, the Park Service has already posted online a list of frequently asked questions regarding the personal watercraft regulation. That list can be found at www.nps.gov/lake/parkmgmt/twostroke.htm.
Freelance writer Doug Nielsen is a conservation educator for the Nevada Department of Wildlife. His "In the Outdoors" column, published Thursday in the Las Vegas Review-Journal, is not affiliated with or endorsed by the NDOW. Any opinions he states in his column are his own. He can be reached at intheoutdoorslv@gmail.com.