Reactions mixed on Nevada shed antler hunting regulation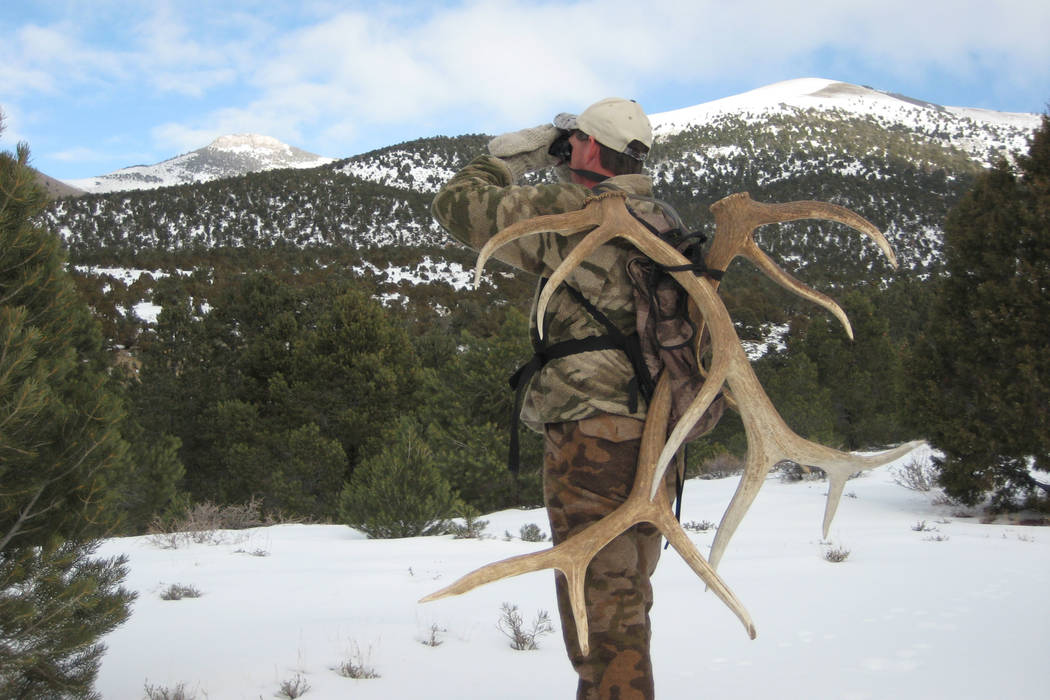 The other day, I received a text message from a friend asking if a rumor he heard about a new regulation restricting the hunting of shed antlers in Nevada were true.
The rumor is true. But the restriction applies only to public lands in a portion of the state for a relatively small portion of the year. As approved by the Nevada State Board of Wildlife Commissioners, the regulation reads, "A person shall not take or gather shed antlers from or on any public land located in Elko, Eureka, Lander, Lincoln, Nye, or White Pine Counties at any time from January 1 to April 30."
Among the folks I know, reaction to this regulation is mixed. One friend wrote to me saying, "You can't legislate people to be good."
"No you can't," I replied. "But on the other hand, it (the regulation) does give law enforcement officers the teeth to deal with those who aren't good."
Unlike horns, which are a permanent, antlers last only part of the year and are then cast aside, or shed in March and April each year. This is a natural process for animals such as deer, elk or moose. Then, shortly after the old antler is shed, a new one begins to grow in its place. And for some people, finding those "sheds" is akin to finding lost treasure.
In many ways, shed hunting is as extension of the hunt. Antlers left behind by big game animals can give a hunter a glimpse into the quality of bucks and bulls that can be found in a particular deer or elk herd. And since antlers are as unique as fingerprints, some hunters have been known to follow the long-term development of a single animal over a period of time.
For some, shed hunting is a family affair, an activity that has been passed down through the generations. It is a chance to get outside and enjoy the renewal that spring brings to the wild country as snow gives way to warming temperatures.
For others, shed hunting has become big business. In 2017, an elk antler with little sign of sun bleaching was selling for as much as $14 per pound to commercial buyers. A matching set could sell for much more.
Chandeliers made of natural antlers sell for thousands of dollars. One company advertises an extra-large chandelier made from elk, mule deer and moose antlers for $13,000. A small chandelier sells for between $1,000 and $2,000.
Another product that is growing in popularity is the antler pet chew. Vendors are marketing pieces of antler as an organic chew toy. At Chewy.com, a 5-inch piece of elk antler sells for about $5. A 9-inch piece sells for nearly six times that amount.
Regardless of what drives one's interest in shed hunting, as participation increases, so too does the sense of competition between hunters. Everybody wants to get there and find that fallen antler first. As a result, deer and elk herds in some areas have been getting increased human pressure earlier and earlier in the year. Often when they are most vulnerable and living on the last of their winter fat stores.
Some have even gone so far as to drive animals through the trees in an attempt to force the shedding of antlers. Needless to say, this puts those animals in a dangerous position.
The driving force behind the creation of the new regulation were members of the County Advisory Boards to Manage Wildlife from the eastern part of the state where winters are the most severe and the numbers of wintering animals are the highest.
Among them was Cory Lytle, a member of the Lincoln County Advisory Board, who expressed to me on many occasions his concern about the increased pressure in his part of the state and how early hunters were going afield in pursuit of those sheds. An avid shed hunter himself, Lytle felt something needed to be done to protect the game animals.
As with any law, there are sure to be those who will disregard this one. There will be those who sneak out and stockpile sheds while the ethical and law abiding bone collector waits until May 1, but now those charged with protecting our wildlife resources will have the legal teeth to hold them accountable.
Freelance writer Doug Nielsen is a conservation educator for the Nevada Department of Wildlife. His In the Outdoors column, published Thursday, is not affiliated with or endorsed by the NDOW. Any opinions he states in his column are his own. Find him on Facebook at @dougwritesoutdoors. He can be reached at intheoutdoorslv@gmail.com.