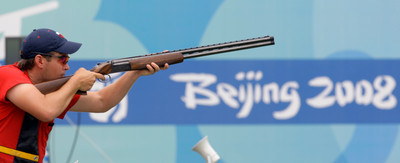 The marathon, gymnastics, springboard diving, the 100-meter dash, the discus (one of my personal favorites) and even beach volleyball are easily recognizable as Olympic sports. And my guess is that in the past two weeks, many of you have been burning the midnight oil to catch as much of the Beijing Games as possible.
But the Olympic disciplines most Americans will never see are the shooting sports.
Perhaps it's because some people consider the shooting sports, as they do the discus, to be less than spectacular in terms of audience appeal. There's just no accounting for some people's taste. Or perhaps the network providing America with Olympic coverage doesn't think the shooting sports would bring in enough advertising dollars to justify the airtime. Whatever the reason, the audience is missing out.
What could be more exciting than watching someone such as American shooter Vincent Hancock powder clay pigeons in the skeet event? Personally, the best thing about the shooting events is there are no level-of-difficulty points, no points for execution and no drama associated with subjective score cards. You either shoot more clay pigeons or more bull's-eyes than your competitors, or you don't. What could be simpler?
With the shooting events complete at the Games, Americans are bringing home six medals — two each in gold, silver and bronze. Hancock, a 19-year-old from Eatonton, Ga., beat Norway's Tore Brovold to win gold in the skeet event. Competitors fire 125 shots in qualifying and 25 in the final round. After tying in the final round, Hancock and Brovold went to a shoot-off. Both hit their first two targets, but Brovold missed one of the next two, and Hancock busted both.
Three-time Olympian Glenn Eller took the gold in men's double trap and set an Olympic record in the process. His final score was 190. The 26-year-old Texas native is a member of the U.S. Army Marksmanship Unit and is stationed at Fort Benning, Ga. Hancock is a member of that same unit.
In case you need some drama in an event to consider it Olympic caliber, Jason Turner won bronze in the 10-meter air pistol event when Kim Jong Su was stripped of his silver medal after failing doping tests. According to the International Olympic Committee, the Korean shooter tested positive for propanolol, a chemical that prevents trembling. Jong Su also was stripped of a silver medal in the 50-meter pistol.
Kay Rhode took silver in women's skeet, Matt Emmons won silver in the 50-meter small bore rifle prone position, and Cory Cogdell got bronze in women's trap.
Closer to home, five youngsters from the Las Vegas Valley just might be laying the foundation for their own Olympic shooting careers. Riley Clark, Cody Newberry, Jacob Freudenthal, Steven Carter and Zachary Daly teamed to win the Scholastic Clay Target Program Nationals for their age group just three days before the curtain went up on the Games.
The boys are members of the rookie squad for the Silver State Claybreakers, a youth shooting team coached by Linda Hand, an accomplished competitive shooter. While Hand obviously was happy that the team came home as the Grand National winner, she was more pleased with their willingness to work together and to support each other during the two-day competition.
"I was impressed with their good sportsmanship, their camaraderie and the way they support each other," Hand said.
The Claybreakers hit 873 of 1,000 clay targets to win the competition by five points. When you consider that the rookie squad is for shooters ages 8 to 11, that score is nothing to sneeze at. In fact, I don't know if I would want to hunt quail with these kids, because they probably would outshoot me.
A record 2,100 shooters from 35 states competed at the SCTP Nationals in Sparta, Ill. Olympians Hancock and Cogdell got their start in the SCTP program.
For more information about the local SCTP program, check out the Silver State Claybreakers' Web site (silverstate-claybreakers.com) or go to nssf.org/sctp.
Doug Nielsen is an award-winning freelance writer and a member of the Professional Outdoor Media Association. His "In the Outdoors" column is published Thursday. He can be reached at doug@takinitoutside.com.