Shooters take aim at clay targets in Ducks Unlimited event
February 28, 2018 - 5:59 pm
Updated February 28, 2018 - 6:05 pm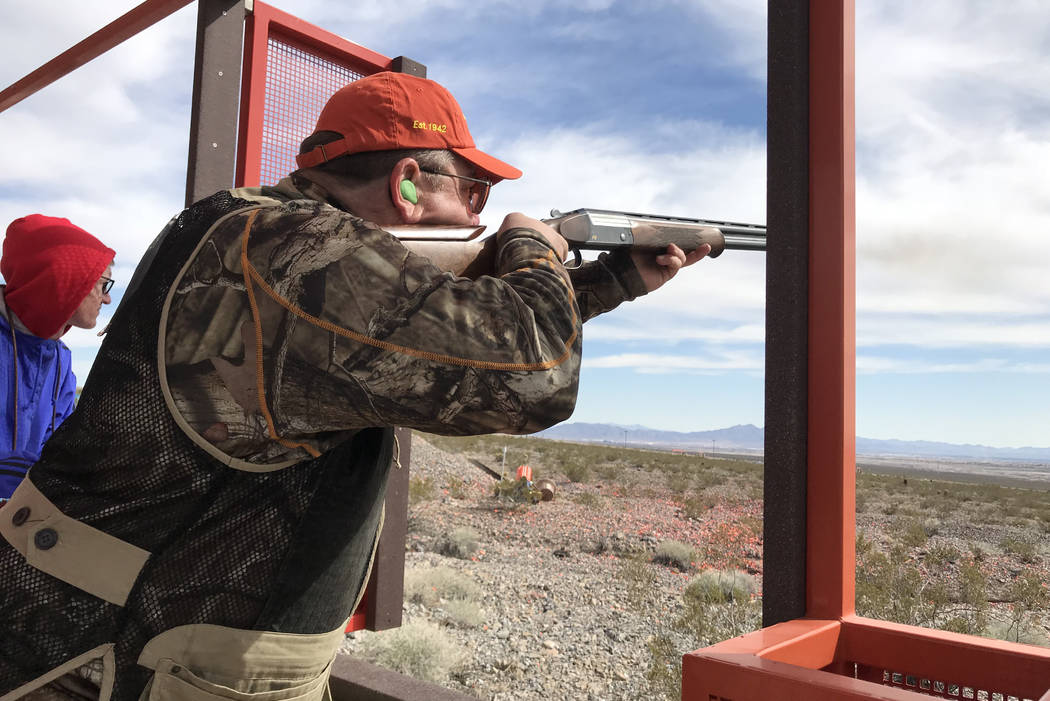 Pasquale Roberto took his position in the shooting station and pulled the butt of his over-under tight against his shoulder. He swung the shotgun's barrel into shooting position and settled his cheek against the stock, a motion that was smooth and easy. It was almost as if the gun and shooter were one.
The California resident took a few seconds to visualize the flight of his intended targets, swinging the shotgun easy from left to right. Then Roberto called for the clay birds.
"Pull!"
A young man standing quietly to one side hit the button on a remote control and released two birds. They came from left to right, quartering away with the high bird in front and rising. Roberto's shotgun followed, just as he had rehearsed. Then suddenly the gun bucked and the clay target disappeared in a cloud of black-orange dust. But there was no time to celebrate.
The trailing bird was already nearing the apex of its flight and would soon begin to drop. Shifting his attention to that second bird, Roberto quickly found it and the over-under bucked again. The clay target disappeared, and the thrower called out "Dead pair!" A feat Roberto completed twice more at that station — three pulls, six shells and six birds.
Roberto busted those birds while competing in the annual Ducks Unlimited Continental Shoot at the Clark County Shooting Complex last weekend. He was one of 383 shooters from 28 U.S. states and Canada. They came to Las Vegas to enjoy the amenities at the shooting complex and raise money for waterfowl conservation.
"It's all about venue, and this is a great range," said Don Jackson, a National Sporting Clays Association certified shooting instructor from California. "It's probably one of the nicest setup ranges there are, and I like the various shooting stations."
From a shooter's standpoint, one of the things Jackson enjoys is the openness of the shooting complex sporting clays course. "All targets are visible, No. 1 And they're not trying to put extra speed on them. They're just good targets," he said.
Sporting clays is probably the closest imitation of hunting you will find among the shotgun sports. Courses are designed so targets simulate the flight of waterfowl, upland game birds and sometimes rabbits. They can come at you from a variety of angles, heights and positions. Each station can provide a truly unique shooting experience.
Though the Continental Shoot is an official NSCA registered event, you don't have to be a top-shelf shooter to participate. The event is open to shooters of all experience levels.
Tim Fehringer, Ducks Unlimited director of fundraising, said the Continental Shoot is the organization's largest shoot and has been in Southern Nevada for the past nine years.
The event is more than a gathering of shooting sports enthusiasts who enjoy breaking clay birds with their shotguns. It also serves as a fundraiser for DU's waterfowl conservation efforts in the U.S., Canada and Mexico.
Shooting registered targets is similar to collecting points on a racing circuit, only you compete against shooters in your designated class from across the country. A shooter's class is based on experience and scores.
Shooters aren't competing for cash prizes, but top finishers win firearms and ammunition.
Roberto didn't finish first, but he scored well enough to win ammunition. And he plans to return next year.
Freelance writer Doug Nielsen is a conservation educator for the Nevada Department of Wildlife. His "In the Outdoors" column, published Thursday in the Las Vegas Review-Journal, is not affiliated with or endorsed by the NDOW. Any opinions are his own. Find him on Facebook at @dougwritesoutdoors. He can be reached at intheoutdoorslv@gmail.com.