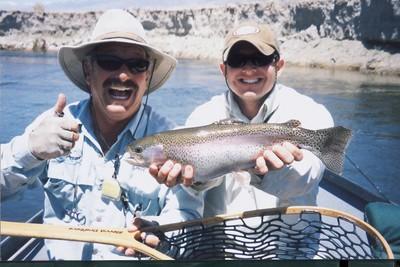 One of the great things about fishing is the opportunity it gives us to experience new country and see places the average person might never lay eyes upon.
For many Southern Nevada anglers, the desire to fish somewhere new often leads to ventures into Utah, Colorado and, maybe, Arizona. But if you're looking to find fast action for fly-hammering trout, you might want to consider going west instead.
Craig Moran is a Review-Journal photographer and fly-fishing enthusiast. Always willing to cast a line in new places, Moran recently opted to travel west, across Death Valley to Bishop, Calif. There, along the eastern slope of the Sierra Nevada Mountains, he and fishing partner Greg Moon found precisely what they were seeking: fast action for feisty rainbows.
"We caught well over 20 fish in one day," Moran said. "At one point, I caught two fish within five minutes. We were using a streamer in a variety of colors. It looked kind of like a woolly bugger with a wing tied on top."
That the duo caught trout didn't surprise me; I've heard stories about the quality trout fishing available along the Sierra. But how they hooked the fish caught me off guard.
Moran and Moon hooked them while floating the lower Owens River in drift boats, something I've always equated with big rivers, such as the Green in northeastern Utah or the Deschutes in Oregon. The waters of the Sierra is the last place I would have expected to find a drift boat.
Bona fide drift boats first showed up on the Owens River about 10 years ago when Tom Loe, retired after working more than 20 years as a commercial fisherman, founded Sierra Drifters Guide Service in Mammoth Lakes, Calif.
"It seemed like a natural fit. The opportunity was there, so I had to take advantage of it," Loe said of his drift-boating venture. "The only river that is navigable for drift boats is the lower Owens River, which is a tail water of Crowley Lake."
The drift boats allow Loe's guides to take anglers into stretches of the Owens that otherwise are unreachable.
"I'm selling seclusion, a chance to fish for big trout without the crowds," said Loe, who has guided more than 2,500 trips on the Owens.
The river is lined with brush and reeds, creating difficulty for anglers who try to access the river from shore. That, Loe said, limits the number of people fishing the river and makes drift boats the optimum tool for accessing its waters.
Sierra Drifters schedules its float trips so the guides don't fish the same stretch of the river more than once each week.
Of his float trip with Loe's company, Moran said, "We would stop and fish, then go another 100 yards or so down the river and stop and fish, then go another 100 yards and stop and fish."
While many trout waters are frozen over during winter, some of the year's best fishing takes place along the eastern Sierra during that time.
"It's a year-round fishery here," Loe said. "We have year-round open water. The best fishing is from October through April or into May, if conditions are right.
"Our anglers average 25 fish to the net per day."
The typical drift boat trip lasts eight to nine hours, and anglers can expect to average 25 trout to the net. The cost is $370 for one angler and $395 for two. That fee covers everything but a fishing license. All tackle, food and beverages are included.
Moran and Moon also fished the upper Owens where Moran reeled in his first brook trout on a dry fly while having another 20-fish day.
Check out Sierra Drifters' Web site, sierradrifters.com, for more information about fishing the eastern Sierras.
• ADVISORY BOARD MEETING — Hunting seasons for upland game, rabbit, dove and crow are on the agenda for the Clark County Advisory Board to Manage Wildlife meeting scheduled for 6 p.m. Tuesday at the Clark County Government Center.
Also on the agenda is a petition to allow nonresident children, ages 12-15 years, of Nevada residents to apply for a resident junior tag for deer.
Doug Nielsen is an award-winning freelance writer and a conservation educator for the Nevada Department of Wildlife. His column is published Thursday. He can be reached at doug@takinitoutside.com.
C. DOUGLAS NIELSENMORE
COLUMNS