Smallmouth bass fishing bring out a need for speed
April 12, 2017 - 11:38 am
Updated April 12, 2017 - 6:49 pm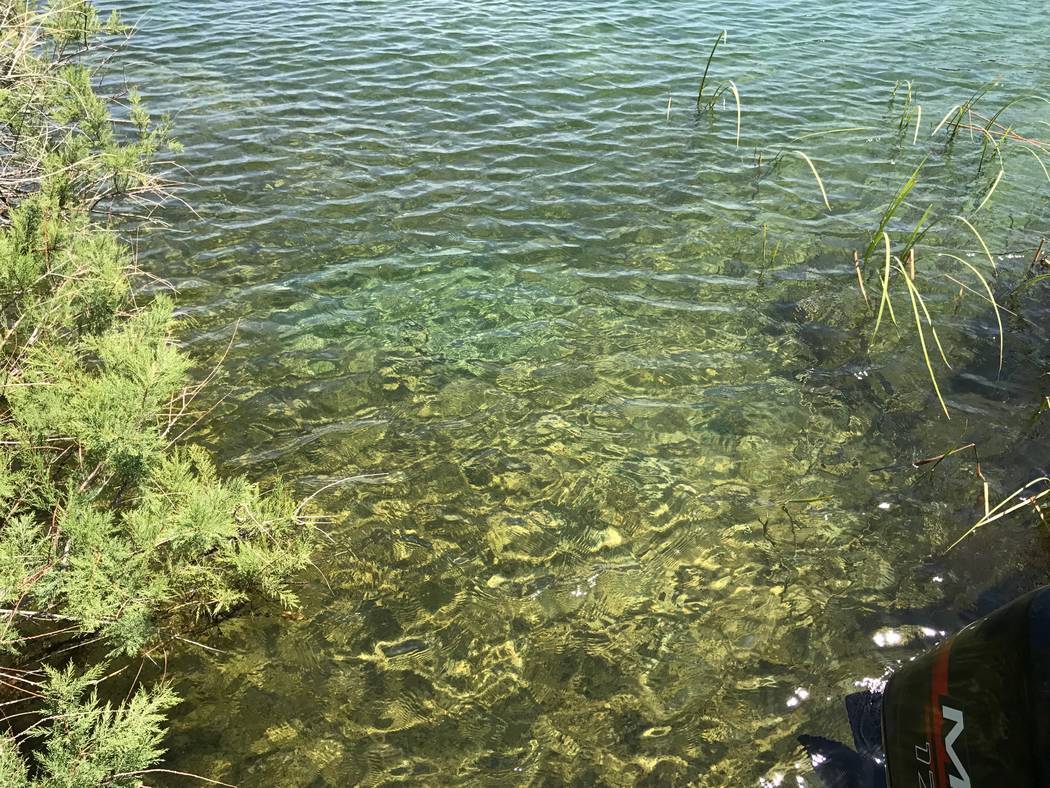 During my senior year in high school, I dated a girl who let me drive her root beer colored MGB, a British-made sports car that was quick and agile. Probably a bad combination for a speed-happy, over confident teenager with a heavy foot and love for shifting gears. Especially in a town where elevated railroad crossings feature a relatively steep approach.
I learned quickly that when there is space between your date and the seat cushion, she no longer is having fun.
In a lot of ways, that car was a lot like a modern-day bass boat that glides across a smooth lake at more than 70 mph and turns quickly when the need arises. All it takes is one unanticipated bump and you are quickly separated from the seat. Such was the case Monday when my friend Roger and I fished Lake Mohave for smallmouth bass.
The weather forecast was for temperatures in the 50s in the morning to the 80s later in the day. Most important for this angler, however, the wind would blow just 7 mph, according to the forecast.
But by the time we launched out of Cottonwood Cove at first light, the wind was blowing hard enough out of the north to convince Roger to turn our northbound boat around and head south. Tournament anglers have only one speed, and that's fast. They boat fast and fish fast. Roger is a tournament angler.
As we made our way across the Cottonwood Basin, Roger pointed toward a series of coves and spoke of his experiences fishing the area. In that brief instant, with our attention on the distant shoreline, the wind blew up a rogue wave and we plowed into it bow first. As I felt the impact, a wall of water came over the bow and hit me right in the face. Thankfully, I was wearing a water-proof jacket.
With water dripping down my face, I looked in Roger's direction. "Don't worry," he said, "I won't charge extra for the shower."
By midmorning, we had bounced our way south through Cottonwood Basin and fished a variety of terrain, from brush-lined coves to open shoreline and submerged trees. Though Roger had reeled in two smallmouth bass he had caught on a drop shot, fishing was slow at best. Just two days earlier, he competed in a tournament in which participants had experienced good fishing for bedded smallies.
Though we found the telltale signs of bedding activity, such as circular areas where any algae or silt had been brushed off to reveal gravelly substrate, nearly everything we found was vacant. Roger was amazed at the difference two days made.
Then we went into the back of a cove where Roger spotted a good size bed. "There's got to be a 3-pound bass on that bed," he said. In one fluid motion, Roger flipped his drop shot right into the nest. Almost immediately, his fishing rod bent into a wide arc.
"Oh, yeah, it's a good fish!" he said excitedly as he turned the reel handle. "Get the net."
I slid the net under the fish and pulled him into the boat. It was a good one, dark green in color and with fight to match the smallies' reputation as the pound-for-pound best fighting freshwater fish. We didn't weigh the fish, but it was easily the best of the day.
A short time later, I threw a Texas-rigged Senko toward a bed located in the shadow of brush-covered point. And I missed. So I grabbed a rod rigged with a shad-colored crankbait and threw the lure past the bed. As I turned the reel handle, I felt an angry fish hit the lure and set the hook. He wasn't a big fish, but did guarantee that I wasn't going home skunked.
By day's end, the wind died to nothing and we boated five fish between us. Not an unforgettable day of fishing, but it was a day of fishing.
Freelance writer Doug Nielsen is a conservation educator for the Nevada Department of Wildlife. His "In the Outdoors" column, published Thursday in the Las Vegas Review-Journal, is not affiliated with or endorsed by the NDOW. Any opinions he states in his column are his own. He can be reached at intheoutdoorslv@gmail.com.