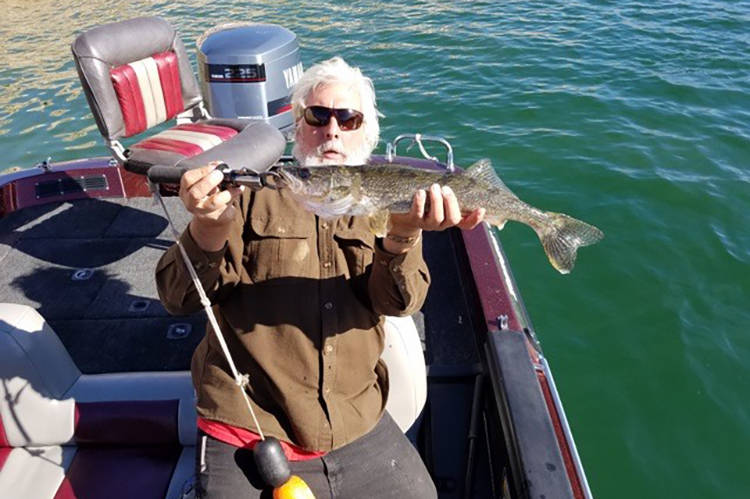 If something unusual happens twice in one year, can you consider it a new trend? Probably not in the normal world, but in the realm of fishermen I think you probably can. A little flexibility with facts is key to the successful telling of fish stories.
Some readers probably thought I was being a little flexible with the facts in December when I shared the story of Joe Bellomo and his 2.5-pound Lake Mead walleye. After all, Lake Mead isn't exactly known in fishing circles as a walleye fishery. Every now and again one might hear a rumor that an angler reeled in a walleye while fishing somewhere in the upper reaches of Lake Mead, but those rumors are few and generally years between.
In the case of Bellomo's surprising catch, the rumor was substantiated with photographic evidence. What none of us realized at the time, however, was that Bellomo's walleye could be the beginning of a new fishing trend at Lake Mead.
This week, the second rumored walleye catch in less than a year turned out to be more than a rumor. It is a bonafide fish story that belongs to a teenager from Flagstaff, Arizona.
During a July 25 outing with his family and Don Martin, a fellow outdoor writer who also guides on Lake Mead, 16-year-old Jacob Jacoby had been reeling in striped bass and catfish like everyone else. Then he was surprised by a fish that didn't look anything like any of the other fish they had been catching.
"Dad," he said to his step-father Russ Jacoby, "I don't think this is a striper."
That statement caught Martin's attention. What he found was a 17-inch walleye that had swallowed a 1-inch chunk of cut anchovy. This was the first walleye on Martin's boat since 1972.
Though walleye are a rare find on Lake Mead, they do show up now and again. Fisheries biologists for the Nevada and Arizona wildlife agencies find the tasty fish periodically during net surveys, but only one here and another there.
So where do the walleye in Lake Mead come from? Given that the stories of Lake Mead walleyes all center on the Virgin Canyon-South Cove area of the lake, my guess is the fish come downstream from Lake Powell, where walleye are plentiful and grow large. A guess is all that is, but it makes sense to me.
If you want a great eating fish, walleye should definitely be on your short list. A few years ago I spent three days fishing for walleye on Lake of the Woods in Minnesota. Each evening, my host cooked up the fish my fellow anglers and I caught that day. Let's just say it was a fine way to end a good day of fishing.
On that trip we fished with minnows or full-size night crawlers bounced along submerged sandbars in about 25 to 30 feet of water. In the afternoon we switched to deep diving crankbaits and trolled them in deeper water. Can those techniques be used on Lake Mead? Probably so. Will they work? There is only one way to find out.
Wayne Gustaveson is a fisheries biologist at Lake Powell. He wrote in a blogpost that walleye are ambush feeders. Keep that in mind if you decide to give walleye fishing a try on Lake Mead. Look for places where this tasty fish can lie in wait for shad.
Who knows? You could be part of the new trend.
Calendar Items
The Clark County Advisory Board to Manage Wildlife will meet Tuesday from 5:30-9:00 p.m. in the Pueblo Room at the Clark County Government Center.
Freelance writer Doug Nielsen is a conservation educator for the Nevada Department of Wildlife. His "In the Outdoors" column, published Thursday, is not affiliated with or endorsed by the NDOW. Any opinions he states in his column are his own. Find him on Facebook at @dougwritesoutdoors. He can be reached at intheoutdoorslv@gmail.com