Trout return to Comins Lake after successful pike reduction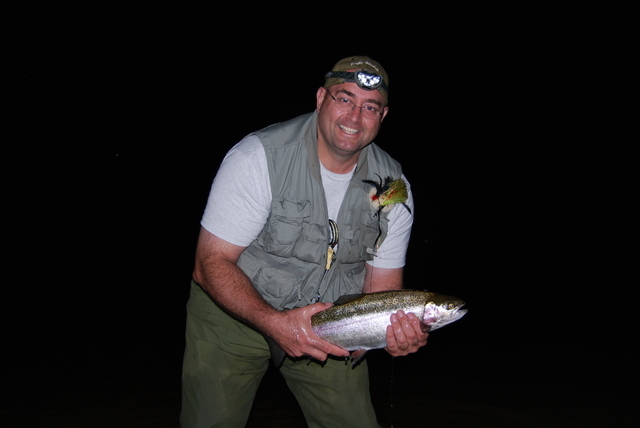 In the spring of 2000, the Nevada Game Warden's Association had a one-fly fishing tournament at Comins Lake, a relatively small body of water just outside of Ely.
At the time, Comins had a reputation for producing large rainbow and brown trout and was considered by many to be a blue ribbon fishery. Anglers came from locations across the West and beyond to fish for the lake's scrappy trout.
Each tournament competitor was allowed to select a single fly to use until the tournament was over or the fish destroyed the fly, whichever came first. Game wardens served as tournament judges and measured each fish as the anglers reeled them in. The winning angler would be the one who caught the most inches of fish.
As time passed, participating anglers caught fish after fish ranging from smallish stocked rainbows to large browns capable of moving a float tube. All seemed to be going well until someone caught a long, skinny fish about the size of a hammer handle with a long snout and a mouth full of teeth. It was a northern pike. A fish that wasn't supposed to be there.
About a year later, state fisheries biologists documented the first successful pike spawn in Comins Lake, an event that marked the beginning of the end for the popular trout fishery. With their needle-sharp teeth, the illegally planted pike did what they do best. They ate trout, grew large and soon decimated the lake's trout population. For a time, the big fish were a boon to pike enthusiasts, but only for a time.
As the pike grew in size and numbers, their prey base grew smaller. At only 410 surface acres when full, Comins Lake simply could not produce enough protein on its own to support a population of large pike, especially when some of those fish measured more than 4 feet in length. After the Nevada Department of Wildlife ceased trout stocking operations at Comins Lake in 2007, the pike population began to collapse for want of food. Insects and a handful of largemouth bass weren't enough. By 2013, it was done.
In the summer of 2015, the department undertook an aggressive plan to eradicate pike from Comins Lake and Bassett Lake, the possible source for the illegal plant that destroyed Comins' trout fishery. Originally, the agency was going to follow that operation with a fall trout plant to put Comins' trout fishery on the comeback road, but concerns about the level of dissolved oxygen in the water led biologists to hold off until the situation improved this spring.
Anglers familiar with the history of Comins Lake and its trout fishery have been eagerly awaiting for news that trout can be found there again. Now the long wait is over. On April 20, the Wildlife Department released about 2,200 fish into Comins Lake, then about 2,500 more the next day. A shipment of planters averaging about 9 inches in length should arrive this week.
In all, the agency plans to release 10,000 rainbow trout in Comins Lake this spring. With its ability to produce insects, Comins is factory for large trout. The fish in this lake can grow as much as 1.5 inches in a month. There also are plans to bolster the bass population at Comins and introduce them at Bassett Lake.
According to a news release, the department "is also exploring the possibility of stocking tiger muskellunge into Bassett, providing a large toothy predatory fish that some anglers like to target. The advantage of tiger muskies is that they are sterile and their populations can be controlled with fishing regulations and stocking."
Freelance writer Doug Nielsen is a conservation educator for the Nevada Department of Wildlife. His "In the Outdoors" column, published Thursday in the Las Vegas Review-Journal, is not affiliated with or endorsed by the NDOW. Any opinions he states in his column are his own. He can be reached at intheoutdoorslv@gmail.com.