After topsy-turvy weekend, most Sweet 16 dreamers ushered to exit
March 20, 2016 - 10:28 pm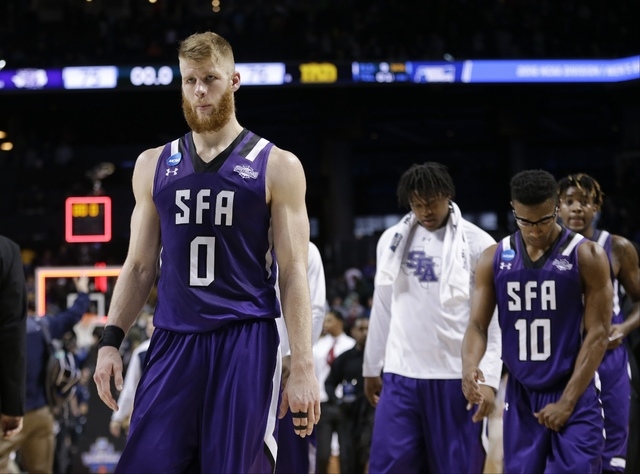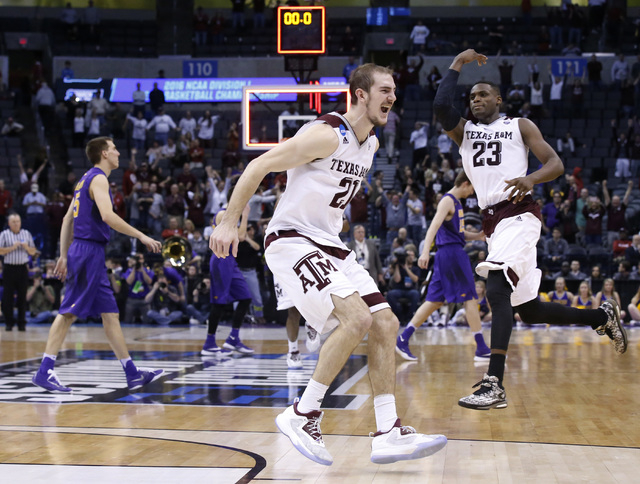 With a full beard, unique name and rock-solid game, Thomas Walkup was set to be in the media spotlight in the Sweet 16. Central Casting could not have picked a better tough guy to put on screen.
Stephen F. Austin, a small-school team from Nacogdoches, Texas, was on the brink of knocking off Notre Dame.
It was a good story, and still is, but it ended with Walkup and the Lumberjacks walking down Lonely Street and checking into Heartbreak Hotel.
"I really thought Stephen F. Austin was the better team," said Chuck Esposito, Sunset Station sports book director. "Although we've had some Cinderellas, there's not many of them still wearing that glass slipper."
There is a dark side to the NCAA Tournament's first weekend. Most of the fantastic stories from the first round usually fade away in the second round.
Double-digit seeds Arkansas-Little Rock, Wichita State and Yale were put to sleep Saturday, followed by Hawaii, Middle Tennessee State, Stephen F. Austin and Virginia Commonwealth on Sunday.
Luckily, we still have Northern Iowa, and that's an incredible story … wait, we lost the Panthers, too. Believe it or not.
This tournament always lives up to the hype, whether you like the teams that advance or not.
Based on Twitter reactions, nothing pained a majority of college basketball fans across America more than the demise of the 14th-seeded Lumberjacks. Walkup scored 33 points in a first-round blowout of West Virginia, and he added 21 against the Fighting Irish, who trailed by five with two minutes to go.
But it all suddenly unraveled. Walkup missed two jumpers — his shot selection was subject to second-guessing — and was stripped of the ball. When the smoke cleared, Rex Pflueger's rebound basket with 1.5 seconds remaining lifted Notre Dame to a 76-75 victory.
"It's rare when you can get a story like Stephen F. Austin going to the Sweet 16," William Hill sports book director Nick Bogdanovich said. "It's a shame they didn't win it."
It was madness at the betting windows. In a bizarre point-spread decision, the Lumberjacks closed as 1½- and 2-point 'dogs after the line also sat on Stephen F. Austin minus-1, pick'em and Irish minus-1.
"I've heard guests say, 'I could have had Stephen F. Austin at plus-2 and I got that at Pick,' " Esposito said. "Walkup played a great tournament, and he's a really good player. I thought he took two bad shots, though."
A bad foul call on a late rebound went against the Lumberjacks, too, but the little guys rarely get the calls. Duke and Notre Dame get the calls.
So we have a Sweet 16 with six Atlantic Coast Conference teams and only two double-digit seeds — Gonzaga and Syracuse — but those are not exactly Cinderella stories. And the Orange and Zags face off in the next round.
Still, Esposito was right when he said, "It has been great."
Friday was one of the greatest days in tournament history. Michigan State, a No. 2 seed and a 16½-point favorite, was shocked by Middle Tennessee. West Virginia went down as a No. 3, and California was eliminated as No. 4.
"If Michigan State can go down in the first round," Bogdanovich said, "anyone can go down at any time."
The obvious highlight of Friday night was 11th-seeded Northern Iowa toppling Texas on Paul Jesperson's electrifying halfcourt shot at the buzzer. And two days later, the Panthers experienced emotions of the other extreme.
Viewer discretion was advised for this heartbreaking, hideous collapse: Northern Iowa led third-seeded Texas A&M by 12 points with 44 seconds remaining in regulation. That's when insanity ensued. After a whirlwind of ridiculous turnovers by the Panthers, the Aggies, 7-point favorites, rallied to tie the score and eventually win 92-88 in double overtime.
At a Sunset Station handicapping seminar last week, local ESPN Radio host Bernie Fratto touted Texas A&M while prophetically saying, "The Aggies will fight you until hell freezes over, and then they will fight you on the ice."
At the same time Texas A&M staged its miraculous comeback, Wisconsin stunned No. 2 seed Xavier 66-63 on Bronson Koenig's buzzer-beating 3-pointer.
It's a topsy turvy tournament in so many ways. After favorites went 9-7 against the spread Thursday, underdogs went 9-7 ATS Friday. After favorites were 5-3 ATS Saturday, underdogs were 5-3 ATS Sunday.
"The first day was good," Bogdanovich said. "Other than that, the last three days I would classify it as the players had the best of it."
The worst bet was made at a William Hill book by a player who wagered $150 on Michigan State on the money line to win $2.15. (That's not a misprint.)
Oklahoma's big bet five years ago on Lon Kruger has paid off. Kruger is coaching the Sooners to the Sweet 16 for the second straight year.
Indiana and Oregon, teams the Rebels upset early this season, are alive and well. The top-seeded Ducks hit big shot after big shot to barely survive a Sunday night scare from St. Joseph's.
I would say it can't get any better than this, but it would be a better tournament if Walkup and the Lumberjacks still were dancing.
Contact sports betting columnist Matt Youmans at myoumans@reviewjournal.com or 702-387-2907. Follow him on Twitter: @mattyoumans247