Alabama looking less attractive as BCS lock
September 26, 2013 - 9:46 pm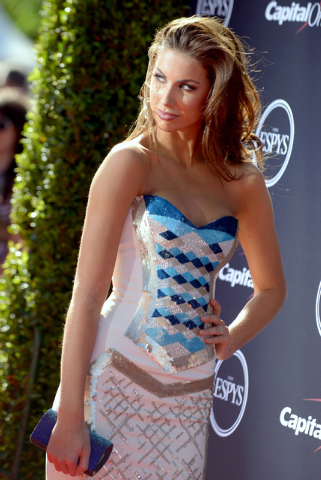 A star quarterback should have a hot girlfriend, and AJ McCarron did. That's past tense for a reason. There is trouble in paradise.
McCarron and his model sidekick, Katherine Webb, have split. Sources confirmed it in a New York Daily News story. I'm not into celebrity relationship gossip, but this is an interesting development and maybe a handicapping angle.
There is no knocking Alabama, yet McCarron's breakup with the girl who Brent Musburger made famous could be another little sign of things starting to turn against the top-ranked Crimson Tide.
Alabama won the past two Bowl Championship Series title games in blowouts and is the 7-4 favorite to win three in a row.
"The gap is closing real fast with Oregon," Golden Nugget sports book director Tony Miller said. "Not only are the power numbers getting closer, but the public really loves Oregon."
What's not to like about the Ducks? Chip Kelly is gone, finding life as an NFL coach is something other than a beach. Not much else has changed.
Sophomore quarterback Marcus Mariota has Oregon averaging 61.3 points and 672 total yards through three games, two against patsies (Nicholls State and Virginia) and one against Tennessee.
The public loves entertaining offensive teams. The Ducks burn rubber like Steve McQueen in the car-chase scene in "Bullitt." That movie came out in 1968, when winning with 3 yards and a cloud of dust was good enough.
Alabama is a throwback team with a coach, Nick Saban, who is as cranky as the late Bear Bryant. The formula works, and there's no sense in knocking it. But a lot of bettors and fans want to see the Tide finally fall, and they might get their wish this season.
Kenny White, a former oddsmaker who produces the DonBest.com Linemakers poll, rates Alabama and Oregon as co-No. 1 teams. Florida State is his No. 3-rated team, followed by Stanford, Georgia, Louisiana State, South Carolina, Texas A&M, Ohio State, UCLA and Baylor.
Ten days ago, Miller posted a line on a potential BCS Championship matchup and made Alabama a 3-point favorite over Oregon. Sharp bettors took the Tide, and the Golden Nugget moved the number to 3½.
Alabama is favored by 9½ over Ohio State and Clemson. Oregon is a 9-point favorite over Ohio State and 9½-point favorite over Clemson.
The South Point and Station Casinos books also posted BCS title lines. Fans like to bet those sort of things. Others prefer not to let the books hold our money for three months on a game that might never happen.
The Tide is favored by 10 over Florida State, by 8 over Stanford and by 7½ over Ohio State at the South Point. There are several other possible matchups open for wagering, but it all gets confusing and it's late September, so everything will change.
The Buckeyes could get tripped up by Wisconsin on Saturday. The Seminoles have to survive Maryland, Clemson, Miami and Florida. Alabama has to get by LSU on Nov. 9 and, presumably, win the Southeastern Conference championship game.
Miller said Aaron Kessler, the Golden Nugget sports book manager, is "sold on Mississippi beating Alabama straight up this week."
McCarron lost his hot girlfriend and led a lackluster Tide offense last week in a 31-6 victory over Colorado State, a 40-point underdog. Saban is rumored to be intrigued by the Texas job, which is not open yet. Maybe we're seeing signs of trouble in Tuscaloosa, and maybe not.
"If Baylor could get through Oklahoma and Texas Tech, they could make a statement," Miller said.
The Bears are fast and furious — while putting up even bigger numbers than Oregon — but they also have to get through Oklahoma State, Texas Christian and Texas.
Out West, it's all about Oregon right now. The Ducks are 37½-point favorites over California on Saturday, and the total is as high as 85½.
Oregon has won 36 of its past 39 games in Pac-12 Conference play, with two of the losses to Stanford, a team more physical than finesse. The Cardinal hosts the Ducks on Nov. 7.
The bottom line? Alabama is still on top, and Oregon is gaining ground with an eye-popping offense, but don't sleep on Stanford.
■ CLOSING NUMBERS — No more blind guesses. I finally see some games to like this week. Here are seven plays for Saturday (home team in CAPS):
Iowa (-1½) over MINNESOTA; Louisiana State (+3) over GEORGIA; Mississippi (+15) over ALABAMA; NOTRE DAME (+3½) over Oklahoma; TEXAS-SAN ANTONIO (+3) over Houston; Wisconsin (+7) over OHIO STATE; NEW MEXICO (+2½) over Unlv.
Las Vegas Review-Journal sports betting columnist Matt Youmans can be reached at myoumans@reviewjournal.com or 702-387-2907. He co-hosts "The Las Vegas Sportsline" weekdays at 2 p.m. on ESPN Radio (1100 AM). Follow him on Twitter: @mattyoumans247.