Alabama offers opportunity for LSU's Ed Orgeron
November 4, 2016 - 12:31 am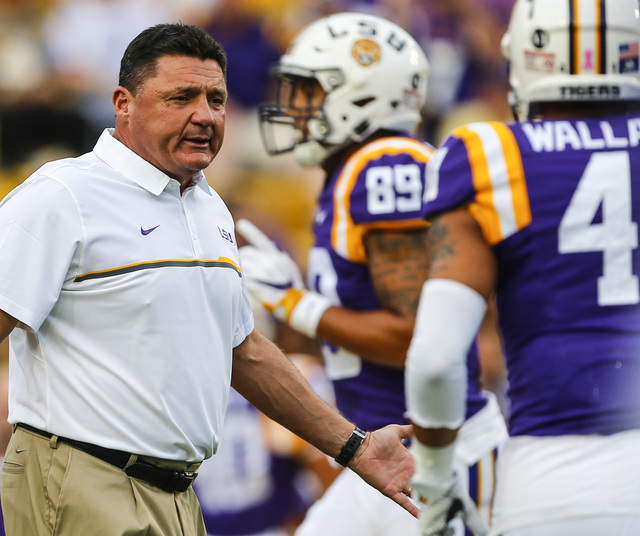 In one month, Ed Orgeron has become a Cajun sensation. He's a barrel-chested guy who speaks with a Louisiana tongue, bold and full of bluster. It's not an act, either, because he was born on the Bayou.
Orgeron and Nick Saban are as identical as Arnold Schwarzenegger and Danny DeVito in the movie "Twins." Saban is a small, detail-obsessed dictator with a sour disposition. But Saban is admirable because he wins, the most important trait in any football coach.
Orgeron is winning, too, but it's a small sample. He's 3-0 as Louisiana State's interim coach. If he goes to 4-0 by beating Saban and Alabama on Saturday night, trash the interim tag.
In a duel that could determine Orgeron's future and throw the College Football Playoff picture into chaos, the Tigers are 7½-point underdogs to the top-ranked Crimson Tide. It's a night game in Baton Rouge, and a fiery coach is leading a confident home 'dog. Even to those who despise the hype for the Southeastern Conference, this is must-see TV (interrupted at commercial breaks by political attack ads.)
"Nick has brought some great teams into Baton Rouge and had trouble," The Gold Sheet handicapper Bruce Marshall said. "I think this could be a very tough game for Alabama."
Initially, this appeared to be a tough game. In May, when South Point sports book director Chris Andrews opened the line, LSU was a 3-point favorite. The Tigers were loaded with talent, led by running back Leonard Fournette, a top Heisman Trophy candidate.
But then the Tigers lost to Wisconsin and Auburn. Fournette was injured, and Les Miles became the team's former coach in late September. It suddenly appeared to be a much easier game for Alabama.
The Tide, 8-0 straight up and 6-2 against the spread, were double-digit favorites in each game to this point. Alabama had some trouble against Mississippi and Texas A&M, but Saban found ways to survive.
Saban is winning with a fearless defense, as always, and with a freshman quarterback, Jalen Hurts, who's a better runner than passer. But how great is that defense, and how tested is the freshman?
"Alabama is really good, but it's not an all-time great team at this point," Andrews said. "Alabama can be beat."
Still, it's always tough to bet against the Tide. Saban obviously does not cover all the time, but as Andrews said, "You sure don't get rich betting against him."
Here are some cold facts from Goldsheet.com: Alabama is 98-12 straight up in the past eight seasons, and 22-2 on the road since 2011 with 19 of those wins by seven points or more. The Tide's winning streak is at 20 games. Saban has taken down LSU five consecutive times, and he's 8-2 straight up and 6-3-1 ATS against the Tigers.
But there is an argument for LSU, mostly because of Orgeron's radical change in approach. "Coach O" made the Tigers more dangerous by putting Steve Ensminger in charge of calling plays for an offense that lacked imagination under Miles and former coordinator Cam Cameron.
A weak schedule has helped, but LSU scored 41.6 points per game in victories over Missouri, Southern Mississippi and Mississippi. Fournette, who ran for 287 yards against the Rebels, is healthy and ready to make amends for a weak performance (31 yards on 19 carries) in a loss at Alabama a year ago.
"I like the way LSU is playing. Suddenly, their offense looks a lot better," Andrews said. "The number is getting a little high. My power rating comes to 6½. If it gets much higher, I think it would be worth taking a look at LSU."
It's definitely a Tigers team with a different look because of Orgeron's attitude.
"Orgeron has done something. I'm drinking the LSU Kool-Aid," Marshall said. "Orgeron is the perfect interim coach. A team usually is starved for inspiration at that point, and a guy like Orgeron can deliver that. In the short term, it's a Red Bull rush, but it's real."
Saban will show if LSU's resurgence is phony. Kool-Aid and Red Bull are fine, but betting against Saban is easier after a few shots of whiskey.
Ohio State's Urban Meyer has been proven mortal, and maybe Saban is beatable, too.
CLOSING NUMBERS
I was optimistic about the college card last week, and expanding to eight plays paid off with a 7-1 record. This schedule is not as appealing, so I'll be conservative. At 29-23-1 for the season, here are five underdog plays for Saturday (home team in CAPS):
Purdue (+17) over MINNESOTA; Syracuse (+27) over CLEMSON; Oregon (+17) over SOUTHERN CALIFORNIA; Iowa (+7½) over PENN STATE; LSU (+7½) over Alabama.
Las Vegas Review-Journal sports betting columnist Matt Youmans can be reached at myoumans@reviewjournal.com or 702-387-2907. He co-hosts "The Las Vegas Sportsline" weekdays at 2 p.m. on ESPN Radio (1100 AM). Follow on Twitter: @mattyoumans247