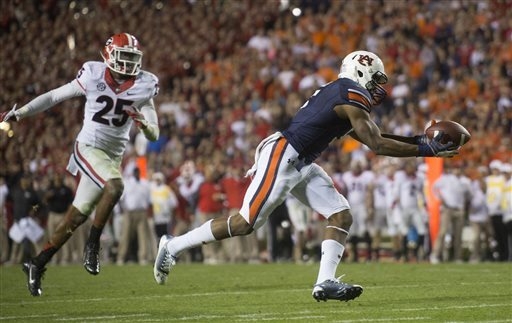 When the pass left Auburn quarterback Nick Marshall's hand, it was lofted high into the air and appeared to be a desperate prayer.
"It's a trillion-to-1 shot," Nick Bogdanovich, the William Hill sports book director, said while slightly exaggerating the odds.
On a fourth-and-18 play from their 27-yard line, the Tigers needed a miracle, and they got it when two Georgia defensive backs collided and one deflected the ball downfield. It dropped over the head of wide receiver Ricardo Louis, who snatched it in stride and raced in for a 73-yard touchdown with 25 seconds remaining.
Auburn, laying 3½ points, covered in a 43-38 comeback win. For bettors who played the favorite, their prayers were answered. Those on the underdog Bulldogs were stuck with a bad beat, one of the worst we ever will see.
It happened Saturday, and it won't be forgotten anytime soon, especially by the unlucky ones on the losing side.
"That play was incredible," South Point oddsmaker Jimmy Vaccaro said. "You talk about being stunned."
But learning how to deal with devastating setbacks is an important aspect to the psychology of gambling. Absorbing bad beats is part of betting sports, and it helps to have a bottle of whiskey and a short memory.
It's not much different from getting blindsided and dumped by your girlfriend or wife. Get ticked off, shake it off and move on to the next one.
"If you can't take the bad beats, get out now, because there's more coming," Vaccaro said. "I blew my rent money many times as a kid. What are you going to do? Are you going to shoot yourself or play again? You're going to play again, that's what you do."
I was an innocent bystander witnessing the Georgia-Auburn game, but the result was awful for the bookmakers and just the opposite for a majority of the betting public.
"It was huge," Bogdanovich said. "The public was all over Auburn."
The public also was all over Ohio State as a 7-point favorite at Northwestern on Oct. 5. To me, this was the worst beat of the football season, but I was on the 'dog, so my opinion is biased.
Northwestern was covering for all 60 minutes of the game. After a sequence of plays that worked against the Wildcats, they trailed 34-30 when Kain Colter completed a short pass to Tony Jones, who lateraled the ball to Venric Mark. It was fumbled into the end zone. The Buckeyes jumped on it for a touchdown after time expired to win — and cover — 40-30.
A professional sports bettor told me it was the worst beat he could remember being a part of in 30 years.
"I'm a believer that once a beat gets so bad, it goes into a category with the other ones that are so gawd awful you want to vomit," Bogdanovich said. "The Ohio State-Northwestern game was every bit as bad as Auburn. Which is worse? Whichever one you had a bigger bet on."
Avoid black cats and the purple Wildcats. Northwestern has been a jinxed team since October, also losing 17-10 in overtime as a 4-point underdog at Iowa, falling at Nebraska on a Hail Mary and taking a 27-19 triple-overtime loss to Michigan in consecutive games.
There are bad beats in baseball, the NBA and college basketball almost every day. We see them all the time in golf majors, too. Someday, I'll compile a list and relive the worst of the worst in another column.
The NFL has one, two or a few each week. On Monday, a Tom Brady pass into the end zone and a flag that was suspiciously picked up put a black eye on Carolina's 24-20 victory over New England.
"That wouldn't be a bad beat, it's just bad officiating," Bogdanovich said. "You could argue it was a horrible ending for everyone because of the unknown. There are so many (bad beats), you should write them down as they happen, and you would have a notebook full of them."
We only can guess if the Patriots would have defeated the Panthers on an untimed final play that never happened. "Monday Night Football" has served as a stage for two controversies in the past year, and both had major wagering implications.
Last fall, the Green Bay Packers lost 14-12 at Seattle because of a replacement ref's bad call as time expired. It became the biggest news story of that week, headlining TV shows and the front pages of newspapers while inspiring President Barack Obama to lobby for the return of regular referees.
Officiating is making a mess of the NFL, which is unwatchable at times, and the college game can be wildly unpredictable. But for every bad beat, there's a lucky win on the flip side, and we'll continue to bet.
"It goes both ways," Vaccaro said. "The book was packed from Saturday morning to Sunday night. It's a harmless way of having a good time. Sports betting is off the charts for good reasons."
■ CLOSING NUMBERS — Early in the season, my college handicapping was simply bad with too many beats. But off a 4-1 week, it's time to press my luck, so here are eight plays for Saturday (home team in CAPS):
PENN STATE (-2) over Nebraska; WYOMING (-6) over Hawaii; UCLA (+2½) over Arizona State; COLORADO (+23) over Southern California; Texas A&M (+5) over LOUISIANA STATE; NOTRE DAME (Pick) over Brigham Young; OKLAHOMA STATE (+9½) over Baylor; KANSAS STATE (-4½) over Oklahoma.
Las Vegas Review-Journal sports betting columnist Matt Youmans can be reached at myoumans@reviewjournal.com or 702-387-2907. He co-hosts "The Las Vegas Sportsline" weekdays at 2 p.m. on ESPN Radio (1100 AM). Follow him on Twitter: @mattyoumans247.