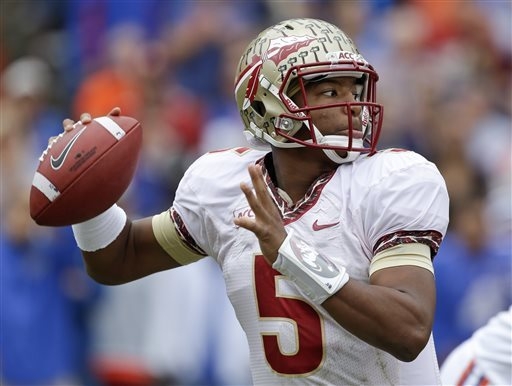 Truth is stranger than fiction, especially in college football. The first half of that sentence is a Mark Twain quote. The best coach in the nation, Nick Saban, probably would agree with both halves after failing to take Auburn to overtime and looking like a jackass in the process.
Saban blew Alabama's shot at a third straight national championship with a decision last week that deserved sharp criticism and a dunce cap.
That was the top story of the week, quickly pushing the Ohio State-Michigan thriller to an inside page, until a Thursday announcement that Florida State quarterback Jameis Winston will not be charged in a sexual assault case.
The news conference out of Tallahassee, Fla., might as well have been staged in Mayberry, N.C., because it was as country comical and goofy as any episode of "The Andy Griffith Show."
A serious story was twisted into a big joke. The Seminoles are headed for the Bowl Championship Series title game, and a folksy state attorney by the name of Willie Meggs is the party host. But enough of the sideshow, and let's get back to the games.
"If it's Florida State-Ohio State, the number on that game if it's played today is 11," Wynn sports book director John Avello said.
Oddsmakers at the Golden Nugget posted the Seminoles as 9½-point favorites over Ohio State. The title fight is all but set. Winston is in, Saban is out, and the Buckeyes just need to win the Big Ten title on Saturday.
As a 17-point favorite last week, Ohio State slipped past Michigan by the narrowest of margins, 42-41 after the Wolverines' failed 2-point conversion attempt. The Buckeyes got lucky, but they didn't get to 24-0 under coach Urban Meyer without being good, too.
All of the teams still in the title hunt are led by mobile quarterbacks, Braxton Miller included. The Buckeyes also boast an NFL-caliber running back in Carlos Hyde and a coach who just wins, even if it's with a mediocre defense against mostly weak Big Ten opposition.
Avello spoke of "the problem with Ohio State," speaking mainly about its so-called marquee victories over Wisconsin, which just lost as a 24-point home favorite, and Northwestern, which was ranked but finished 5-7.
"I'm not saying Ohio State is not a good team and can't win it," Avello said, "but when you look at their schedule, how much weight is put on strength of schedule? Ohio State could win the whole thing, that's very possible."
The Buckeyes, as 5½-point favorites Saturday in Indianapolis, need to get by Michigan State first. The Spartans, on the short end of a 17-16 decision in last year's meeting, have the defense and alley-fight toughness to make Meyer sweat for the second week in a row.
Micah Roberts, an analyst for "The Linemakers" on SportingNews.com and a former sports book director, is sold on Ohio State because of the shift from former coach Jim Tressel's sweater vest to Meyer's aggressiveness.
"I do think Ohio State is going to win it all," Roberts said. "People have seen them not fare well in big-game situations. That's the thing about Ohio State and the perception that's out there. But on the big stage, with Meyer, it will be different. He's got those guys believing they are the best team."
Meyer has been lucky. But if any team is carrying a four-leaf clover, horseshoe and a rabbit's foot, it's Auburn, which stunned Georgia on a deflected 73-yard touchdown pass two weeks before shocking Saban, a genius of a coach who pulled up with a brain cramp.
With one second left, Saban sent his kicker out to try a 57-yard field goal that seemed like a bad idea from the start. The Tigers' Chris Davis caught it 9 yards deep in the end zone, eluded some slow-rolling Tide defenders and tightroped the sideline on a touchdown return for a 34-28 win.
Put it in a book with the wildest finishes in college football history, alongside California's victory over Stanford and its band in 1982 and Boston College beating Miami on Doug Flutie's Hail Mary in 1984.
So now, Auburn is a 2-point favorite over Missouri in the Southeastern Conference title game, and Florida State is a 29-point favorite over a 10-win Duke team for the Atlantic Coast Conference championship.
"Alabama gets back in only if Florida State and Ohio State both lose," Avello said. "Yes, we're going to get a four-team playoff next year, and that's going to eliminate a lot of the conversation. I think we're stuck with four for quite a few years. But any change is better than how we're doing it.
"It's not that difficult to pick the final four teams. You don't need a committee. All you need to do is call the bookmakers here and we'll tell you who should be in it."
Last week, the bookmakers said Alabama. With this season's script, truth surely is stranger than fiction.
■ CLOSING NUMBERS — Believe it or not, I went 7-1 in this spot last week, with the loss by one point. Here are six underdog plays for Saturday (home team in CAPS):
Oklahoma (+10) over OKLAHOMA STATE; Missouri (+2) over Auburn; Duke (+29) over Florida State; Stanford (+3) over ARIZONA STATE; Michigan State (+5½) over Ohio State; Utah State (+3½) over FRESNO STATE.
Las Vegas Review-Journal sports betting columnist Matt Youmans can be reached at myoumans@reviewjournal.com or 702-387-2907. He co-hosts "The Las Vegas Sportsline" weekdays at 2 p.m. on ESPN Radio (1100 AM). Follow him on Twitter: @mattyoumans247.