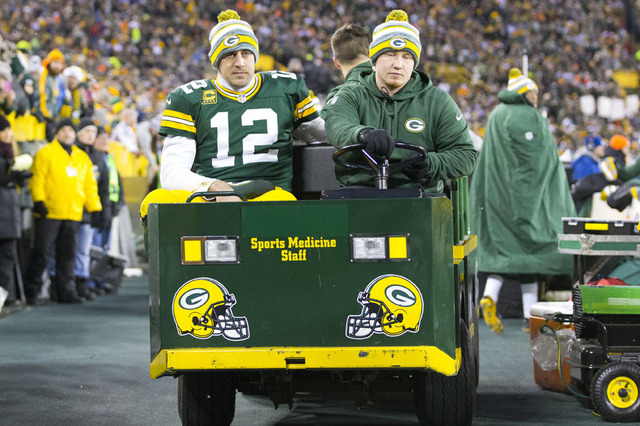 Without a doubt, it will be cold in Green Bay and the tundra will be frozen. The weather forecast is reliable. When it comes to Aaron Rodgers, there are doubts, and his injury forecast is a mystery.
The Packers quarterback is not The Most Interesting Man in the World. He's not drinking beer and ripping off one-liners while surrounded by hot women. But Rodgers is being watched, because he is the most important player in the most interesting game of the NFL playoffs this weekend.
Rodgers has a slight tear in his strained left calf, according to reports, but he will play Sunday for Green Bay, which is a 6-point favorite over Dallas at Lambeau Field.
If you bet the Packers, and Rodgers is hobbling and somewhere around 50 percent of his normal self, good luck.
"I think Rodgers' calf is a little more serious than some people think. It's a legitimate injury," said Nick Bogdanovich, William Hill sports book director. "He's not going to be 100 percent, and it's hard to get loose when it's zero degrees."
Not much has been said lately about Cowboys quarterback Tony Romo's bad back. However, a lot has been said about how his team advanced to the divisional round by beating Detroit with some assistance from the officials.
Dallas-Green Bay is a marquee matchup. It's what I wanted to see. It's great for the league, great for TV and great for bettors and bookmakers. Panthers-Packers would have paled in comparison, which begs a question.
CONSPIRACY THEORY?
Wagering is not a threat to the integrity of NFL games. Incompetent and questionable officiating is a serious threat.
So, in an NFC wild-card game in Dallas, the Lions were driving and leading 20-17 midway through the fourth quarter when referee Pete Morelli announced a pass interference penalty against the Cowboys. And then, officials reversed the call without explanation. What was going on out there and why?
Bernie Fratto, ESPN Radio host in Las Vegas and a former radio host for the Lions, is a sharp analyst on these subjects and explained his view:
"I'm not a conspiracy theorist. Never have been. Never will be. But my Detroit brethren beg to differ. The fans. The media. Even inside the Lions locker room. There aren't any satisfying answers. But there are lots of questions.
"Why, after the back judge calls pass interference, does referee Pete Morelli reverse the call after speaking with the head linesman? And, the call was reversed after it had already been announced over the PA. I've seen officials converse, flags picked up and noncalls prevail. But, I've never seen the protocol we saw last Sunday. Conspiracy?
"Would the flag have been picked up in Detroit if everything were exactly the same? No."
Fratto added the Lions "conspired" to blow the game by committing three turnovers, going conservative on offense with a 20-7 lead and shanking a 10-yard punt after coach Jim Caldwell refused to gamble on fourth-and-1.
"It was horrific," Bogdanovich said of the reversed call. "I'm a big proponent of there are way too many pass interference calls. But it was pretty bad and pretty blatant."
Bogdanovich also questioned "five or six" other calls that damaged Detroit's chances, and I don't think what happened should be swept under the rug. It's not the first conspiracy theory to come from Dallas.
BETTING THE GAMES
After talking with several sharp bettors and hearing arguments for both sides of all four games, I'm betting a New England-Denver teaser for certain, and everything else is up for debate. In fact, all four favorites in the divisional round have not covered since 1991.
"I wouldn't be shocked with any result, and you could make a case for any side," South Point oddsmaker Jimmy Vaccaro said. "That's why the handle should be through the roof."
In Saturday's opener, the Patriots are 7-point favorites over Baltimore, which is drawing sharp money. Joe Flacco and the Ravens tend to work magic on the road in the postseason, but I rarely bet against Tom Brady and Bill Belichick.
In the late game, Bogdanovich said he expects Carolina, an 11-point underdog at Seattle, to cover if quarterback Cam Newton makes plays. The value bet appears to be Panthers plus-7 in the first half.
"I don't see the Panthers getting embarrassed up there," Bogdanovich said. "But Cam has got to play a good game, end of story."
It's doubtful Andrew Luck and the Indianapolis Colts will get embarrassed Sunday in Denver, either, and I don't want to lay the 7 points.
"I think the public will be all over the Broncos," Bogdanovich said. "I know we will need the Colts."
Amazingly, the Cowboys are 8-0 on the road. The Packers are 8-0 at home, where Rodgers has been incredible. I suspect Dallas is a live 'dog, but Green Bay will win, and so I'll use live wagering lines on this game.
Rodgers' mysterious calf injury recalls a quote about The Most Interesting Man in the World: He once brought a knife to a gunfight … just to even the odds.
Las Vegas Review-Journal sports betting columnist Matt Youmans can be reached at myoumans@reviewjournal.com or 702-387-2907. He co-hosts "The Las Vegas Sportsline" weekdays at 2 p.m. on ESPN Radio (1100 AM). Follow him on Twitter: @mattyoumans247.