Belichick, bettors lose big decisions
December 27, 2015 - 10:22 pm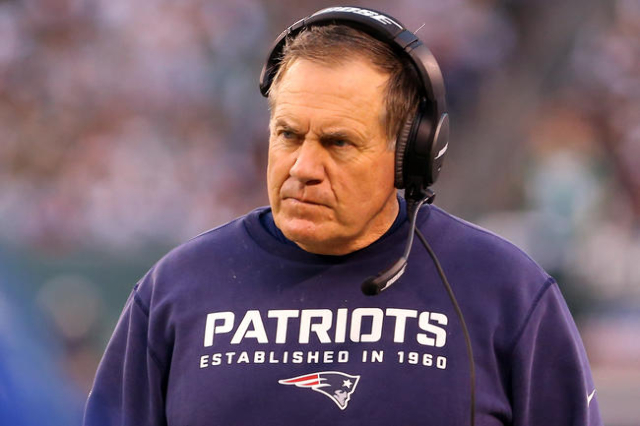 Even a genius is capable of a dumb decision. Bill Belichick is normally the sharpest gambler walking NFL sidelines, and the math usually supports his rolls of the dice, but he owns this rare blunder.
The New England Patriots won the coin flip, and Belichick made a losing decision, opting to kick to open overtime instead of putting the game in Tom Brady's hands.
"That was definitely a strange game," said Jason Simbal, vice president of CG Technology sports books.
Sundays are a strange trip, and this was a long one for the betting public. Proving again that bad things come in threes, Brady, Cam Newton and Ben Roethlisberger were upset in early games. Carolina's run of perfection is done, Pittsburgh's playoff hopes took a hit, and New England's coach is wearing a dunce cap.
Las Vegas sports books were crushed in Week 15 — dropping anywhere from $4 million to more than $5 million, based on various estimates from industry sources — yet the script flipped in Week 16.
"Basically, it's the opposite of last week, which was the worst week of the season," Simbal said. "This is not going to be the best week of the season, but it's a very, very good week."
It's never a surprise when the bookmakers bounce back. Still, the way this turnaround took place was strange in more ways than one.
Losses by the Panthers and Steelers defined the day. Carolina, 14-0 and a 7-point favorite against a team it embarrassed 38-0 two weeks ago, lost 20-13 at Atlanta as Matt Ryan outplayed Newton. Pittsburgh, an 11½-point favorite against a hopeless 4-10 team, went down 20-17 at Baltimore as Ryan Mallett outplayed Roethlisberger.
"Those were the big two, and Pittsburgh was the real big one," said Nick Bogdanovich, William Hill sports book director. "That pretty much obliterated any money-line parlays and teasers. We're going to have a really, really good day."
Carolina's first loss, Simbal said, was the bigger gut punch to the public.
"Not only did Carolina crush every teaser," Simbal said, "that was our biggest decision for the spread, as well."
It also knocked out proposition plays on the Panthers to go 16-0. At the Westgate, the "Yes" price was minus-200 going into Week 16 after it opened plus-900 in late November.
"We did pretty well on it because most of the money and tickets were on the 'Yes,'" Westgate sports book director Jay Kornegay said. "It was more of a discussion topic than a betting item. If it was a prop on the Patriots, it would have been more appealing."
Belichick's gamble is a hot topic. The Patriots, 3-point road favorites over the New York Jets for most of the week, were not as popular as usual. The line closed at 2½. A majority of the sharp money was bet on the Jets, who led 17-3 in the third quarter before a New England defensive touchdown seemed to wake Brady from a slumber.
Brady led an 11-play, 66-yard drive to tie the score at 20. For the first time all day, the Patriots had the momentum, and as always, they had the better quarterback. But Brady never got to work overtime. Belichick's decision to kick off serves as an example that sometimes it's smarter to think inside the box.
According to ESPN Stats & Info, the team receiving the opening kickoff in overtime has a 53.8 percent chance to win. It's got to be greater if Brady's team is receiving. Yet, Belichick opted for the 46.2 percent chance because, as he explained only briefly, his gut feeling told him it was the right thing to do to play for field position.
If Belichick's unconventional risk had paid off, he would be praised for it. But the decision backfired, and he deserves the criticism that comes with it. The Jets were moving the ball better most of the day, and they moved 80 yards in five plays, with Ryan Fitzpatrick hitting Eric Decker for a 6-yard touchdown and a 26-20 win.
"The mighty genius made a faux pas," Bogdanovich said. "I think that's a mistake. Unless there's a huge wind and you are facing a mediocre offense that's punting into the wind, I think that's a big error."
New England crushed a large number of parlays. Most bettors took a beating in the nine early games, with underdogs covering six and winning five outright. Kansas City, laying 11½ points against Cleveland, failed to cover in a 17-13 win. At CG Technology, Simbal said, the most popular teams on parlays were the Patriots, Steelers and Chiefs. On top of that carnage, Tampa Bay, a trendy 3-point favorite, was upset by Chicago.
In the afternoon, Seattle got stunned as a double-digit home favorite in 23-17 loss to St. Louis as Russell Wilson was taken down by Case Keenum.
That made no sense, and neither did the beating Aaron Rodgers continued to take while Green Bay was blasted 38-8 at Arizona. Rodgers was sacked eight times, fumbled twice and was intercepted once. Rodgers should have been resting on the sideline, yet for some odd reason he still was in the game with the Packers trailing by 30 late in the third quarter.
Rodgers' afternoon was as bad as Eli Manning's night. Manning was picked off three times, and the Giants, 7-point 'dogs, played dead in a 49-17 loss at Minnesota. The Vikings will be playing for the NFC North title at Green Bay in Week 17. It's almost a coin-flip decision.
And on that topic, the Patriots still are playing for the top seed in the AFC because of Belichick's odd faux pas.
— Las Vegas Review-Journal sports betting columnist Matt Youmans can be reached at myoumans@reviewjournal.com or 702-387-2907. He co-hosts "The Las Vegas Sportsline" weekdays at 2 p.m. on ESPN Radio (1100 AM). Follow him: @mattyoumans247