Bet Altman, Ducks to oust Duke in Sweet 16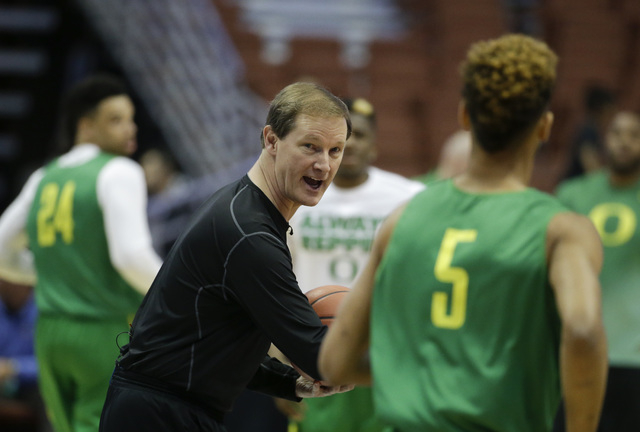 If the sins of 11 teams can be washed away by the success of one, a horrific postseason for the Pac-12 Conference still can be saved. It's all riding on Dana Altman, the last man standing.
Altman is arguably the best under-the-radar college basketball coach in America, which is not a backhanded compliment. He's about as good as it gets in the business, minus the media hype and national championships of Mike Krzyzewski, so he's the man you would most want still standing.
A majority of bettors are banking on Oregon being better than Duke, and Altman getting the better of Krzyzewski, in an NCAA Tournament Sweet 16 matchup today in Anaheim, California. Around 65 percent of the spread wagers are on the Ducks as 3-point favorites. The line moved quickly after opening at 1½.
But here's one issue: The Blue Devils, the defending national champions, are one of six Atlantic Coast Conference teams remaining in the field. The Pac-12 started with seven teams and has lost six of them, with all six of the losses coming to lower-seeded opponents.
"The Pac-12 has just bombed out," Westgate sports book manager Ed Salmons said. "But I think people know what Duke is this year, and Duke is down."
In March, we overemphasize the performances of conferences. But this is a good test of that theory. From top to bottom, the ACC is clearly a cut above the Pac-12. The Ducks, however, won their league's regular season and tournament titles. The Blue Devils are probably the fourth-best team in their league.
"There is no denying how rough the NCAA Tournament has been on the Pac-12, which has been overvalued and overrated for a long time, but that doesn't mean Oregon isn't a quality team," Sportsmemo.com handicapper Ian Cameron said.
With the game being played on the West Coast, top-seeded Oregon has a location advantage. The Ducks also have a depth advantage, though that edge is slim.
Krzyzewski has two stars — sophomore guard Grayson Allen and freshman forward Brandon Ingram — three solid role players and not much else. In a second-round victory over Yale, Duke's starters scored 69 of its 71 points. Allen and Ingram combined for 54 points. That's a slightly exaggerated example of a season-long trend.
Altman goes to his bench more often than Duke, and Oregon is perceived to be much deeper, yet its starters accounted for 64 of 69 points in a second-round victory over St. Joseph's. Still, Altman has more athletes with length on the front line.
Ingram and limited 7-footer Marshall Plumlee will have to contend with 6-foot-10-inch Chris Boucher, 6-6 forwards Dillon Brooks and Elgin Cook, plus 6-8 Jordan Bell and 6-7 Dwayne Benjamin in reserve.
The setting in Anaheim and the length and strength of the Ducks are the primary reasons Cameron said this is a "favorable matchup" for the Pac-12 favorite.
"Oregon should have plenty of edges inside with its size, length and athleticism against a very shorthanded Duke front line, which has one able big body in the paint in Plumlee," Cameron said. "If he gets in foul trouble, there is nobody ready behind him on a paper-thin Duke bench to try and deal with the Oregon length in the paint, and that is a distinct area where I think a smart and savvy coach like Altman will look to exploit by taking the basketball right at Plumlee and dare him to defend the likes of Brooks, Boucher and Cook.
"Both teams have short rotations, but with one major difference. Duke plays its starters for pretty much the entire game. For Oregon, the top seven players play no more than 32 minutes per game on average, which means the Ducks stay fresher late in games. It also means they have great chemistry on the court at both ends of the floor, and that could prove to be a key difference-maker for the Ducks."
Ken Pomeroy's ratings (Kenpom.com) show Oregon to be 1½ points better. But this is the Blue Devils' first trip of the season to the Pacific Time Zone, and they expended a lot of energy to hold off 13th-seeded UNC Wilmington and 12th-seeded Yale just to reach the Sweet 16.
"Despite the struggles of the Pac-12 in the tournament, I believe in this Oregon team," Cameron said, "and I expect the Ducks to prove to be the superior squad and win by enough of a margin to cash a ticket."
I'll second that opinion. But Duke will not be easy to knock out. Ingram is a sure thing as an NBA star, Allen is a legitimate big-time scorer, and there's always the chance the three guys in stripes will send the Blue Devils parading to the free-throw line.
In other Sweet 16 matchups, Texas A&M is a 2½-point underdog to Oklahoma. The Aggies are viewed as a lucky team off a miracle victory over Northern Iowa, but the sharps are on the 'dog. The public is betting on Buddy Hield and the Sooners, who also lack depth and are 0-7 against the spread in their past seven games.
Iowa State-Virginia is a stylistic clash. I prefer defense and the Cavaliers, who are 5-point favorites, over the erratic, run-and-gun Cyclones.
Syracuse's zone will be something Gonzaga is seeing for the first time. Kyle Wiltjer might be able to shoot over it, but the Orange will swarm to him. I'll take 4½ points with the 'dog. Ideally, the Zags will win — it's easy to root for coach Mark Few — but not cover the number.
The last game on Friday could be the best. Indiana-North Carolina has the highest total at 159½.
"Indiana likes to play fast, which is right up Carolina's alley," Salmons said. "It seems like a good matchup for Carolina, but Roy Williams is coaching, so anything is possible. He's as bad as it gets."
If you know basketball, you know Altman is good, and he deserves to be paid a lot more than a middling coach like, say, Mick Cronin. Oregon is definitely not working with a coaching disadvantage against Krzyzewski.
Las Vegas Review-Journal sports betting columnist Matt Youmans can be reached at myoumans@reviewjournal.com or 702-387-2907. He co-hosts "The Las Vegas Sportsline" weekdays at 2 p.m. on ESPN Radio (1100 AM). Follow him on Twitter: @mattyoumans247