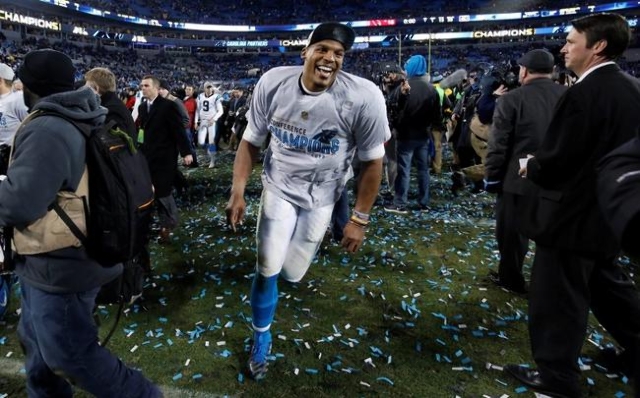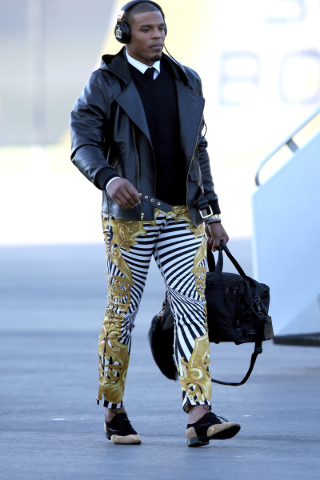 Politicians frequently inspire intense feelings of love and hate from the American public, and sometimes NFL quarterbacks do, too. Opinions are divided on Cam Newton. Some despise his dancing and showboating. Others respect his immense talent.
Five months ago, few people were thinking about him at all. And, certainly, no one truly thought he would be a superstar headed for the Super Bowl so soon.
On Aug. 31, with the season about to kick off, the Westgate Las Vegas futures board showed the Carolina Panthers at 60-1 odds to win the championship. Bettors were not exactly lining up to get a piece of the action.
"The Panthers were not that big public team," Sunset Station sports book director Chuck Esposito said.
Now, with Newton and the Panthers favored to beat the Denver Broncos in Super Bowl 50 on Sunday, the betting public suddenly is crazy about Carolina. The line opened at 3½ before getting pushed up to 5½ and 6, and it could go higher.
What happened to turn the Panthers into such popular public favorites? First of all, people love a winner — Carolina is 22-2 in its past 24 games, including 17-1 this season — and people love to win money. Newton is the biggest reason for the magical run.
"Newton, like him or not, is having fun out there. In my opinion, he's the most dynamic player in the league right now," Esposito said. "He has become a better pocket quarterback. When you looked at him before, he was more one-dimensional and he wanted to run first."
He still wants to run, but he also developed into an elite passer this season, and that was totally unexpected on Aug. 19. That was the day the Panthers' top wide receiver, Kelvin Benjamin, went down for the season with a knee injury. The 6-foot-5-inch Benjamin, a first-round draft pick, had 73 catches for 1,008 yards and nine touchdowns as a rookie.
What would Newton do without him? What would he do with a receiving corps of Greg Olsen, Ted Ginn Jr., Jerricho Cotchery, Devin Funchess and Philly Brown? It sounds like a cast of actors on a bad sitcom.
"Olsen is a really good tight end, but those are not household names that scare anyone," Esposito said. "At that point, right after the injury to Benjamin, everyone looked at the Panthers and said, 'Who's going to be their No. 1 wideout now?'"
Oddsmakers had set Carolina's regular-season win total at 8½, and bettors pounded it under to a price of minus-160. In other words, the Panthers were predicted to be an 8-8 team that would finish behind New Orleans and Atlanta in the NFC South.
In 2014, his fourth season in the league, Newton passed for 18 touchdowns with 12 interceptions, and Carolina reached the playoffs with a 7-8-1 record. There were no reasons to believe he or the Panthers would be much better.
"I was totally wrong about Newton," said handicapper Steve Fezzik of Pregame.com. "He developed and he matured."
Fezzik's opinion was shared by many others. I was wrong about Newton, too. In 2015, he passed for 35 touchdowns with 10 interceptions and posted a career-high rating of 99.4 — all without his No. 1 receiver. With a boost from running back Jonathan Stewart, the Panthers scored a league-high 31.3 points per game.
Carolina started to create believers when Newton hit Olsen for a 26-yard touchdown pass with 32 seconds left to stun the Seahawks 27-23 in Seattle on Oct. 18. The next day, the Panthers' odds to win the Super Bowl were adjusted to 18-1. In the playoffs, the Panthers rolled to a 31-0 halftime lead over the Seahawks before annihilating Arizona 49-15, and that's how we got to this point.
On the other side, Denver is propped up by a great defense and relying on a quarterback, Peyton Manning, who throws wounded ducks and resembles one when he tries to run. Manning might finish 30 yards behind Newton in a 40-yard dash.
"It's a combination of factors," Esposito said. "The Panthers have been so, so good, and everyone is enamored with them right now. Manning isn't the same quarterback, and he has not played well in big games."
Two years ago, Manning and the Broncos were overwhelmingly popular Super Bowl favorites, laying 2½ points to Seattle. Denver was destroyed 43-8, and the betting public took a severe beating.
"So many people only bet big when the Super Bowl rolls around," Fezzik said. "Is anyone who bet on Peyton Manning two years ago going to be able to bet on him again? I would think the Super Bowl memories are going to be such that folks are just going to back Carolina for that reason alone."
Esposito mentioned a reason to back Denver, which ranked No. 1 in total defense and No. 4 in scoring defense in the regular season. Carolina ranked No. 6 in both categories. The better defense won 40 of the first 49 Super Bowls. The Broncos' defensive coordinator, Wade Phillips, is one of the best in the business, and he has two weeks to prepare a plan to control Newton.
There's no doubt Newton can be a clown, and his antics can be annoying. Esposito called him a "polarizing" quarterback, but he did so while comparing him favorably to the NBA champion Golden State Warriors of last year and the 1985 Chicago Bears. The Bears staged an over-the-top "Super Bowl Shuffle" video in which Walter Payton sang a corny line about liking to dance and how running the ball is like making romance.
"If you like him or not, Newton is having fun, and I think that captivates a lot of people," Esposito said.
Donald Trump is having a good time, too, and the political analysts and oddsmakers considered him a long shot five months ago. Now, he's the favorite in his party.
Newton's popularity will grow if the Panthers win and cover in the Super Bowl.
— Las Vegas Review-Journal sports betting columnist Matt Youmans can be reached at myoumans@reviewjournal.com or 702-387-2907. He co-hosts "The Las Vegas Sportsline" weekdays at 2 p.m. on ESPN Radio (1100 AM). Follow him on Twitter: @mattyoumans247.