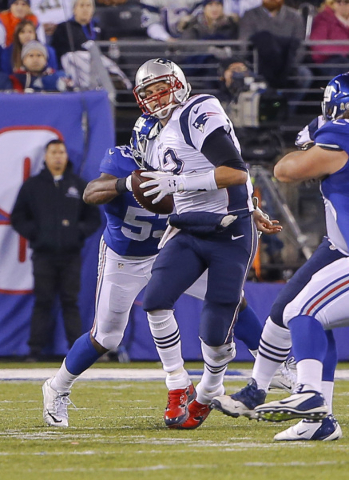 It was a great game, capped by a dramatic comeback. Imagine if Tom Brady could do that to the New York Giants in a Super Bowl.
On a Sunday of upsets, the underdog Giants had Brady on the ropes. He was down to his last shot, a fourth-down pass that could either keep New England's undefeated dream alive or bury it with Jimmy Hoffa in the Meadowlands.
"You can't believe the Patriots are dead until you go up and feel their pulse," said Jay Rood, MGM Resorts sports book director. "It's always one of the little guys that bails them out."
From his 20-yard line, Brady fired a strike to Danny Amendola, one of the little guys, for 12 yards and a first down. Brady then threw a strike to a big guy, Rob Gronkowski, and pretty soon the Patriots were lining up for a field goal to win.
Stephen Gostkowski, who's almost as good at his job as Brady is his, kicked a 54-yarder with 1 second remaining as New England escaped 27-26. Ten underdogs covered, with nine winning outright, and only the Giants covered in a loss.
"I'm sure most books had a good day," Rood said, because when 'dogs go 10-2 you know the books had a big Sunday.
It would have been even better for the bookmakers if Brady had lost, too. Rood said the Patriots, around minus-350 to win straight up, were on all sorts of 7-point teaser and money-line parlay tickets, and the Giants were a popular play with sharp bettors.
"The sharps were taking plus-7 and 7½. We were long to straight bets on the Giants," Rood said. "The high-end gamblers are in love with laying the big money line on the Patriots, and they keep getting it. We need the Patriots to go down. I'm kind of getting tired of them. The public keeps piling on them. As much as people think the Giants are garbage, they gave the Patriots all they wanted."
Brady is 4-2 in Super Bowls, losing twice to Eli Manning and the Giants in great games capped by dramatic comebacks. But Manning was wearing his classic frown at the end of this one in Week 10.
Manning passed for 361 yards and two touchdowns. He appeared to have a third score, but it was overturned after review, and should it really have been overturned? The Giants settled for a field goal and a 2-point lead to leave the door open for Brady, who passed for 334 yards and two touchdowns.
Uncharacteristically, Brady tossed a fourth-quarter interception at the 1-yard line that initially gave life to the Giants. And if you took 7 points with the Giants, you had to sweat out one of those crazy lateral sequences on the final kickoff and hope a fumble was not returned for a touchdown. It was that kind of wild day, and not just in New York.
Detroit, a hapless 10½-point 'dog, won in Green Bay for the first time since 1991. The Lions tried to give it back late, missing an extra-point kick and failing to recover an onside kick, before stunning the Packers 18-16.
"The Lions made things a lot easier," Rood said. "Money-line parlays, teasers, everything went down. Every teaser ticket had the Packers on it."
Dallas, which closed as a 1-point favorite at Tampa Bay, appeared to stop its six-game losing streak when Jameis Winston fumbled at the goal line. But a penalty gave the ball back to the Buccaneers, and Winston ran it in for a 10-6 win.
Carolina, undefeated and still disrespected, crushed Tennessee 27-10. Sharp money flooded in on the Titans, who opened as 5½-point 'dogs and closed at 3½. Cam Newton was simply too good.
"I really missed on the Panthers. I didn't think they were going to have a good season at all," said Rood, who had plenty of company with that opinion.
Chicago, a 7-point underdog, slaughtered the Rams 37-13 in St. Louis. Washington, a 1-point home 'dog, rolled to a 47-14 victory over New Orleans. (Reminder: Never change a contest pick at the last minute. I had the Redskins penciled in before calling an audible and switching to the Cowboys. Big mistake.)
"There was a lot of money coming in on the Saints," Rood said.
In the most believable turn of events, Eagles quarterback Sam Bradford got injured and backup Mark Sanchez threw an interception in the end zone. Philadelphia, a 6-point home favorite, fell 20-19 to Miami.
Ben Roethlisberger, who was supposed to be out with a foot injury, came off the bench to pass for 379 yards and three touchdowns in Pittsburgh's 30-9 victory over Cleveland. The Steelers and Panthers were the only favorites to cover.
Jacksonville stopped a 13-game road losing streak with a 53-yard field goal as time expired to beat Baltimore 22-20. Minnesota covered its eighth straight game with a 30-14 win at Oakland. Just when you start believing in the Raiders, they prove you wrong.
On the day he set the NFL record for career passing yards, Peyton Manning went 5-for-20, was picked off four times and benched as Kansas City crushed the Broncos 29-13 in Denver. The Chiefs were a sharp underdog play.
"Peyton looked …," Rood said, pausing. "That was painful."
In the nightcap, Arizona blew a 19-0 lead, fell behind 29-25 and came back to beat Seattle 39-32. That was a cruel tease for those who bet the favorite and had given up on the game. The Seahawks — a mess of a team that I foolishly backed — look like a long shot for the playoffs and are not headed back to the Super Bowl.
Brady has a good shot to get back. Maybe he'll even get another shot at the Giants.
— Las Vegas Review-Journal sports betting columnist Matt Youmans can be reached at myoumans@reviewjournal.com or 702-387-2907. He co-hosts "The Las Vegas Sportsline" weekdays at 2 p.m. on ESPN Radio (1100 AM). Follow him on Twitter: @mattyoumans247.