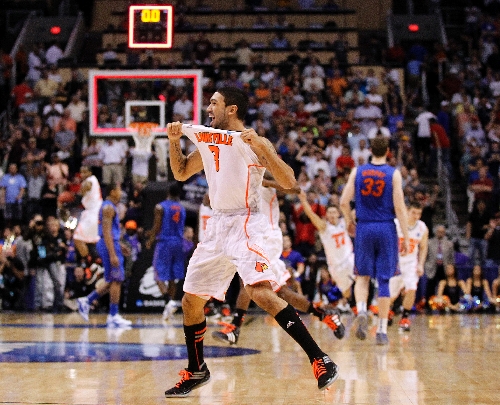 Forget about sentimental underdogs, because the stunning upsets that often make college basketball in March so memorable were rare this year. Instead of a Cinderella, there is John Calipari.
There is nothing lucky about Calipari and his Kentucky thoroughbreds leading the race down the stretch. This is mostly what we expected two weeks ago, when NCAA Tournament office-pool brackets were filled out and oddsmakers installed the favorites.
Kansas and Ohio State were popular picks. Filling out the foursome is Louisville, sort of a dark horse, though Rick Pitino is a coach with a giant ego more than he is a lovable little 'dog.
The big names are headed to New Orleans for the Final Four, and that means Las Vegas bookmakers and the betting public will be treated to two marquee games on Saturday.
"I don't think you could have scripted a much better Final Four," said Mike Colbert, Cantor Gaming sports book director at M Resort. "Both matchups will draw big money at the betting windows. Vegas will be rocking."
Only the Super Bowl rivals and arguably tops the NCAA Tournament as a betting event, and the NFL briefly stole the spotlight last week when Peyton Manning signed on to quarterback the Denver Broncos.
But basketball fanatics were out in impressive numbers to watch and wager on the fast-paced action, and that's no surprise.
"At our properties, it has been a real strong handle and wall-to-wall people throughout the tournament," MGM Resorts sports book director Jay Rood said.
Look for more of the same Saturday. Kentucky is an 8½- to 9-point favorite over Louisville in the first game at 3:05 p.m. Ohio State is favored by 2½ to 3 points over Kansas.
The Wildcats have outclassed their competition by posting four double-digit wins in the tournament, and there appears to be no stopping Calipari's NBA farm team, led by stud freshmen Anthony Davis and Michael Kidd-Gilchrist.
At the LVH sports book, Kentucky is the favorite at 4-5 odds to win the national championship, followed by Ohio State (5-2), Kansas (9-2) and Louisville (10-1).
The Buckeyes and Cardinals earned their Final Four spots Saturday. The Jayhawks eliminated North Carolina 80-67 on Sunday, after the Wildcats, 8-point favorites, blew out Baylor 82-70 in a game that slipped over the total of 149.
"The room erupted as soon as it hit 150, because they got the favorite-over combination," Rood said.
The crowd at The Mirage book was pro-Kentucky, and the Wildcats left little doubt which side would get the cash. Trailing 30-15 in the first half, the Bears were in as deep as James Cameron in the Mariana Trench. Baylor needed a lot of help, but Brittney Griner, the dunking star of its women's team, was unavailable.
A Louisville-Kentucky matchup, Colbert said, "is a big-time game with big betting interest," due to it being a heated in-state rivalry with coaches (Calipari and Pitino) who don't trade Christmas cards.
"Kentucky puts five professional basketball players on the floor. It's hard to go against them," Colbert said. "But it will be interesting to see what Pitino comes up with after five or six days to prepare."
The Cardinals, whose odds to win the title reached 30-1 before the tournament, knocked out Mountain West Conference champion New Mexico before upsetting Michigan State and Florida to reach the Final Four.
It was an easier road for Kentucky, which coasted by Iowa State, Indiana and Baylor in the past three rounds.
"I still think we're going to get more Kentucky money," Rood said. "But Louisville will draw a fair share of action."
Kansas, a 2-point favorite, scored the game's final 12 points to put away the top-seeded Tar Heels, who were without star point guard Kendall Marshall because of a broken wrist. North Carolina, with Marshall, could have provided the stiffest test to Kentucky.
"I would have liked to see Marshall in there. It would be a different game," said Colbert, who gives the advantage to sophomore center Jared Sullinger and the Buckeyes over the shaky Jayhawks.
"I would be surprised if Kansas beats Ohio State," Colbert said. "I expect it to be Kentucky and Ohio State, and I expect Kentucky to win it all."
A year ago, the memorable March runs of Butler and Virginia Commonwealth were unexpected.
But this has not been a sentimental month for the underdogs, so don't count on the Wildcats getting stunned in the stretch run.
Contact sports betting columnist Matt Youmans at myoumans@reviewjournal.com or 702-387-2907. He co-hosts the "Las Vegas Sportsline" weeknights at midnight on KDWN-AM (720) and thelasvegassportsline.com.